Vidyamandir Classes VMC NAT 2020 : National Admission & Scholarship Test
Rate this post:
[ Votes=

0

, Average =

0

]
Organisation : Vidyamandir Classes
Scholarship Name : VMC NAT 2020 Online National Admission & Scholarship Test
Applicable For : Class VIII, IX, X, XI, XII, and XII Pass Students
Exam Date : 18.04.2020 at 3.30 PM
Website : https://vidyamandir.com/index.html
VMC NAT Scholarship Test
Registrations Open for VMC NAT – 18 April 2020.
Related / Similar Scholarship :
VMC NAT 2020-21

Note : In lieu of the COVID 19 pandemic, NAT will be conducted online. Details will be shared after the registration.
Who Can Apply?
This Admission Test is for students currently in Classes VIII, IX, X, XI, XII, and XII Pass to take admission in the following IIT JEE/ MEDICAL (NEET) preparation programs in VMC
** 1 Year Courses For Class XII and XII Pass Students
** JEE 2 Year Courses For Class XI Students
** NEET 2 Year Courses For Class XI Students – 3rd April 10 AM
** 3 Year Courses For Class X Students
** 4 Year Courses For Class IX Students
** 5 Year Courses For Class VIII Students
How to Register?
Just follow the below steps to apply for the VMC NAT 2020.
Steps :
Step 1 : Visit the official website of Vidyamandir Classes through provided above.
Step 2 : Read the instructions carefully and click on the "Register" button.

Step 3 : Fill in your details in the application form and Submit
Step 4 : Complete the process by paying the registration fee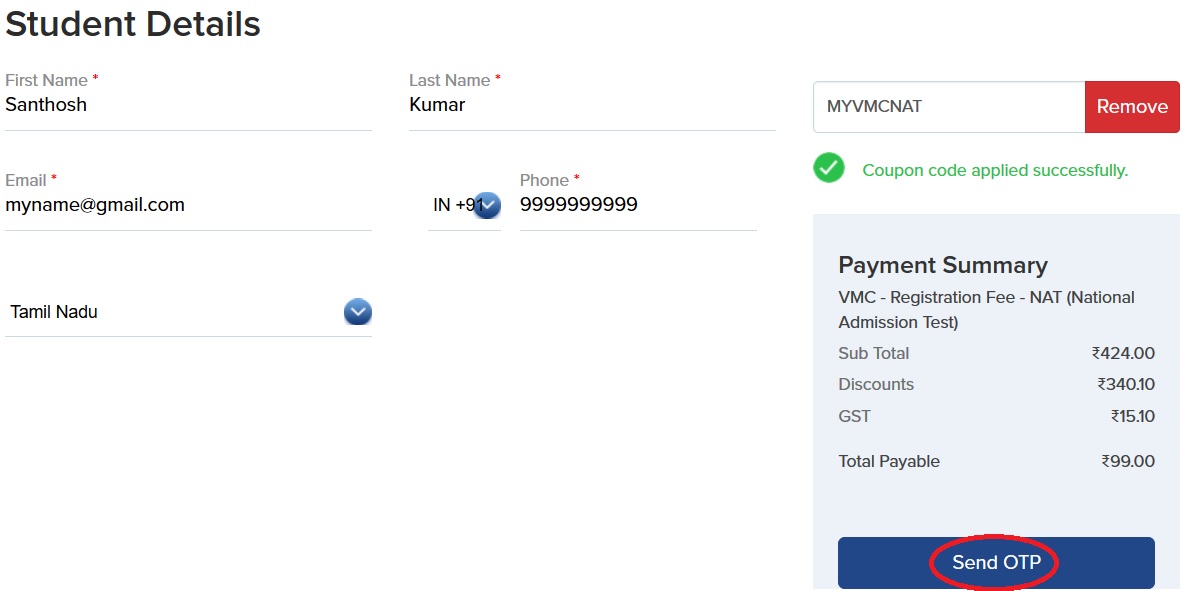 Step 5 : Fill the required details to complete your registration.
Step 6 : Finally get your Admit Card.
Note :
** By Registering for National Admission Test you give VMC the right to contact you through Email, Whatsapp, SMS or other means to keep you informed about the National Admission Tests and VMC
** NAT will be conducted online from 3:30 PM on 18th April. Access details will be shared one day before the test.
Benefits
Upto 100% Scholarship :
Students can get upto 100% scholarship on their fees on the basis of their performance in the Admission test
Extra resources :
You get Study material and practice papers for your existing classes and NAT preparation. All Free with NAT Registration
Great Results Year after Year :
JEE Main 2020 – 100%, 99.997%, 99.73%ile
JEE Advanced 2019 – AIR 26, 28, 46, 82, 98,… JEE Main: AIR 23, 27, 76, 95 & many more
Superb Teachers :
Industry icons and superb teachers from IITs, IIITs and premier colleges in the country to train brilliant, young aspirants
Supreme Pedagogy :
Our pedagogy is the best in the country, employing innovations in technology and delivery for optimised absorption of content
Comparison with the best brains :
Check your aptitude at an All India level and benchmark your performance with peers across the country
About Us :
Over the years, the name of Vidyamandir Classes (VMC) has become synonymous with success in IITJEE. Vidyamandir has over the years designed, delivered, perfected and innovated the art and science of teaching and guiding students for entrance exam for the IITs, which are recognized as the Premier Technology Institutions across the world.
Helpdesk
If you have any queries please contact +91 8588836977 / +91 9711265586
TollFree : 1800-180-6868
Email : admissions [AT] vidyamandir.com