ABC Swabhimaan Scholarship Test 2020 : Aradhya Brilliance Centre
Rate this post:
[ Votes=

0

, Average =

0

]
Organisation : Aradhya Brilliance Centre ABC
Scholarship Exam Name : ABC Swabhimaan Scholarship Test 2020
Applicable For : Any Technical UG, Graduate, PG Students
Applicable State/UTs : All India
Exam Date : 01.05.2020
Website : https://www.abctechtraining.com/
ABC Swabhimaan Scholarship Test
Aradhya Brilliance Centre invites applications for ABC Swabhimaan Scholarship Test 2020. Become a SWABHIMAANI & get 960 Hours of Technical Course for FREE

Who is Eligible?
Any Technical undergraduate, Graduate, Post Graduate, freshers from B.E, BTech, M.E, MTech, MCA, Bsc & BCA, along with such IT professionals who are currently working in non technical job roles and are aspiring to switch over to technical profiles
How to Register?
Just follow the below steps to register for ABC Swabhimaan Scholarship Test 2020.
Steps :
Step 1 : Visit the official website of Aradhya Brilliance Centre through provided above.
Step 2 : Next read the instructions carefully and click on the "Apply Now" button.
Step 3 : Fill the application form with the required details.
Step 4 : Finally click on "Submit" button.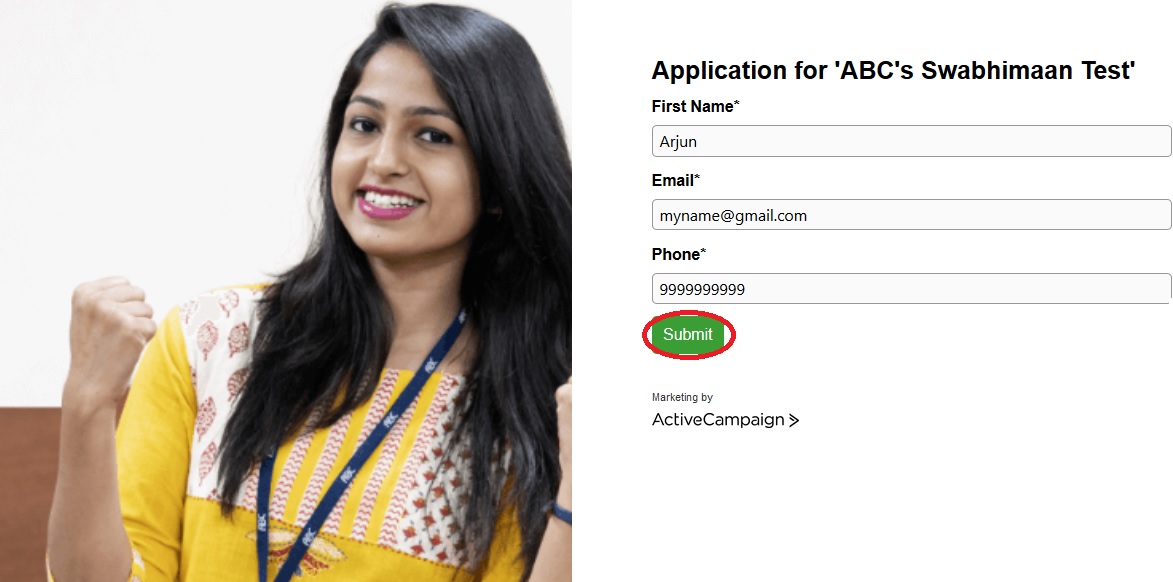 Exam Details
Exam Date : 1st May 2020
Exam Time : 10 am
Duration : 90 minutes
Mode of Exam : Online
What's required : Good internet connection (atleast 4 Mbps)
About Swabhimaan Test
This Test would truly enable you to shape your career completely independent by not having to rely upon anybody to fund your technical course. All you need to do is to show us that you are amongst the 1000's of Interested, Focused, Disciplined and Responsible learners and we would in return offer the entire 960 hours of technical course completely FREE
Benefits
Here is how you can get FREE Technical course to become a IT Industry 4.0 enabler & get Placed in your IT Dream Job.
** Apply for 'ABC Swabhimaan Scholarship Test'
** Become a Top Scorer
** Get 960 Hrs. of Technical Course for Completely FREE (Worth 1.5 L)
Why You Should Take this Test?
You know there is a saying "It takes 21 days to build a habit" and these 21 days can be fruitfully utilized to fast track your ambition to become a Data Scientist, Cyber Security Expert, AI Engineer, Full Stack Developer, Data Analyst or an IOT Engineer.
Irrespective of how the lockdown has impacted you, now you have one of the best ways, to utilize your 4 hours of a day effectively to get Industry 4.0 ready.

ABC's Features
** The entire course ( 8 weeks Digital Incubation + 16 weeks Residential Incubation ) along with 3 star accommodation valued at 1.5Lakhs can be earned for free by 1000s of deserving "Swabhimaanis" in these times of distress
** Along with this we provide you with fully Furnsihed accommodation with all modern amenities unlike a regular hostel or PG to suit Gen Z learners
** Not just accommodation we also provide you with 3 wholesome meals as per FSSAI certification that is cooked in a hygienic high end kitchen using AGMARK raw food materials along with clean RO drinking water
** Not just is the food and snacks be hygienic and tasty , our Cozy Dinning area with cafe type seating would definitely give you an amazing dining experience during your 16 weeks of residential stay with us
** ABC believes that health is wealth and hence would also offer you modern Gym with Tread Mill, Cross Trainers, Cycles, Weights, Yoga mats, Floor mats, Bench press, Chest press and leg machines to keep yourself healthy.