Vidyamandir Classes NAT 2020-21 National Admission & Scholarship Test
Rate this post:
[ Votes=

0

, Average =

0

]
Organisation : Vidyamandir Classes
Scholarship Name : VMC NAT 2020-21 Online National Admission & Scholarship Test
Applicable For : Students who aspire to crack IIT-JEE & NEET
Exam Date : 21.06.2020
Website : https://www.vidyamandir.com/nat.html
VMC NAT
The National Admission Test is a nationwide test conducted by Vidyamandir Classes (VMC) to select candidates for its highly successful and sought after classroom and online programs.
Related / Similar Scholarship Exam :
Vidyamandir MathGenii Scholarship Test 2020

These programs have been devised to help students crack professional examinations such as IIT-JEE (Engineering) & NEET (Medical). Our course work and curriculum has been specially curated by ex IIT-ians & students of AIIMS who have been in the shoes worn by these students.
Who Can Apply?
NAT has been devised for the students who aspire to crack IIT-JEE & NEET and are looking for expert support to guarantee success. NAT is also a great platform for students who are looking for a direct nationwide comparison with their competition.
How to Apply?
Just follow the below steps to apply for the VMC NAT 2020.
Steps :
Step 1 : Visit the official website of Vidyamandir Classes through provided above.
Step 2 : Read the instructions carefully and click on the "Register Now" button.

Step 3 : Fill in your details in the application form and Submit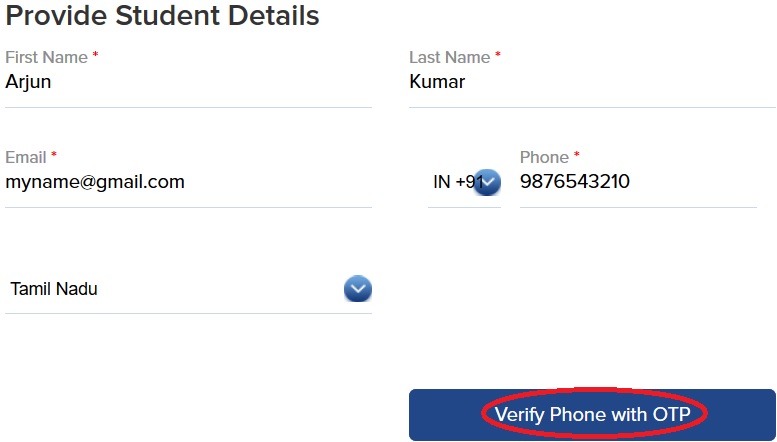 Step 4 : Complete the process by paying the registration fee
Step 5 : Fill the remaining details to complete your registration.
Step 6 : Finally get your Admit Card.
Note :
** NAT will be conducted on 21st June 2020 online. Admit card and roll number will be generated after payment confirmation
** Now you can give the National Admission Test online and if you get selected you can win scholarship up to 100% off on course fees.
Benefit of Taking NAT
** Students can get upto 100% Scholarship with VMC's Classroom and Online Programs for IIT-JEE & NEET based on their performance in NAT
** With NAT Registrations, students receive study material and practice material for FREE for their existing classes and NAT preparations
** Industry icons and superb teachers from IITs, AIIMS & other premier colleges in the country to train brilliant, young aspirants
** Our pedagogy is the best in the country, employing innovations in technology and delivery for optimised absorption of content
** NAT is a nationwide test designed to benchmark your performance with peers across the country. This helps one evaluate their current level of preparation
About Us :
Over the years, the name of Vidyamandir Classes (VMC) has become synonymous with success in IITJEE. Vidyamandir has over the years designed, delivered, perfected and innovated the art and science of teaching and guiding students for entrance exam for the IITs, which are recognized as the Premier Technology Institutions across the world.
Contact/ Helpdesk
If you have any queries please contact +91 8588836977 / +91 9711265586
TollFree : 1800-180-6868
Email : admissions [AT] vidyamandir.com
Address :
Vidyamandir Classes
Aggrawal Corporate Heights,
3rd Floor, Plot no. A-7,
Netaji Subhash Place,
Opposite Wazirpur Depot,
Pitampura, Delhi