UGC Change of Bank Account Details on NSP : Ishan Uday Special Scholarship 2017-18
Organisation : University Grants Commission
Portal Name : National Scholarship Portal NSP
Service Name : Change of Bank Account Details on NSP
Scheme Name : Ishan Uday Special Scholarship Scheme for North Eastern Region-2017-18'
Last Date to Correct : 31.12.2019
Applicable For : North Eastern Region
Website : https://www.ugc.ac.in/ugc_notices.aspx
You can ask questions or answer questions about this scholarship.
Please go to the bottom of this page.
UGC Correction in Bank Account Details
Change of bank account details on NSP for receiving scholarship.
Related / Similar Post :
NSP UGC Ishan Uday Scholarship 2019-20
It has been brought to the notice that some candidates who are selected under the scheme of 'Ishan Uday Special Scholarship Scheme for North Eastern Region-2017-18' are not able to get their scholarship, as there bank account could not be verified.
Update :
Ishan Uday Scheme is open for Renewal of Academic Year 2017-18 Applicants.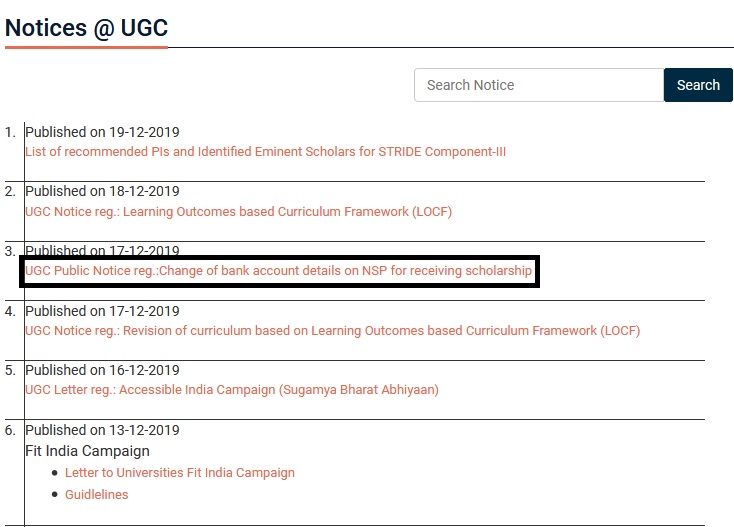 It is for information that bank account, as given by the candidates, fails verification due to any of the following reasons,
1. Name mis-match (Name as given in other documents/online application does not match with the name as recorded in the bank account).
2. Bank account is not Aadhaar verified/linked.
3. Bank account number is not correct.
4. IFSC code is not correct.
5. Bank account is in other's name (Joint account is however accepted if one of the name is of candidate).
6. Bank account is not operational.
7. Any other reason, not mentioned above.
Procedure
** If verification of bank account fails for any reason, the same is reflected as 'NO' in the Student's profile after log-in by the candidate at the National Scholarship Portal.
** If any student is not able to receive his/her scholarship due to any reason in the bank account, he/she may apply for correction in the bank account details in the prescribed format (attached).
** After verification of the same at institute level, a scanned copy of the same may be forwarded by the 'Institute Nodal Officer' through email to nspugc1 [AT] gmail.com.
Note :
It may be noted that any request, not sent in the prescribed format, will not be considered at this end. Also incomplete/ambiguous /not readable applications will not be considered for correction. The request should be emailed by Institute's Nodal Officer through his/her official email ID.
Any other request, which is not related to change of bank account, sent to designated email ID will not be considered. Correction in the bank account is allowed only once. For the selections of year 2018-19, the corrections can be made by students themselves after receiving SMS from NSP.
Therefore, any request for change of bank account for the students of selection year 2018-19 will not be considered through this channel. Applications received after 31.12.2019 will not be considered.

Application Format
1 Name of Candidate/Student (As given in the application earlier) Correct Name (in case change is required)
2 Name of Institutions where studying
3 NSP ID No.
4 Selected for the year
Previous Bank Account Details :
5 Bank account No. as provided in the application earlier
6 IFSC Code as provided in the application earlier
7 Whether bank account Aadhaar verified/linked
8 Address of Bank
Bank Account Details : (FOR CORRECTION)
9 Bank account No.
10 IFSC Code
11 Whether bank account Aadhaar verified/linked
12 Address of Bank
Download Application Form :
https://www.scholarships.net.in/uploads/pdf2019/30916-Form.pdf
Last Date
The last date for receiving the application is 31.12.2019