cbse.nic.in CSSS Central Sector Scheme of Scholarship for College & University Students 2018
Organisation : Central Board of Secondary Education
Scholarship Name : CSSS 2018 Central Sector Scheme of Scholarship for College & University Students
Applicable For : College & University Students
Application Last Date : 31.10.2018.
Website : http://cbse.nic.in/newsite/index.html#
CBSE CSSS Scholarship
CBSE invites Online Applications for Central Sector Scheme of Scholarship for College and University Students (CSSS)
Related : CBSE CSSS Fourth Renewal Scholarship 2014 : www.scholarships.net.in/32511.html
1st Renewal for the year 2017, 2nd renewal for the year 2016 and 3rd Renewal for the year 2015 is available on National Scholarship Portal. Students may visit the National Scholarship Portal to apply for fresh & renewal of scholarship.

Who Can Apply?
** Students who are above 80th percentile of successful candidates in the relevant stream from a particular Board of Examination in Class XII
** The parental/family income ceiling is Rs. 6 lakh per annum for all categories.
How to Apply?
All the candidates are advised to apply online within the stipulated time. Just follow the below steps to apply for the Central Sector Scheme Of Scholarships 2018-19.
Apply Online : https://scholarships.gov.in/
Fresh
Step 1 : Go to the official Website of National Scholarship Portal and Click on New Registration button


Step 2 : Go through/Read carefully the guidelines for Registration on National Scholarship Portal. After reading guidelines click on "Continue" button
Step 3 : A new page requesting to enter the personal data will be displayed. Fill student registration form.
Step 4 : Click on the Check boxes of Aadhar consent, Bank Account and Application form. After entering all required details Click on the Register button.
Step 5 : Student registration ID will be displayed. (Note down the Student Registration ID number for further reference and enquiries. Click on "Continue" button, it will take you to the Login Page.
Step 6 : The login id and password to log into NSP portal.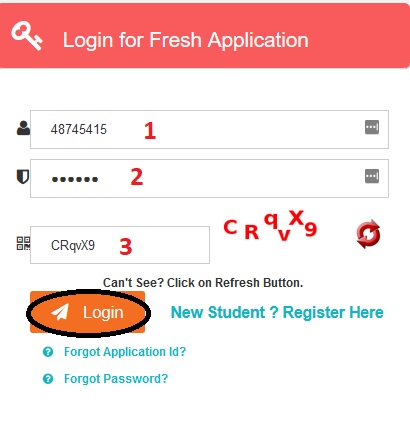 Step 7 : After Login Student will get OTP of 5 digits on Registered Mobile Number. Confirm OTP will take you to Change Password Page and Change your password as per instruction in the same page.
Step 8 : Click ''Apply'' button and enter below details
** Registration Details
** Academic Details
** Basic Details
Step 9 : After entering above details click on "Save & Continue" to Switch on to next Page. Applicant is directed to see the next page for "Contact Details & Scheme Details"
** Enter your contact details.
** Based on eligibility criteria of the student, schemes will be displayed.
** Select "CSS Central Sector Scheme of Scholarship for College & University Students" for post matric courses.
** After selecting the scheme, in the same page an Upload Document section will be displayed.
** Re-check all your entries, uploaded documents, before finally submitting the application, as there will be no provision to amend or alter it thereafter.
Step 10 : Click on Final Submit. Take a print on Clicking print Button for further reference and as an Acknowledgement.
Renewal
Step 1 : Go to the National Scholarship Website and Click on "Login" button and select Renewal 2018-19 in drop down.
Step 2 : Student have to Login using Last year NSP application ID and last year password. After login will take you to Student's Home Page
Step 3 : Click "Pre-Filled Information" button and Check your last year details. Next Click "Apply for Renewal'' & enter the required Renewal details.
Step 4 : Finally click on the Submit button to complete the renewal process.
Rate Of Scholarships
** The rate of scholarship is Rs.10000/- per annum at Graduation level for first three years of College and University courses and Rs.20000/- per annum at Post- Graduation level.
Notification :
https://www.scholarships.net.in/uploads/pdf2018/26437-CSSS.pdf
** Students pursuing professional courses, in case, where the duration of course is five (5) years/Integrated course would get Rs.20000/- per annum in the 4th and 5th year.
Last Date
The last date for submission of online application form for renewal and for fresh scholarship 2018 is 31.10.2018.