cbse.nic.in CSSS Fourth Renewal Scholarship 2014 : Central Sector Scheme
Organisation : Central Board of Secondary Education
Scholarship Name : CSSS Renewal 2014 4th Central Sector Scheme Scholarship
Applicable For : Students of Class XII Passed in 2014
Application Last Date : 31.12.2018 (Date is Extended)
Website : http://cbse.nic.in/Scholarship/Webpages/Guidelines%20and%20AF.html
CBSE CSSS Scholarship Fourth Renewal
The Central Board of Secondary Education invites Renewal Application from the eligible students who have been granted scholarship under Central Sector Scheme of Scholarship for College and University Students (CSSS) for the year 2014
Related : CITI NCPA Scholarship For Indian Music 2019-20 : www.scholarships.net.in/32412.html
Who Can Apply?
Candidates who have passed Class XII in 2014 from CBSE are eligible to apply.
How to Apply?
Just follow the below steps to apply for the CSSS 4th Renewal 2014.
Steps :
Step 1 : Go to the official website of CBSE provided above.
Step 2 : Then click on the "Apply Online" link in Central Sector Scheme Of Scholarship For College And University Students – Fourth Renewal (2014)

Step 3 : Enter the following details to apply for the renewal.
** Select the Year of Passing Class XII
** Select the Applying for Renewal
** Enter the Roll Number of Sr. Secondary School Examination
** Enter your Certificate No. as Appearing on XII Certificate
Step 4 : Click on the Login button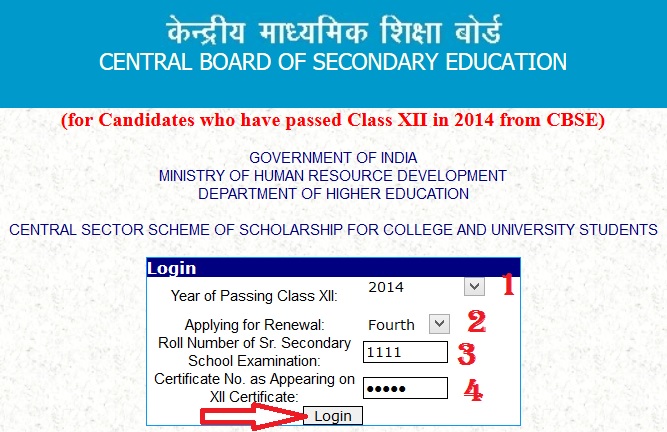 Rate Of Scholarship
** The rate of scholarship is Rs.10000/- per annum at Graduation level for first three years of College and University courses and Rs.20000/- per annum at Post- Graduation level.
** Students pursuing professional courses, in case, where the duration of course is five (5) years/Integrated course would get Rs.20000/- per annum in the 4th and 5th year.
FAQs
1. How I can apply for scholarship?
CBSE awards scholarship under various schemes. Details of these along with eligibility are available in Guidelines and Application form page. Applicant should ensure that he/she submits the application duly completed in all respect before the last date.
2. What are the reasons of rejection of application?
The rejection may be due to Application not in proper format and non enclosure of relevant documents.
3. What is the definition of SGC (Single Girl Child) applicant?
Single Girl child means a girl who is the only child of their parents and there is no brother or sisters.
4. I am single Girl in the family. I have one brother. Can I apply for scholarship under Single Girl Child Scheme?
No, As per definition of Single Girl Children you will not be considered for scholarship under the scheme as single Girl child are those girl children whose parents have only one girl child and there is no other siblings.
5. I have received a cheque which has date expiring today only. How can I get a valid cheque?
Normally CBSE sends cheque through partner banks by post and chances of delay are not there. However in such a case you may send the cheque to CBSE scholarship branch for getting a valid cheque.
6. Whether i will require to apply for renewal of scholarship again?
Yes, you have to apply for renewal separately.
Last Date
** Last date of online application is 31st Dec 2018