socialjustice.gov.in NOS 2018-19 National Overseas Scholarship/Passage Grant For SC Students
Organisation : Ministry of Social Justice & Empowerment
Scholarship Name : NOS 2018-19 National Overseas Scholarship/Passage Grant
Applicable For : SC Students
Applicable States/UTs : All Over India
Application Last Date : 31-03-2019
Website : http://socialjustice.gov.in/SchemeList/Send/28?mid=24541
You can ask questions or answer questions about this scholarship.
Please go to the bottom of this page.
Social Justice NOS Scholarship
Applications are invited for 100 slots and 05 passage grants for Selection Year 2018-19 under National Overseas Scholarship Scheme for Scheduled Castes, Denotified Nomadic and Semi-Nomadic Tribes, Landless Agricultural Labourers and Traditional Artisans.
Related / Similar Scholarship : National Overseas Scholarship 2020-21
The award will be admissible from 2018-19 and no past claims will be entertained.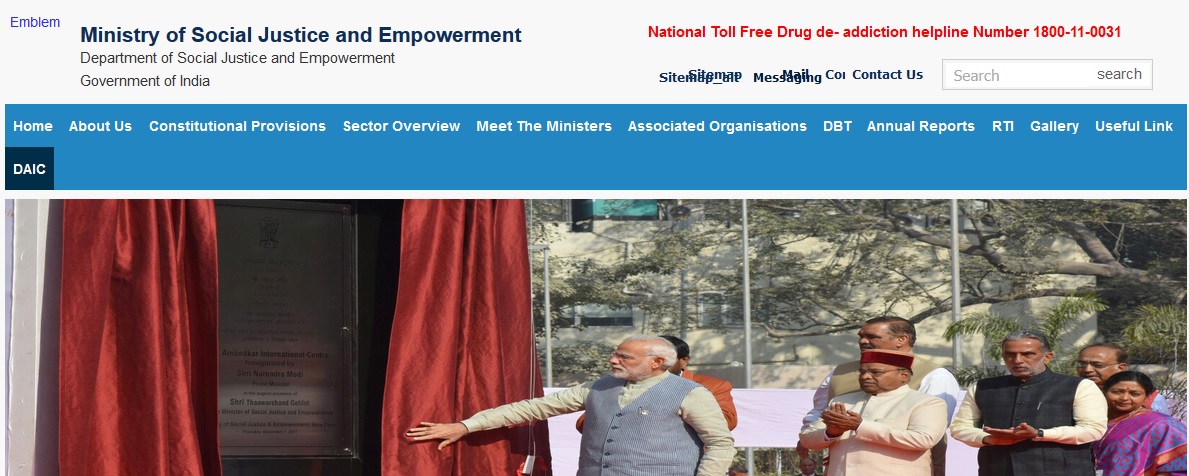 Objective
The Scheme provides financial assistance to the finally selected candidates for pursuing Master level courses and Ph.D abroad in the accredited Institutions/University by an authorized body of that country.
Minimum Qualification
1. For Ph.D Students must have 55% marks or equivalent grade in relevant Masters' Degree. For Masters' Degree students have 55% marks or equivalent grade in relevant Bachelors' Degree.
2. Applicants should have below 35 (Thirty Five) years, as on First April of the selection year.
3. Total family income from all sources shall not exceed Rs. 6, 00,000 (Rs. Six lakhs per annum)
4. Not more than two children of the same parents/guardians will be eligible.
Specified Fields of Study
| | |
| --- | --- |
|  Field of Study | No. of Seats |
| Engineering and Management | 32 |
| Pure Sciences and Applied Sciences | 17 |
| Agricultural Sciences and Medicine | 17 |
| International Commerce, Accounting and Finance | 17 |
| Humanities and Social Science | 17 |
| Total | 100 |
How to Apply?
Please follow the below steps to apply for the Central Sector Scheme of National Overseas Scholarship for SC Students.
Step 1 : Go to the official website of Ministry of Social Justice & Empowerment through the URL http://socialjustice.gov.in/
Step 2 : Then select the 'Scheduled Caste Welfare' under 'Important Links' section and Click Schemes and Programmes link.

Step 3 : After that, select National Overseas Scholarship link under the 'Scholarship' tab.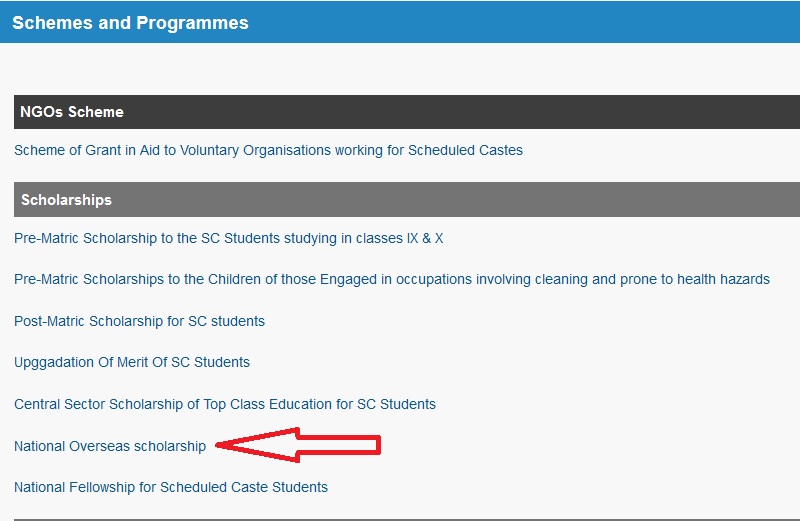 Step 4 : Read the terms & conditions carefully and download the Application Form at the bottom of the page or you can directly download it from the below mentioned PDF.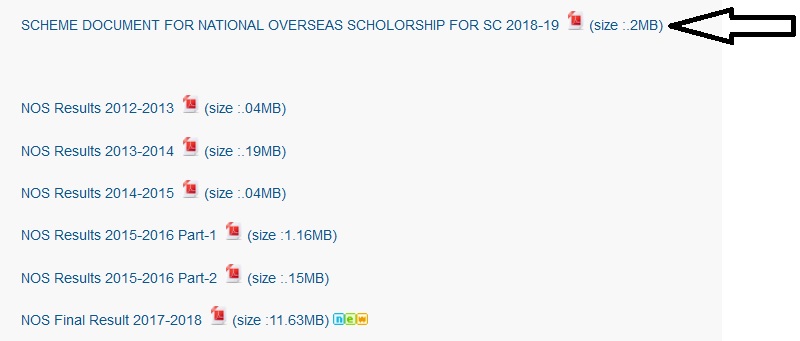 NOS 2018-19 Application Form :
https://www.scholarships.net.in/uploads/pdf2018/24248-NOS.pdf
Step 5 : Fill the Application Form with the required details and paste your recently taken photo in the Application Form.
Step 6 : Complete the Application Form correctly and sent it to the following address


Shri Deepak Mehra
Director (SCD-V),
Ministry of Social Justice and Empowerment,
Department of Social Justice and Empowerment
Room No.636 – 'A' Wing,
Shastri Bhavan,
Dr. Rajendra Prasad Marg,
New Delhi-110 001.
Documents Required
1.(i) Self Attested photo copies of the following documents must accompany with applications
(a) Matriculation or other certificate as proof for date of birth
(b) All Degrees/Diplomas/Certificate with mark sheets,
(c) Income certificate in the prescribed format.
(d) Offer letter if obtained admission
(ii) Self Attested Photo Copy of Caste Certificate issued by a Competent Authority
(iii) In case of Passage Grant additional information with a statement indicating
(a) Details of merit scholarship and the manner in which it has been obtained
(b) Self Attested copy of the letter of the award.
Financial Assistance
(I) For United States Of America And Other Countries Except United Kingdom :
The annual maintenance allowance of US Dollars 15400/- (Fifteen Thousand four hundred) has been prescribed for all levels of courses covered under the Scheme.
(II) Only For United Kingdom :
The annual maintenance allowance of 9900/- (Nine Thousand nine hundred) Great Britain Pound (GBP) has been prescribed.
Besides the above, there is provision for Contingency allowance, incidental journey allowance, poll tax, Visa fee, fees and medical insurance premium, air passage will also be provided.
Duration Of Award
The prescribed financial assistance is provided up to completion of the course/research or the following period, whichever is earlier
** Ph.D. – 04 years (Four years)
** Master Degree – 03 years (Three years)
Selection Procedure
** Students will be considered for the award on first come and first serve basis.
** In case of tie between two or more candidates the following selection procedure will be followed.
a) First, available unfilled slots earmarked for women candidates will be filled up from amongst eligible candidates.
b) Next the remaining slots will be filled up by the eligible candidate older in age
Last Date
Applications received up to 31st March of the financial year (2018-19) will be considered for grant of award/assurance of award for the Selection Year 2018-19.