nosmsje.gov.in NOS 2020-21 National Overseas Scholarship : Social Justice & Empowerment
You can ask questions or answer questions about this scholarship.
Please go to the bottom of this page.
Organisation : Ministry of Social Justice & Empowerment
Scholarship Name : NOS 2020-21 National Overseas Scholarship
Applicable For : Scheduled Castes, De-notified Nomadic/ Semi-Nomadic Tribes, Landless Agricultural Labourer and Traditional Artisans.
Applicable State / UTs : All India
Last Date : 03.06.2020 (Date is Extended)
Website : http://nosmsje.gov.in/
MSJE NOS
The portal of National Overseas Scholarship (NOS) Scheme for SC etc. candidates is open for receiving applications during the 1st Quarter of selection year 2020-21.

Objective
The Central Sector Scheme of National Overseas Scholarship is to facilitate the low income students belonging to the Scheduled Castes, Denotified Nomadic and Semi-Nomadic Tribes, Landless Agricultural Labourers and Traditional Artisans category to obtain higher education viz., Master degree or Ph.D courses by studying abroad thereby improving their Economic and Social status.
Eligibility
Minimum Qualification :
** In order to be eligible for scholarship, at least 60% of marks or equivalent grade in the qualifying examination would be required.
** In case of Ph. D courses, the qualifying exam would be Master's Degree and for Master's Degree courses, the qualifying examination would be Bachelor's Degree.
Age :
Not more than 35 (Thirty Five) years, as on first day of April, 2020.
Income Ceiling :
Total family income from all sources shall not exceed Rs. 8.00 lakh per annum in the preceding year, i.e., 2019-20. Not more than two children of the same parents/guardians will be eligible for scholarship under the scheme
Application Procedure
The portal shall be opened for calling of applications from April, 2020 for a period of 30 days and only online applications received shall be considered for award in the first cycle of selection.
In case the slots remain unfilled, the portal will be again opened every quarter for a period of 30 days (i.e. from 1st July, 2020 to 30th July, 2020, 1st October, 2020 to 30th October, 2020 and 1st January, 2021 to 30th January, 2021) until all the slots are filled. Once all the 100 slots are filled, the portal will not be reopened for submission of applications.
How to Apply?
Just follow the below steps to apply for the NOS 2020-21.
Steps :
Step 1 : Visit the official website of MSJE NOS through provided above.
Step 2 : Read the instructions carefully and click on the "Apply Now" button.
Step 3 : Then, click on the "Register Yourself" button.
Step 4 : Fill the registration form with the required details and Upload Your 10th Certificate.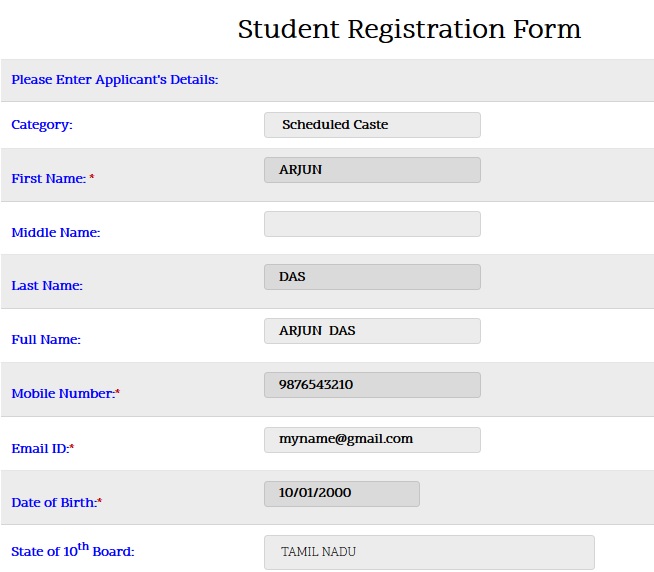 Step 5 : Finally click on the "Submit" button.
Selection Priority
During the fourth cycle of selection priority will be given as follows
i. Candidates having unconditional offer letter of admission from Top 1000 QS Ranking Institutions applying in the fourth cycle.
ii. Candidates having unconditional offer letter of admission from other recognized Institutions who have applied for scholarship under the scheme during the previous cycles or current cycle.
iii. Candidates submitting proof of applying in any recognized institution applying for scholarship under the scheme in any of the cycles.
Terms & Conditions
** The candidate is not eligible for scholarship under this scheme to pursue the same level (Masters/Ph.D.) of course for which he/she has already acquired the qualification from any University/Institution either in India or abroad.
** Employed candidates are required to provide a "No Objection Certificate" (NOC) from the Employer to this Ministry.
** The Selected candidates are required to furnish all such documents and enter into such agreements before their departure as shall be decided by the Government of India from time to time.
** The selected candidate is required to execute a bond on a non-judicial stamp paper before a notary-public with two sureties who will execute surety bonds separately for the actual amount to be spent by Government of India on the candidate or Rs.50,000/- (fifty thousand) whichever is more.
** In case the awardee was a Government Servant before going abroad, on return to India he/she is also required to serve the Government, if he/she continues to be in Government service after return to India, as one was before going abroad with award under the Scheme.
** No scholarship will be disbursed/ paid to the candidates who complete their education abroad without completing the required procedure/formalities under NOS Scheme.
** The candidates shall not change the course of study or research for which scholarship has been sanctioned.
Application Last Date
The last date of National Overseas Scholarship application is 27th May, 2020.