highereducation.nagaland.gov.in NEC 2018-19 Stipend/Scholarship Fresh & Renewal : Higher Education
You can ask questions or answer questions about this scholarship.
Please go to the bottom of this page.
Organization : Directorate of Higher Education
Scholarship Name : NEC 2018-19 Stipend/Scholarship Fresh/Renewal
Applicable For : North Eastern Region Students
Applicable States : Nagaland
Application Last Date : 31st July 2018
Website : http://highereducation.nagaland.gov.in/
DHE NEC Stipend/Scholarship
Online applications are opened for NEC Stipend/Scholarship Fresh/Renewal 2018-19.
Related / Similar Post :
Nagaland Online Scholarship Portal Registration
Who Can Apply?
a) ST & General Students of Nagaland State.
b) ST Students who have secured 60% marks in the last qualifying final examination and 75% marks for students belonging to General Category.
c) Students who are pursuing Higher Professional course of studies in the Courses which are approved by NEC.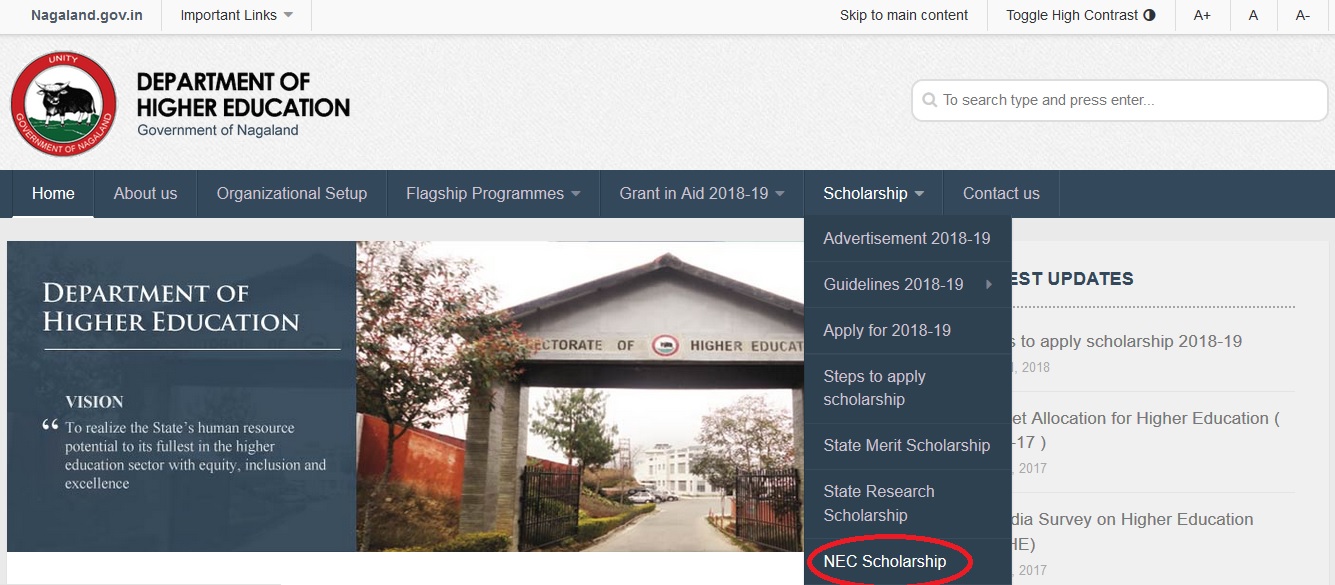 List Of Courses Eligible For NEC Stipend :
1. Department of Law (B.A. LL.B Honours/LLM)
2. Department of Nanotechnology(B.Tech/M.Tech)
3. Department of Energy Engineering (B.Tech/M.Tech)
4. Department of Botany (M.Sc)
5. Department of Zoology (M.Sc)
How to Apply?

Go to the Nagaland official website and follow the below steps to Apply for the Scholarship
Apply Here :
https://www.nagaland.gov.in/portal/portal/StatePortal/default
New User
Register if new user, Click New User link in the home page. Kindly fill up the form below in order to register.

Fill in all the fields marked as required.
Login Account Details :
Step 1 : Enter your First Name * [Raj]
Step 2 : Enter your Last Name * [Kumar]
Step 3 : Select your Gender * [Male/Female/Transgender]

Step 4 : Enter your User ID * [Raj123]
Step 5 : Enter your Password * (Min 6 – Max 16 Characters)
Step 6 : Re-type your Password *
Step 7 : Enter your Email * [raj123@gmail.com]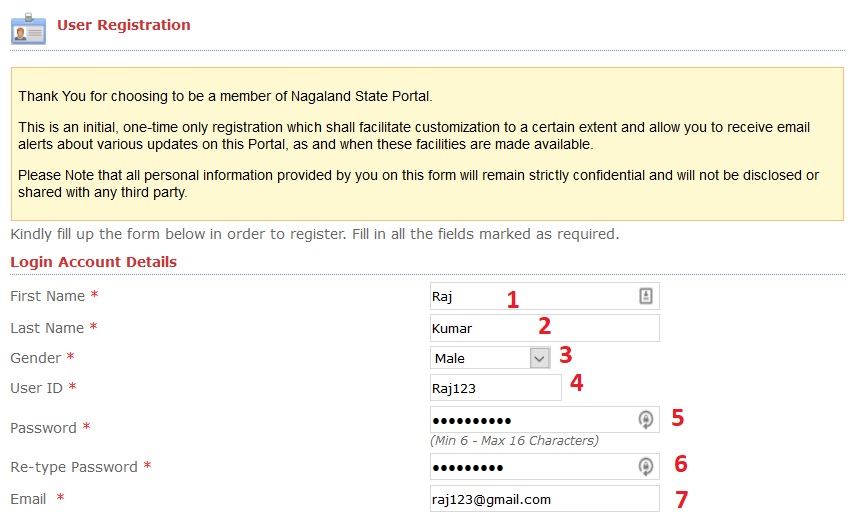 Residential Address :
Step 8 : Enter your Address * [11/A, Super Market Lane, Half Nagarjan]
Step 9 : Enter your City * [Dimapur]
Step 10 : Select your Districts *[Dimapur]

Step 11 : Enter your Zip code * [797112]
Step 12 : Enter your Mobile No. * [+91 9876543210]
Step 13 : If you are Kiosk/CSC Users then Enter your Kiosk Id
Security Question :
If you forget your password, we would identify you with this information
Step 14 : Select a Security Question *
Step 15 : Enter your Answer *
Step 16 : Enter the Captcha image and Click Submit button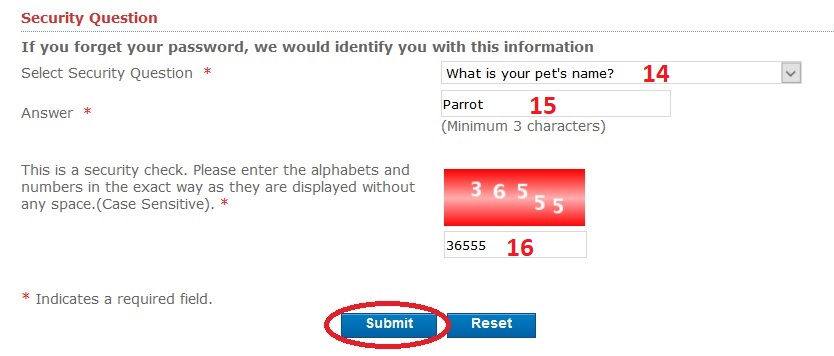 Login
Already Registered user can directly Login with your User Id and Password.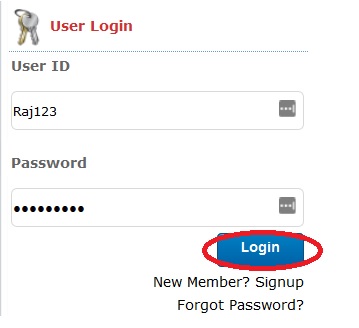 Step 17 : Go to Online Services
Step 18 : Select the desired scholarship scheme from Directorate of Higher Education menu.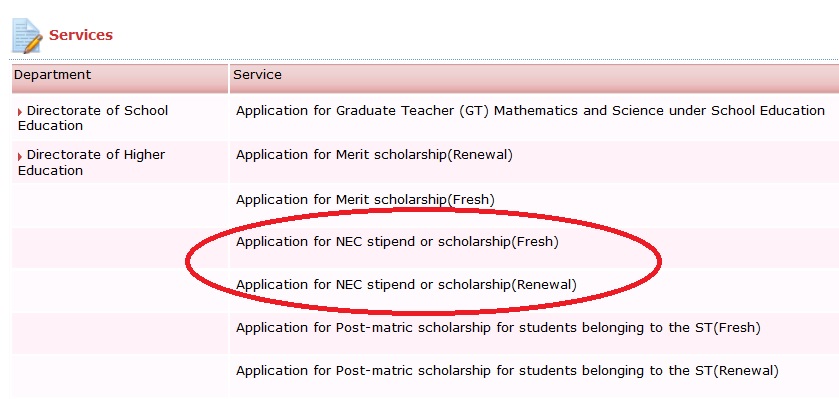 Step 19 : Fill up the form carefully and submit it online.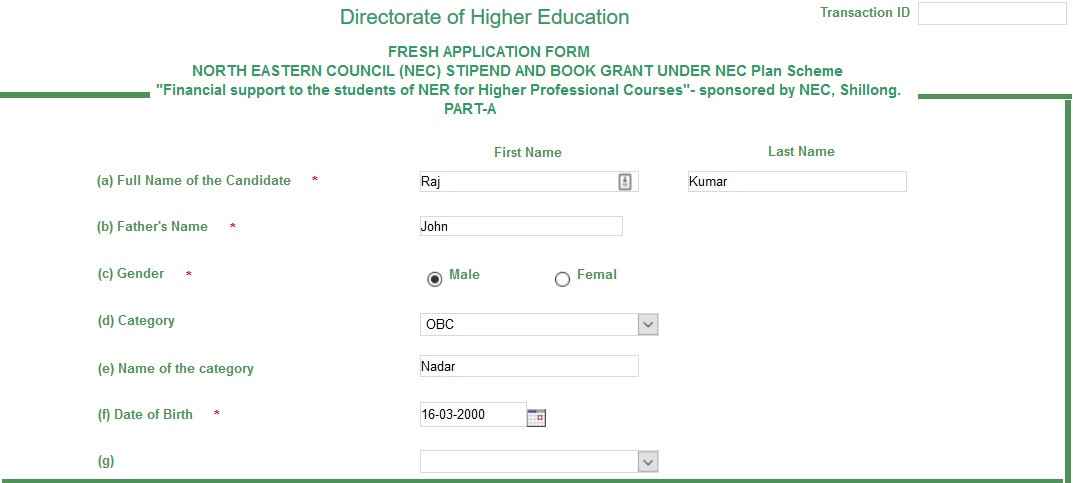 Step 20 : Take a printout of your filled form and submit it to your institution. Based on your submitted printout form, your institution will prepare Annexure IV for submission to the Directorate of Higher Education.
Note :
Submit the printout of the eform along with two recent passport photographs and the above two annexures and all other required supporting documents as mentioned in the instructions, with the service fee of Rs. 50 in cash , in person or by post to the address given below.
Address of department :
To,
Director
Directorate of Higher Education
Government of Nagaland
Below New Secretariat
Kohima, Nagaland
pincode-797001
Process for Filing E-Form
** For filling up this e-form Online, you need to be a registered user with State Portal of Nagaland.
** Please click on "Submit Online" button for filing the e-form Online.
** For filling the details either Online, apart from your general details, you should be ready with certain details like your complete permanent and correspondence Address, Address of the school/institution last studied and other relevant information.
** Application for NEC stipend or scholarship(Fresh) will be processed at Department's Kohima District Office.
** You will be required to submit the fee amount of Rs. 50 in cash by physically visiting to the Department with the Transaction Id of submitted e-form.
** If Login ID and Password entered in by you is correct, your Offline e-form will be submitted to the Department. Please refer process point 4-11 for further clarification on e-form.
Last Date
1. The last Date for online Scholarship application 31 July 2018
2. Last date for submission of NEC-Stipend & Book Grant hard copy to the Directorate of Higher Education 29th Sept. 2018.