GHCI 18 Student Scholarship Grace Hopper Celebration India : ghcindia.anitab.org
Organisation : Anita Borg Institute for Women in Technology
Scholarship Name : GHCI 18 Student Scholarship Grace Hopper Celebration India
Applicable For : Women Students Only
Application Deadline : June 30, 2018
Website : https://ghcindia.anitab.org/ghci-18-student-scholarships/
You can now ask your question on this scholarship.
Ask here
(OR) Go to the bottom of this page for comments.
GHCI 18 Student Scholarship
The Grace Hopper Celebration India (GHCI) is a great opportunity for women students from technical backgrounds, who are keen to get the right start for a career in technology.
Related : Aditya Birla World Academy Merit Scholarship 2019-20 : www.scholarships.net.in/23690.html
Eligibility
GHCI scholarships are awarded to deserving female undergraduates in the final year of their degree course, post-graduates and PhD students from computing, engineering and IT backgrounds.
The undergraduate students must be in their final year while applying for the scholarship or by the time they attend the GHCI 18 conference in November 2018.
How to Apply?
Just follow the below steps to apply for GHCI 18 Student Scholarship.
Step 1 : Visit the official website of Anita Borg Institute for Women in Technology through the URL https://ghcindia.anitab.org/
Step 2 : Then Select Scholarship link under Events tab in the Menu bar.

Step 3 : After that, read the terms & conditions carefully and Select 'Click Here' button under 'How to Apply'.

Step 4 : Already registered user Enter your Email id and Password for Login.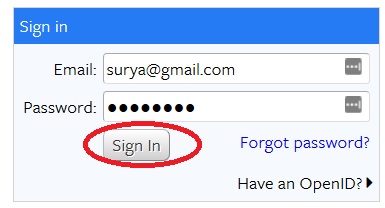 Step 5 : If you are a new user then Click Create an Account tab in the menu and enter your Contact Information, Sign-in Information and Click Register button.

Contact Information :
i. Enter Your First/Given Names & MI
ii. Enter Your Last/Family Name
iii. Enter Your Company/Institution
iv. Enter Your Company/Institution 2
v. Enter Your Phone Number
Sign-in Information :
i. Enter your Email Address
ii. Enter your Password The password must have at least 6 characters.

Note :
Students that have received the GHCI Student Scholarship in past years, are not eligible to apply again this year.
Important Dates
** We will inform you about the acceptance/non-acceptance of your scholarship application in August 2018.
** The deadline to submit your scholarship application is June 30, 2018.
Scholarship Details
The Scholarship gives the recipient the opportunity to attend the GHCI conference and includes the full conference registration fee and meals.
For outstation students, who do not reside in Bangalore, travel (by train/bus/air) will be reimbursed up to a maximum of Rs. 2,250 and accommodation arrangements will also be made.
Scholarship recipients also get access to GHCI's Career Fair (for women in technology only), where students can meet top recruiters from global technology companies. Students can explore internships as well as full-time job opportunities.
FAQs
1. Can I submit a poster and also apply for student scholarship?
Yes – both applications are different. If you want to apply for both, you have to complete the Poster submission form and GHCI Student Scholarship application separately. In your GHCI Student Scholarship application, mention the Linklings submission ID for your poster application in the relevant field.
2. If I have received the scholarship, how do I register for the conference?
You will be receiving a special code to register as a scholarship recipient. Use this code to register online
3. When are check-in/check-out times?
Check in November 14, 2018 and check out November 16, 2018. Timings will be provided a few months before the conference dates.
4. If I am a GHCI 18 Poster author/presenter, do I directly get the Student Scholarship?
No. Those who want to avail the GHCI Student Scholarships must apply separately. GHCI 18 Poster authors/presenters do not directly get the Student Scholarship.
5. If I have additional questions, who do I ask?
Please contact us at Indiaqueries [AT] anitab.org