karepass.cgg.gov.in Download Acknowledgement Prathibha Puraskar Scholarship : ePASS Karnataka Backward Classes Welfare
Rate this post:
[ Votes=

0

, Average =

0

]
Organisation : Karnataka Backward Classes Welfare Department ePASS
Facility : Download Acknowledgement
Scholarship Name : Prathibha Puraskar Scholarship
Download Acknowledgement here : http://karepass.cgg.gov.in/MeritScholarshipAppl.do?status=getAcknw
Karnataka ePass Download Acknowledgement
Enter the following details to download your Acknowledgement,
Related / Similar Post :
Karnataka ePass Post Matric Scholarship
Step 1 : Enter Applicant Reference Number
OR
Step 2 : Select SSLC Pass type
Step 3 : Enter SSLC Registration Number
Step 4 : Select SSLC Pass Year
Step 5 : Enter Date of Birth (YYYY-MM-DD)
Step 6 : Click on "Download Acknowledgement" Button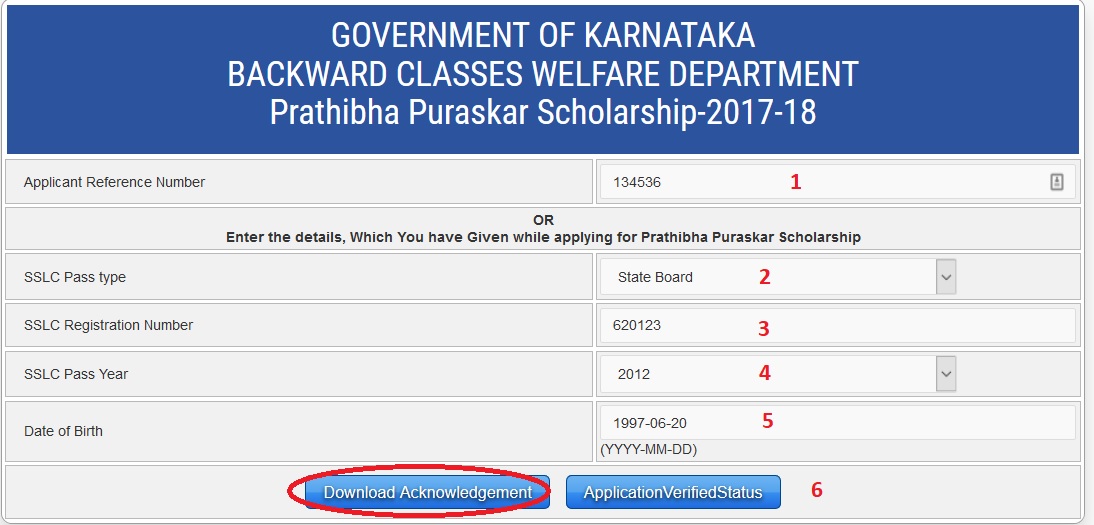 Frequently Asked Questions
1. Who are eligible to apply for Scholarship Schemes?
Students fulfilling the Scheme guidelines of various departments are eligible to apply for these scholarships. These are available on the Home Page of the Portal under Notification/GO menu.
2. What is the last date for submitting applications online?
Closure dates for acceptance of various scholarship applications are available in Karnata ePass Portal.
3. Which fields in the application form are mandatory ?
Fields provided with red asterisk (*) mark are mandatory fields.
4. How to check the status of my application ?
Student can check the status of Online Application by selecting the "Know Your Status" link from Student Services drop down list. And fulfill the form with appropriate details in specified fields.
Electronic Payment & Application System of Scholarship ePass :
Online Post Matric Scholarships disbursements through ePass application is one of the important welfare measures of the Government of Karnataka which is aimed at the educational upliftment of Students, initiated by the Department of Backward Class Welfare.
The system links all welfare departments, treasury, databases of Secondary Schools Leaving Certificate (SSLC), Colleges and Banks to disburse scholarships
Contact Us
Please Contact Us for the following reasons :
1. Deletion of the Wrong Application Entry.
3. New User ID Creation for New Institutions.
4. SSLC Marks Card Issues
5. College Authority with regard to any course etc.,
6. Addition of New Banks/Bank IFSCs
7. Replying Online to any other Queries.
Contact Details :
Karnataka Backward Classes Welfare Department
No.16/D, 3rd Floor, Devraj Urs Bhavan,
Millers Tank Bed Road, Vasanth Nagar,
Bangalore – 560052.
Phone 1 : 9480818013
Phone 2 : 9480820232
Phone 3 : (080) 22374837
Email ID : bcdbng[at]kar.nic.in