scholarship.odisha.gov.in Kalia Scholarship 2021 For SC, ST, OBC/SEBC & EBC Students
Want to comment on this post?

Go to bottom of this page.
Organisation : State Scholarship Portal, Government of Odisha, Agriculture & F.E Department
Scholarship Name : Kalia Scholarship 2021
Applicable For : SC, ST, OBC/SEBC & EBC Students
Applicable State/UT : Odisha
Last Date : 08/10/2021
Website : https://scholarship.odisha.gov.in/website/home
SSP Odisha Kalia Scholarship
Higher Education Department is now inviting online applications for Kalia Scholarship 2021 for SC, ST, OBC/SEBC & EBC Students.
Related / Similar Scholarship : SSP Odisha Post Matric Scholarship 2021-22
Objective
** Main purpose to launch this scheme is to improve the education standard in State children by giving them higher education and to motivate children towards it.
** Under Kalia Chhatra Bruti Yojana, every children of Kalia Yojana beneficiary farmer will get free higher professional education in various courses through State government run colleges.
** Those students who have taken the education in government colleges through merit bases and are children of beneficiary farmers of Kalia Yojana , their expense will be bear by State government.
Eligibility
** Students belongs to SC, ST, OBC/SEBC & EBC category.
** Agriculture & Allied Sciences, Animal Husbandary, Ayurvedic, Dental, Engineering – B.Tech Course, Fishery, Forestry, Homeopathy, Hotel Management, I.T.I. / I.T.C., Medical, Nursing, Para-Medical, Pharmacy, Polytechnic/ Diploma
How to Apply

?
To apply the scholarship, eligible students need to follow the below given steps
Step-1 :Click Registration link at the portal, if you are new user. Existing user can click on the login button.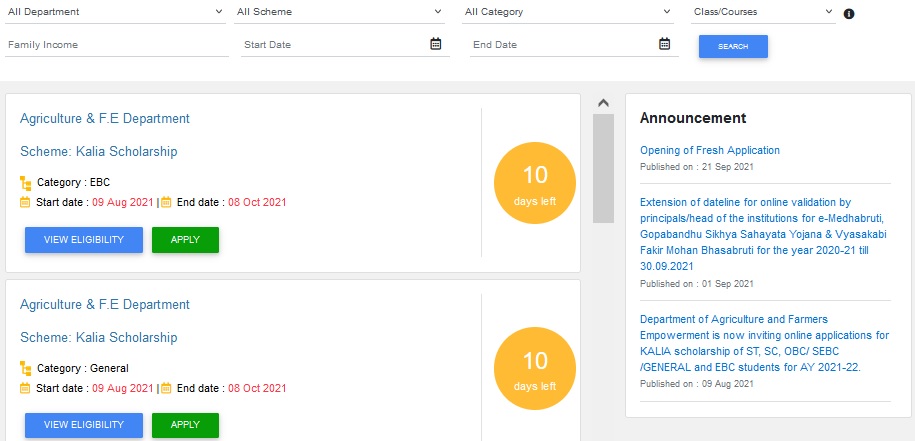 Step-2: Enter the Aadhaar number and proceed further.
Step-3 :Check your registered mobile or email to get the user ID and password.
Step-4: Click login link at the portal and enter User ID and password to apply the scholarship.
Step-5: Provide all necessary details like student, academic, eligibility and bank information.
Step-6: Click on the "Save as draft" button to draft the information or click on "Next" button to save and proceed the scholarship form.
Step-7: The preview of the completed form will appear on the page. Download the forms and take its print out.
Documents Required
** Aadhaar Card of student
** Income Certificate of the Parent/ guardian
** Residence Certificate of the Student
** Copy of passbook of Bank account with account number and IFSC code of the bank branch
** Passport size Photograph of student
** Ration Card of the Parent/ guardian
** Beneficiary Id of the Parent/ guardian
** Self Declaration Certificate of the student
** Matriculation Certificate of the Student
** Marksheet of last exam passed
FAQs
1. What is KALIA Scheme?
KALIA scheme is a package for farmer's welfare. KALIA stands for "Krushak Assistance for Livelihood and Income Augmentation". This scheme has been launched by Odisha Government to accelerate Agricultural Prosperity and reduce poverty in the State.
2. Whether a small/marginal farmer during cultivation in Rabi-2018-19 is eligible to get the benefit under this scheme.
Yes, He/She will be eligible and get the benefit in January 2019 onwards
3. What are the benefits available to cultivators for cultivation under KALIA scheme?
Financial assistance of Rs.25,000/- per farm family over five seasons will be provided to small and marginal farmers so that farmers can purchase inputs like seeds, fertilizers, pesticides and use assistance towards labour and other investments. This scheme is implemented from current Rabi Season 2018-19 onwards.