BYJU'S BNAT 2021 For JEE / NEET : National Aptitude & Scholarship Test
Rate this post:
[ Votes=

1

, Average =

1

]
Organisation : BYJU'S
Scholarship Name : BYJU'S BNAT 2021 National Scholarship Test
Applicable For : JEE / NEET
Applicable State/UT : All India
Last Date : 1 May, 2021
Exam Date : 02nd May 2021
Website : https://byjus.com/bnat/
BYJU'S BNAT
BNAT BYJU'S National Aptitude Test India's Largest Online Scholarship Test for JEE / NEET BNAT. Get Upto BNAT 100% SCHOLARSHIP
Related / Similar Scholarship : BYJU'S BNAT 2021 For Class 4 to 12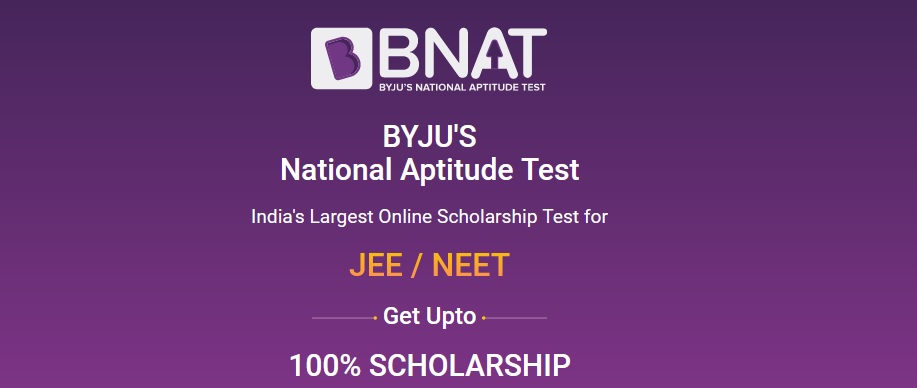 Eligibility
Any student who is studying in Class 10, Class 11, Class 12, and Class 12 Passed in any Board (CBSE, ICSE, State Boards, NIOS, etc.) can participate in BNAT.
How to Register?
** Verify your mobile number with OTP


** Enter your details and submit
** You have now successfully registered for BNAT
Test Details
Class 10th to 11th Moving :
** Target – JEE/NEET 2023
** Time – 10:00 AM to 11:30 AM
** Syllabus – Class 10 syllabus
Class 11th to 12th Moving :
** Target – JEE/NEET 2022
** Time – 10:00 AM to 11:30 AM
** Syllabus – Class 11 syllabus
Class 12th Appearing/Passed :
** Target – JEE/NEET 2021
** Time – 2:00 PM to 3:30 PM
** Syllabus – Complete syllabus of class 11 & 12
Test Highlights
** BYJU'S Scholarship Programme – Upto 100% scholarships will be awarded based on the performance in BNAT. Work hard!
** Learning Skills Report – Application, Retention and Subject wise scores will be presented
** Career Counselling – A detailed discussion will help you navigate through the challenges of choosing a profession
** Scorecard – Your All India Percentile, State Percentile, City Percentile, Percentage score, Subject wise analysis
Benefit to Student
** Analyse your strengths and key areas of improvement with respect to the skills required to qualify JEE / NEET.
** Assess their understanding of basic concepts.
** Benchmark themselves against other students at the state and All-India Level.
** Understand the gaps in their preparation for future competitive exams and take corrective actions.
** Scorecard showing their Percentile, Subject-wise Analytics, and Subject-wise improvement points.
How to take BNAT?
BNAT has to be taken online. The test will be conducted on the BYJU'S website on 2 May, 2021.
Timings would be :
** Class 10th to 11th Moving: 10:00 AM – 11:30 AM
** Class 11th to 12th Moving: 10:00 AM – 11:30 AM
** Class 12th Appearing/Passed: 2:00 PM – 3:30 PM
To login students must use their mobile number and the system generated password.
Students must save and continue during the test, and submit only when they have attempted the complete assessment.
FAQs
1. What if I am not able to login on time?
The link to start the test will remain active for 30 mins post the scheduled start time. Please ensure to login within this window to avail the full test duration for attempting the test.
In case of disconnection due to internet problems and power failure, the test will resume from where you left.
2. What if I want to appear for BNAT at a physical center?
BNAT is online. You can choose any place as per your convenience to login on your phone, tablet, or laptop to appear for the test.
3. What if I forget my Login User Name and Password?
Only way to login is using a registered Mobile number and a system generated password. You can click on forgot password to resend the password to you.
Send an email to bnatqueries [AT] byjus.com if you're unable to access with your registered mobile number.
4. Will I get a scholarship on top of my existing discount?
No. A student can avail only one scholarship or discount at a time. Lowest calculated fee after availing a scholarship/discount will be applicable.
5. Can I reschedule my test?
No, you can not.
6. Can I appear in BNAT again in future?
Yes, you can register for future BNATs, but only after 14 days of the one you've appeared in.