BYJU'S BNAT 2021 National Aptitude & Scholarship Test For Grade 4 to 12
Want to comment on this post?

Go to bottom of this page.
Organisation : BYJU'S
Scholarship Name : BNAT 2021 BYJU'S National Aptitude & Scholarship Test
Applicable For : Class 4-12th Students
Applicable State/UT : All India
Last Date : 31.07.2021
Exam Date : 31.07.2021
Website : https://byjus.com/me/bnat/
BYJU'S BNAT
BYJU'S National Aptitude Test. Take BNAT – India's largest Online Aptitude & Scholarship Test. Exclusively for Middle East/GCC GRADES 4 -12
Related / Similar Scholarship :

BNAT BYJU'S National Aptitude Test 2021 For Grade 4-10 Students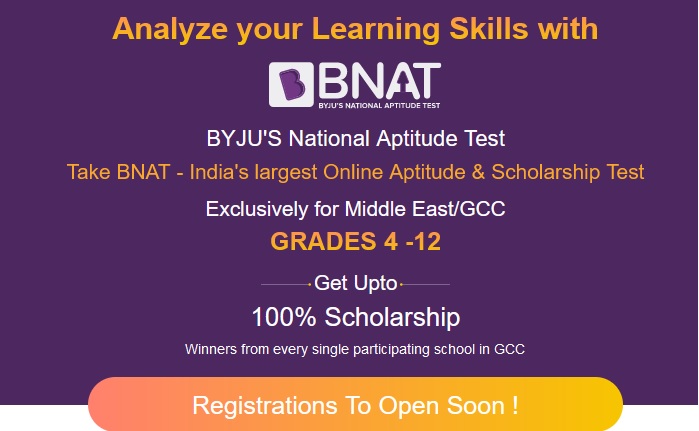 Eligibility
Any student studying in class 4-12 in CBSE/ICSE Board can participate in BNAT.
Benefits to Students
** Analyse your strengths and key areas of improvement.
** Assess their understanding of basic concepts.
** Benchmark themselves against other students at the school and GCC Level.
** Understand the gaps in their preparation for future competitive exams and take corrective actions.
** Scorecard showing their Percentile, Subject-wise Analytics, and Subject-wise improvement points.
How to Apply?
Steps :
Step 1 : Register Online on www.byjus.com/me/bnat
Step 2 : Register using your personal details and a valid mobile number.
Step 3 : Verify your mobile number with OTP
Step 4 : Enter your details and submit
Step 5 : You have now successfully registered for BNAT
Registration Fee
BYJU'S BNAT is free and open to all eligible students. You only need to give your valuable time for the exam duration.
Test Details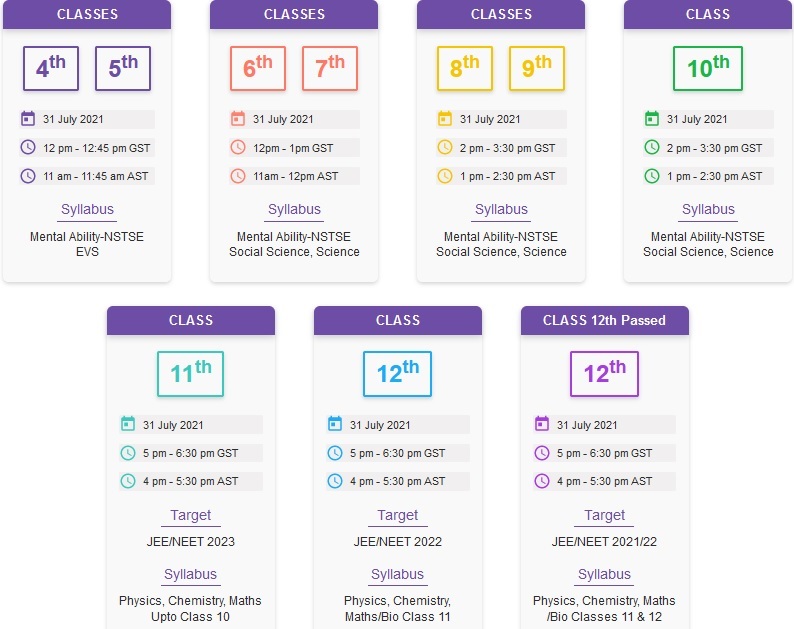 Important Dates
** Last date to register – 31st July, 2021 – 06:00 AM GST / 5:00 AM AST
** Results to be announced on – 2nd August, 2021 – 1:00 PM GST / 12:00 PM AST
Rewards
** Upto 100% Scholarship on BYJU'S Classes will be awarded based on the performance in BNAT. Work hard!
** 10 Top students in each country will get 100% Scholarship (8 Junior & 2 Senior).
** Additionally, 2 Top students in each school will get 75% scholarship (1 Junior & 1 Senior).
** Additionally, next 2 Top students in each school will get 50% scholarship.
How to take BYJU'S BNAT?
BNAT has to be taken online. The test will be conducted on the BYJU'S website on 31st July, 2021.
Timings would be :
Class 4-5 : 12pm – 12:45pm GST | 11am – 11:45am AST
Class 6-7 : 12pm – 1pm GST | 11am – 12pm AST
Class 8-9 : 2pm – 3:30pm GST | 1pm – 2:30pm AST
Class 10 : 2pm – 3:30pm GST | 1pm – 2:30pm AST
Class 11 : 5pm – 6:30pm GST | 4pm – 5:30pm AST
Class 12 : 5pm – 6:30pm GST | 4pm – 5:30pm AST
Class 12 Passed : 5pm – 6:30pm GST | 4pm – 5:30pm AST
To login students must use their mobile number and the system generated password.
Students must save and continue during the test, and submit only when they have attempted the complete assessment.
Results
Results for BNAT will be announced on 2nd August – 1:00 PM GST/ 12.00 PM AST. We recommend students to download their assessment report as it will be available on the portal for only 4 days after it is published on 2nd August – 1:00 PM GST/ 12.00 PM AST.
Terms & Conditions
BYJU'S decision on Scholarship is final. BNAT is based on internal parameters of BYJU'S. The applicant and the applicant's parents agree that BYJU'S shall not be held responsible for any loss/damage, caused to the applicant or the applicant's parent, due to the usage or placing reliance on BNAT or the BNAT results for any decision being made by the applicant's parent or the applicant. Applicant and applicant's parent agree that BYJU'S may use the data submitted by the applicant for its business.
FAQs
1. What if I am not able to login on time?
The link to start the test will remain active for 30 mins post the scheduled start time. Please ensure to login within this window to avail the full test duration for attempting the test.
In case of disconnection due to internet problems and power failure, the test will resume from where you left.
2. What if I forgot my Login User Name and Password?
Only way to login is using a registered Mobile number and a system generated password. You can click on forgot password to resend the password to you.
Send an email to bnatqueries [AT] byjus.com if you're unable to access with your registered mobile number.
3. What if I want to appear for BYJUS'S BNAT at a physical center?
BYJU'S BNAT is available only online. You can choose any place as per your convenience to login on your phone, tablet, or laptop to appear for the test.
4. Will I get a scholarship on top of my existing discount?
No. A student can avail only one scholarship or discount at a time. Lowest calculated fee after availing a scholarship/discount will be applicable.
5. Can I appear in BNAT again in future?
Yes, you can register for future BNATs, but only after 30 days of the one you've appeared in.