BYJU'S BNST 2021 National Scholarship Test for IAS
Rate this post:
[ Votes=

2

, Average =

5

]
Organisation : BYJU'S
Scholarship Name : BYJU'S BNST 2021 National Scholarship Test for IAS
Applicable For : IAS
Applicable State/UT : All India
Last Date : 24 Apr, 2021
Exam Date : 25 Apr, 2021
Website : https://byjus.com/bnst-ias/
BYJU'S BNST
BYJU'S National Scholarship Test for IAS India's Largest Online Scholarship Test for IAS*
Related / Similar Scholarship : BYJU'S BNAT 2021 For JEE / NEET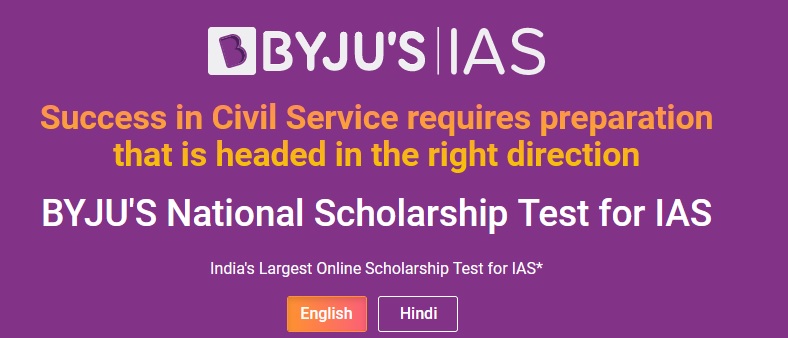 Benefits
** Analyse your strengths and key areas of improvement.
** Benchmark themselves against other students at All-India Level.
** Understand the entire process, requirements and pattern of the UPSC Civil Services Exam
** Understand the gaps in your preparation and take corrective actions.
** Find answers to all your doubts and queries regarding the UPSC Civil Services Exam.
** A complete Exam Guide to prepare for the UPSC Civil Services Exam.
Registration Fee
BNST-IAS is free and open to all the aspirants.
How to Apply BNST?
Register online at https://byjus.com/bnst-ias/ with a valid mobile number.
Steps :
Step 1 : Visit the official website of BYJU'S through provided above.
Step 2 : Read the instructions carefully and click on the "Register for Free" button.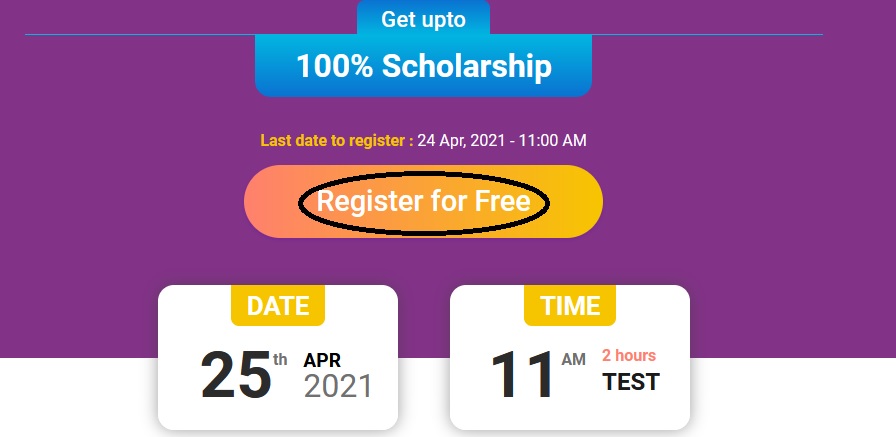 Step 3 : Register using your personal details and a valid mobile number.
Step 4 : Verify your phone number with OTP and submit
Step 5 : You have now successfully registered for BNST.
How to take BNST?
** BNST | IAS has to be taken online. The test will be conducted on the BYJU'S website on 25 Apr, 2021 – 11:00 AM.
** To login students must use their mobile number and the system generated password.
** Students must save and continue during the test, and submit only when they have attempted the complete assessment.
Test Pattern
Total Duration of Test: 2 hour
Total Number of Questions: 100
| | | |
| --- | --- | --- |
| Section | No. Of Ques | Time Limit |
| Polity | 15 | No Limit |
| Geography | 15 | No Limit |
| Economy | 15 | No Limit |
| History | 15 | No Limit |
| Science and Technology and Environment | 15 | No Limit |
| Current Affairs | 25 | No Limit |
Marking Scheme
** Every correct answer gets +2 marks.
** There is a penalty of -0.67 for each incorrect answer.
** There is no penalty for unattempted questions.
Syllabus
** Current events of national and international importance.
** History of India and Indian National Movement.
** Indian and World Geography – Physical, Social, Economic Geography of India and the World.
** Indian Polity and Governance – Constitution, Political System, Panchayati Raj, Public Policy, Rights Issues, etc.
** Economic and Social Development – Sustainable Development, Poverty, Inclusion, Demographics, Social Sector Initiatives, etc.
** General issues on Environmental ecology, Biodiversity and Climate Change – that do not require subject specialization.
** General Science.
BNST Results
Results of BNST | IAS will be announced on 28 Apr, 2021 – 12:00 PM. We recommend you to download your assessment report at the earliest, as it will be available on the portal only for 7 days after it is published.
FAQs
1. What if I am not able to login on time?
** The link to start the test will remain active for 30 mins post the scheduled start time. Please login within this window to avail the full test duration for attempting the test.
** In case of disconnection due to internet problems and power failure, the test will resume from where you left.
2. What if I want to appear for BNST | IAS at a physical center?
BNST | IAS is online. You can choose any place as per your convenience to login on your phone, tablet or laptop to appear for the test.
3. What if I forget my Login User Name and Password?
Only way to login is using a registered Mobile number and a system generated password. You can click on forgot password to resend the password to you.
Send an email to byjusias [AT] byjus.com if you're unable to access the test with your registered mobile number.
4. Will I get a scholarship on top of my existing discount?
No. A student can avail only one scholarship or discount at a time. Lowest calculated fee after availing a scholarship/discount will be applicable.
5. Can I appear for the test in Hindi language?
Yes, the test will be available in both English and Hindi language.