BYJU'S BNAT 2021 For Class 11th & 12th Students : National Aptitude & Scholarship Test
Organisation : BYJU'S
Scholarship Name : BNAT 2021 BYJU'S National Aptitude & Scholarship Test
Applicable For : Class 11th & 12th Students
Applicable State/UT : All India
Last Date : 30.01.2021
Exam Date : 31.01.2021
Website : https://byjus.com/bnat/
BYJU'S BNAT
Analyze your Learning Skills to crack JEE / NEET. BYJU'S National Aptitude Test India's largest Online Aptitude & Scholarship Test for JEE / NEET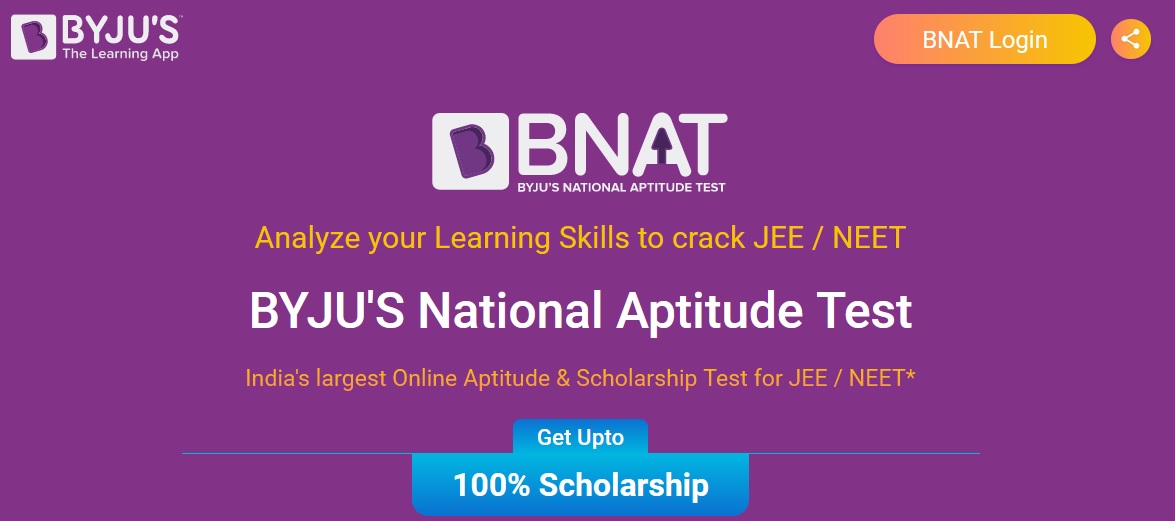 Eligibility
Any student who is studying in Class 11, Class 12, and Class 12 Passed in any Board (CBSE, ICSE, State Boards, NIOS, etc.) can participate in BNAT.
Benefits
** Analyse your strengths and key areas of improvement with respect to the skills required to qualify JEE / NEET.
** Assess their understanding of basic concepts.
** Benchmark themselves against other students at the state and All-India Level.
** Understand the gaps in their preparation for future competitive exams and take corrective actions.
** Scorecard showing their Percentile, Subject-wise Analytics, and Subject-wise improvement points.
How to Apply for BNAT?
Just follow the below steps to apply for BNAT 2021.
Steps :
Step 1 : Visit the official website of BYJU'S through provided above.
Step 2 : Read the instructions carefully and click on the "Register for Free" button.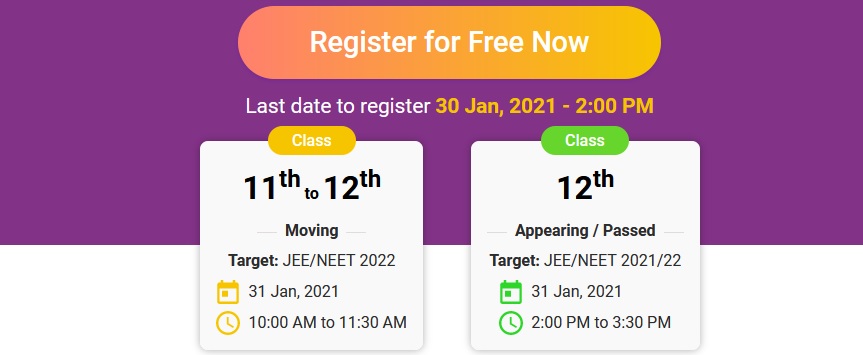 Step 3 : Register using your personal details and a valid mobile number.
Step 4 : Verify your phone number with OTP and submit
Step 5 : You have now successfully registered for BNAT
Registration Fee
BNAT is free and open to all eligible students. You only need to give 1.5 hours of your valuable time. Remember Time Is Money!
Exam Details
Exam Date :
For 11th to 12th Moving :
** Target – JEE/NEET 2022
** Date – 31 Jan, 2021
** Time – 10:00 AM to 11:30 AM
12th Appearing / Passed :
** Target – JEE/NEET 2021/22
** Date – 31 Jan, 2021
** Time – 2:00 PM to 3:30 PM
Exam Mode : Online Test (Take from your home)
Last Date to Register : 30th January 2021.
How to Take BNAT?
BNAT has to be taken online. The test will be conducted on the BYJU'S website on 31 Jan, 2021.
Timings would be :
** Class 11th to 12th Moving: 10:00 AM – 11:30 AM
** Class 12th Appearing/Passed: 2:00 PM – 3:30 PM
To login students must use their mobile number and the system generated password. Students must save and continue during the test, and submit only when they have attempted the complete assessment.
FAQs
1. Can I take BNAT from multiple devices?
To ensure a transparent and fair experience to all participants, any attempt to change the device or browser will result in exam termination.
One student can appear for the exam on only one device and one browser. Therefore, before the exam make sure your device, internet connectivity, browser, etc. are functioning properly
2. Can I reschedule my test?
No, you can not.
3. I am an existing student at BYJU'S, Can I appear for BNAT?
Yes. All eligible students, even BYJU'S students, can appear for BNAT. But the scholarship availed can only be used for enrolling in fresh courses.
4. Will I get a scholarship on top of my existing discount?
No. A student can avail only one scholarship or discount at a time. Lowest calculated fee after availing a scholarship/discount will be applicable.
Terms & Conditions
** BYJU'S decision on Scholarship is final. The BNAT is based on Internal parameters of BYJU'S.
** The applicant and the applicant's parents agree that BYJU'S shall not be held responsible for any loss/damage, caused to the applicant or the applicant's parent, due to the usage or placing reliance on BNAT or the BNAT results for any decision being made by the applicant's parent or the applicant.
** Applicant and applicant's parent agree that BYJU'S may use the data submitted by the applicant for its business.
Results
Results for BNAT will be announced on 2 Feb, 2021 – 12:00 PM. We recommend students to download their assessment report as it will be available on the portal for only 4days after it is published on 2 Feb, 2021 – 12:00 PM.
Helpline
Please send your queries to bnatqueries [AT] byjus.com or call on BNAT Helpline 7829211117