scstwelfare.delhigovt.nic.in Financial Assistance For Purchase Of Stationery 2020-21 : Delhi ST/OBC/Minority Welfare
Organisation : Delhi Department for the Welfare of SC/ST/OBC/Minority
Scholarship Name : Financial Assistance For Purchase Of Stationery 2020-21
Applicable For : SC/ST/OBC/Minority Students of Class I to XII Studying in Government Schools/ Recognized School of Delhi
Applicable State/UT : Delhi
Application Last Date : 28/02/2021
Website : http://scstwelfare.delhigovt.nic.in/wps/wcm/connect/DoIT_Welfare/welfare/home/
Delhi Financial Assistance For Purchase Of Stationery
Applications are invited for Financial Assistance For Purchase Of Stationery to SC/ST/OBC/Minority Students of class I to XII in Government Schools/recognized schools of Delhi for the year 2020-21.
Related / Similar Scholarship :
Delhi Merit Scholarship For Colleges/Professional Students 2020-21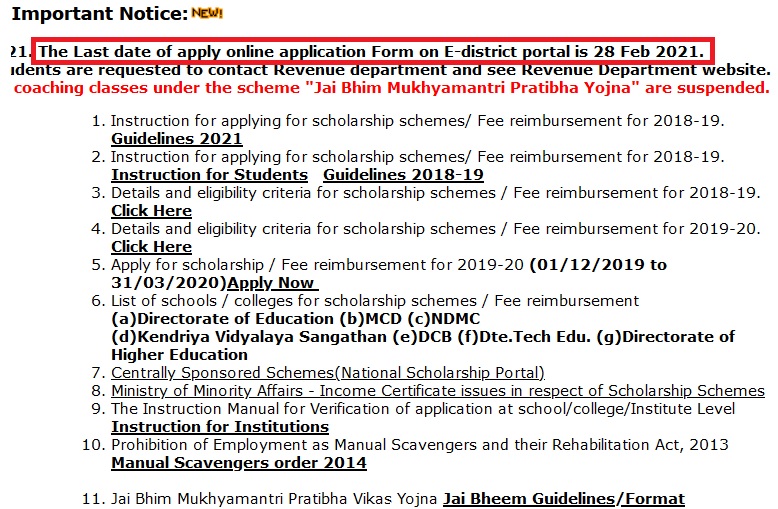 Who Can Apply?
** SC/ST/OBC/Minorities students of class I to XII of all Government/Aided/Recognized public schools affiliated to Directorate of Education/Kendriya Vidyalaya Sangathan/ National Open School/ Schools affiliated to NDMC/Delhi Cantonment Board, East Delhi Municipal Corporation, North Delhi Municipal Corporation and South Delhi Municipal Corporation are eligible to apply.
** The students should not have less than 70% attendance in previous academic year.
** Family income should not exceed Rs. 2.00 Lakh per Annum
Amount of Assistance
a) I to VIII Class : Rs.3,000/- Per annum. (1500+1500 for Stationery and Merit scholarship Each)
b) IX to X Class : Rs. 4,000/- Per annum (2000+2000 for Stationery and Merit scholarship Each)
b) IX to XII Class : Rs.5,000/- Per annum. (2500+2500 for Stationery and Merit scholarship Each)
Note :
1. If applicant receives stationery in cash/kind from school. He/She may get scholarship of Rs 1500/-, 2000/-, 2500/- per annum for class I to VIII, Class IX to X and class XI to XII respectively.
2. The sanctioned amount will be fixed deposited in the bank account of the student till the period, student completes education upto class XII or attain the age of 18 years whichever is earlier.
How to Apply?
Applicants can be submitted their Application online on e-district portal for the Financial Year 2020-21.
Apply Online : https://edistrict.delhigovt.nic.in/
Steps :
Step 1 : Applicants can apply online through E-district Portal of NIC Delhi provided above.
Step 2 : If you are already registered user, Click Registered User Login link and Enter the below details
Registered User Login
Step 1 : Enter Your User Id [12356]
Step 2 : Enter Your Password
Step 3 : Enter Your Type the code shown
Step 4 : Click Login button
Citizen Registration Form
New User click the Registration link in the Login page and follow the below steps
Step 1 : Select Your Document Type [Aadhaar/ Voter Id]
Step 2 : Enter Document No. As per your Selection [1234560000]
Step 3 : Type the security code
Step 4 : Accept the terms & conditions and Click Continue button
Get UserId & Password
You can get your User Id & Password if you forget your mobile no. on e-district Portal.
Step 1 : Select Whether you had availed any service/Certificate form e-District Delhi [Yes/ No]
Step 2 : Select the Document Type [Aadhaar]
Step 3 : Enter your Document No. [123456780000]
Step 4 : Enter the Name on Document [Azar]
Step 5 : Enter your Date of Birth [15/03/1997]
Step 6 : Select your Gender [Male/ Female/ Transgender]
Step 7 : Enter your Mobile No.[9876543210] OR Enter your Email ID
Step 8 : Type the code and Click Get User Id & Password button
Instructions
Instructions for students for applying for scholarship online on E-district portal
i. The applicants should read guidelines of the scholarship scheme carefully before choosing the scheme as per their eligibility criteria of the student, available on the official website of the department
ii. Student may not opt any centrally sponsored scholarship scheme with the state funded scheme.
iii. Applicant should fill in amount of fees as per receipts uploaded on the portal.
iv. The applicant must check all filled in details with available documents, before finally submitting the online application on the portal
v. Applicant should mention their active mobile number, so that updated status may be communicated to them.
vi. Student/applicant will be responsible for filling incorrect/ incomplete information on the portal.
vii. System generated Login ID should be kept safely by the applicant for monitoring of their application on the e-district portal and future references.
Terms & Conditions
** The applicant belongs to the minority community should be resident of Delhi for the past three years and should upload proof thereof like EPIC card, Aadhaar Number, Ration Card, Landline telephone bill of MTNL, Driving License issued by GNCTD and Domicile Certificate issued by SDM in Delhi or pass book of nationalized bank.
** The applicant should upload Caste Certificate (SC/ST/OBC) issued in the name of student or his father's name by SDM/Deputy Commissioner (Revenue), GNCTD, Domicile Certificate of Delhi if the caste (SC) certificate is not issued by the competent authority of Govt. of NCT of Delhi.
** In case of minority student, declaration by parent/guardian in prescribed format that his Son/Daughter belongs to particular Minority Community require to be uploaded on the portal.
Last Date
The applicant can apply online application Form on E-district portal till 28th February 2021.
Contact/Helpdesk
For any queries/problems in applying for scholarship on E-district portal send e-mail to dscstschscheme.delhi [AT] gov.in