National Scholarship Portal : Puducherry 2020-21 Stipend to SC Trainers in Government ITI
Organisation : National Scholarship Portal
Scholarship Name : Stipend to SC Trainers in Government ITI 2020-21
Applicable For : Trainees at government ITI
Applicable State/UTs : Puducherry
Application Last Date : 31.12.2020
Website : https://scholarships.gov.in/
NSP Puducherry Stipend to SC Trainers
The Ministry of Social Justice & Empowerment, Government of India invites applications for Stipend to SC Trainers in Government ITI – Puducherry 2020-21 from SC Trainees at government ITI.
Related / Similar Scholarship : NSP Opportunity Cost to Parents of SC 2020-21
The scholarship is applicable for candidates who are domiciles of Puducherry. The selected students will receive stipend and merit scholarships for their studies.
Eligibility
To be eligible for this scholarship, an applicant must-
** Belong to Scheduled Caste
** Be a domicile of Puducherry
** Be a trainee at Government ITI
How to Apply?
Just follow the below steps to apply for the Puducherry Stipend to SC Trainers in Government ITI 2020-21.
Steps :
Step 1 : Go to the official website of National Scholarship Portal through the URL provided above.
Step 2 : Then Select State Schemes tab and Click on Puducherry in the drop down list.
Step 3 : After that Click the link in the "Stipend to SC Trainers in Government ITI" under Puducherry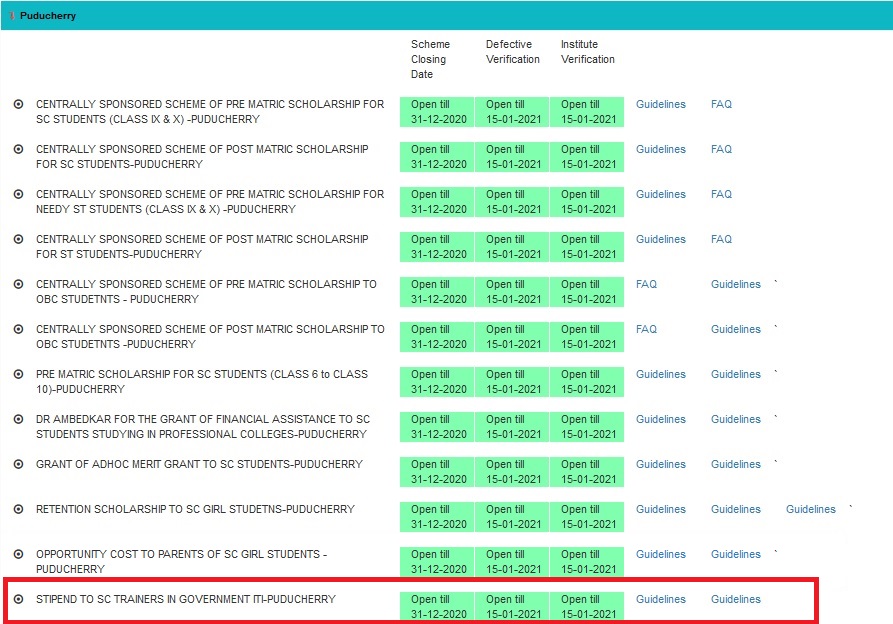 Step 4 : Read the Instructions enter your Application Id, Password and Captcha for Login.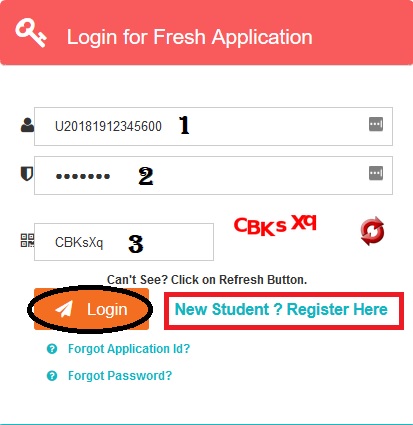 Step 5 : After Login to your account select the Scholarship scheme and fill the required details to apply for the scholarship.
Step 6 : If you are a New User then Click on the Register link in the Login Page.
Step 7 : Enter all required details for registration to get your user id and password. After register your account you can Login and apply the scholarship.
Step 8 : After complete your application you will get a confirmation message to your registered email id & mobile number.
Note : Application complete in all respects, shall be submitted to the Head of the Institution/School.
Benefits
The selected will receive scholarship up to INR 300 per month.
Documents Required
a. One copy of the application for scholarship in the prescribed form (separate application form may be prescribed by concerned State Government/UT for 'fresh' and 'renewal' scholarship).
b. One copy of the passport size photograph with signatures of the student thereon (for fresh scholarship)
c. One attested copy each of certificates/diploma/degree etc., in respect of all examination passed
d. A certificate (in original) of Caste signed by an authorized Revenue Officer not below the rank of Tehsildar.
e. An income declaration by the parents/guardians, stating definite income from all sources by way of income certification from employer along with the affidavit on non-Judicial Stamp Paper.
f. A receipt in acknowledgement of the scholarship in the previous year on the form attached to the application only duly countersigned by the Head of the Institution concerned, if the applicant was in receipt of a scholarship under this Scheme in the preceding year.
Last Date
** Last date to apply for the Stipend to SC Trainers in Government ITI Puducherry is 31-12-2020
** Defective Verification is Open till 15-01-2021
** Institute Verification is Open till 15-01-2021