fellowship.tribal.gov.in National Fellowship Scheme 2020-21 For Ph.D/ M.Phil Students
Organisation : Ministry of Tribal Affairs
Scholarship Name : National Fellowship Scheme 2020-21
Applicable For : Ph.D/ M.Phil ST Students
Last Date : 04.12.2020
Website : https://fellowship.tribal.gov.in/
National Fellowship Scheme
Registration on National Tribal Fellowship Portal is open now. Last date to invite/ submit application is 04.12.2020.
Related / Similar Fellowship : NIUA ISCF 2021

Who Can Apply?
** The candidate belonging to ST should have passed the Post-Graduation examination for being eligible for the Fellowship.
** The candidate should get admission and registration for regular and full time M.Phil/Ph.D Courses in University / Academic Institutions recognized by UGC.
How To Apply?
There are mainly three stages for filling application of National Fellowship for ST Candidates as follows –
Step-I : Registration Process in Fellowship Portal
Step-II : Registration Process in Digi locker Portal (Only for those Applicants who doesn't have their Digi locker Account.)
Step-III : Filling Application Form
Registration Process in Fellowship Portal :
** The research scholar is required to register him/her self in the portal at http://fellowship.tribal.gov.in with valid E-Mail ID and Mobile Number.
** After clicking on New Registration -> Student Registration tab, the registration form will open.
** Fill the Application Form with the required details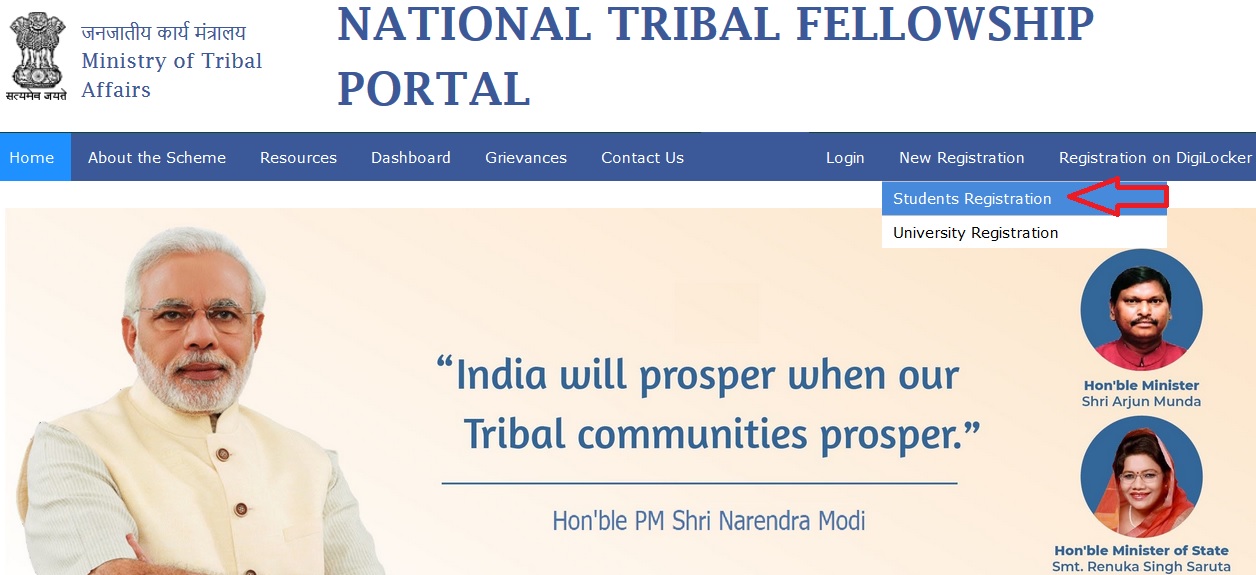 ** The applicant will get confirmation message as "Your registration completed successfully" after entering correct OTP and submit it.
Registration Process for Digi locker :
(Only for those who doesn't have their Digi locker ID)
** The applicant whose account is not on Digi Locker will have to register his new account by clicking on the "Register on Digi Locker" button.
** Process for Sign Up – By clicking on Sign Up button, where the applicant will be asked to enter Aadhar number and click on Next button.
** Enter the OTP received on mobile number and click on Submit button.
** Now you have to create a security Pin code (6 digit) by yourself and remember it for further use and click on submit button. Then your Digi locker account will open.
** Kindly enter your mail id shown in the below image and click on "Send Verification button". Then you will get an OTP on your entered e-mail Id. After entering the received OTP your Digi locker account will be activated.
** In the dash board of Digi locker there are two columns one is "Issued Documents (Verified by Government or competent authority)" and another is "Uploaded Documents (self uploaded)".
** If any related document is not under Issued documents, upload all the required document at "Uploaded documents" section.
Fellowship Application Form :
** The research scholar is required to fill the application form with all necessary information and documents.
** Log In Screen – Enter your email Id and password and valid captcha code.
** After successful login Application form will be displayed to fill information.
** Fill the Application form with the following details
1. Personal Information
2. Research scholar's Address Details
3. Candidate's Status
4. Post Graduate Details
5. Current University, College Course with Stream, Department and Supervisors Details
6. Candidate's Documents
7. Declaration by the Applicant
** The applicant needs to click "Save As Draft" button whenever required to resume the application form in edit mode.
** Click on "Submit" button for final submission of the Application. (Any information cannot be updated/edited, if application submitted successfully.)
Instructions
The Research scholar is required to follow the below mentioned instructions
a. It is necessary to register at Digi locker for all applicants.
b. All research scholars need to upload their required documents first on Digi locker. The uploaded documents will be used while filling the application form by fetching from the Digi locker to filled application form.
c. All documents should be uploaded in pdf file and the Profile Photo should be in .jpg/.jpeg format.
d. If research scholars face any problem while filling the application form in Google Chrome or any other browser, scholars are advised to use internet explorer. In case any issue/error in internet explorer as well, they are advised to clear browser history /cache and try again.
Documents Required
Before initiating registration process, research scholar is advised to keep his /her following documents ready;
a. DOB Certificate.
b. Post-Graduate Marksheet.
c. Conversion factor formulae certificates issued from your University/ Institutes (In case of marks are in CGPA/ SGPA)
d. ST Certificate
e. PWD Certificate (If Applicable)
f. BPL Certificate (If Applicable)
g. Profile Photo (Size :- 50 KB-100KB).
h. Family Income Certificate