BSE Odisha NRTS 2020 National Rural Talent Search Examination : bseodisha.ac.in
Organisation : Board of Secondary Education, Odisha
Examination : National Rural Talent Search (NRTS) Examination, 2020
Applicable State : Odisha
Applicable For : Class-VIII Passed Students
Last Date : 19.11.2020
Website : http://www.bseodisha.ac.in/
BSE Exam NRTS Odisha
Board of Secondary Education, Odisha invites online applications for National Rural Talent Search (NRTS) Examination, 2020.
Related / Similar Scholarship : BSE Odisha PMST 2020
Eligibility Criteria
(1) A student of any school recognized / received NOC by Govt. of Odisha and has passed Class-VIII having secured following percentage of marks in the final examination and continuing in Class-IX is eligible to appear at the NRTS examination.
(a) For GEN/OBC/SEBC Category : Minimum 60% marks
(b) For SC / ST Category : Minimum 50% marks
(2) Maximum 5(five) Nos. of students from a school can sit for the examination.
Note :
Students of Schools not following syllabus of Board of Secondary Education, Odisha are not eligible for the scholarship.
How To Fill Up Application Form ?
If you are a user to the portal/website, you have to create a new account for the first time by opening the website.
Opening New Account
Step 1 : In order to create a new account, you have to click on the link Create An Account (For New User only).
Step 2 : A form will appear where you have to give your required details along with your valid e-mail Id and a password. You have to upload your scan copy of signature (Jpg, Png or Bmp file with size not more than 100 KB)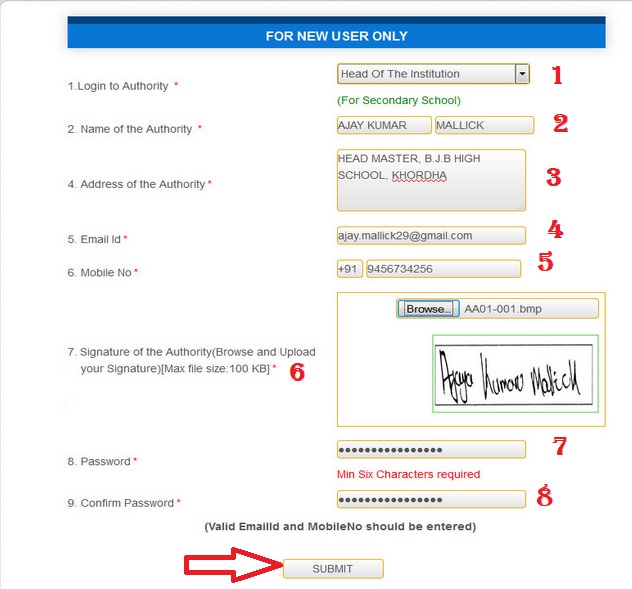 Signing In To Existing Account
Step 3 : Whenever you open the website, you can Sign In by using your registered e-mail Id and password. Even if you have forgotten your password, you can click on Forget Password link and your password will be sent to your registered mail immediately.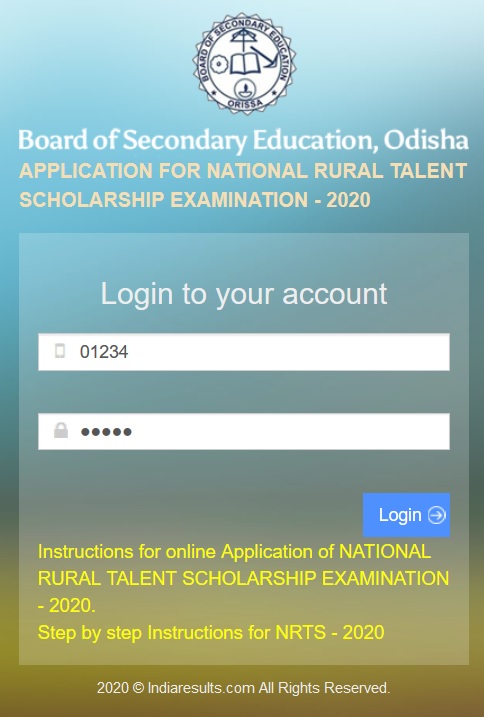 Step 4 : After signing in successfully to your existing account, you will have a home page on the screen with various links as shown below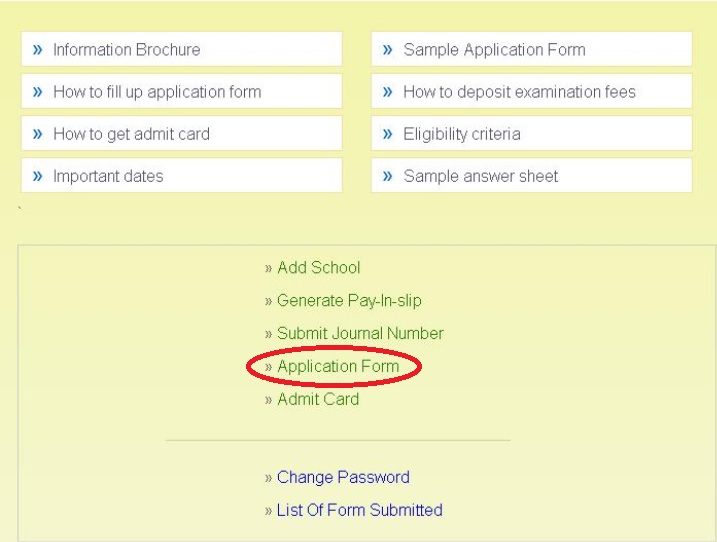 Add School
Step 5 : You have to register the concerned school by clicking on the Add School link on the home page. A form will appear as shown below where you have to correctly enter all details about the school.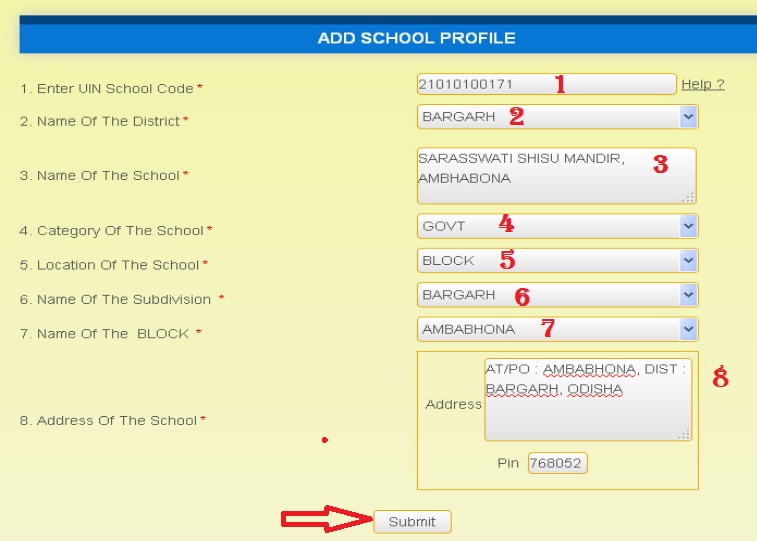 Generate Pay-In-Slip
Step 6 : Pay-in-slips are generated school-wise. Even if more than one pay-in-slip can be generated under a particular school.
Step 7 : In order to generate a pay-in-slip, you have to click on the Generate Pay-In-Slip link on the home page and a form will appear where you have to select the school and the number of candidates.

Step 8 : After selecting proper criteria, a button will appear automatically to generate pay-in-slip. Take a print-out of this pay-in-slip
Please note that this pay-in-slip has three parts :
(a) Institution copy
(b) Board copy and
(c) Bank copy
Deposit Fees In Bank
Step 9 : After printing pay-in-slip, Go to any State Bank of India (SBI) branch and deposit the requisite amount (as specified on the slip) by showing the pay-in-slip to the concerned bank officer. Account number for depositing fees is specified on the slip.
Step 10 : Bank will give a Journal number after receiving fees. Please note that this Journal number is written on the three copies with proper date.
Submit Journal Number
Step 11 : After depositing fees in SBI, click on the Submit Journal Number link in the home page.
Step 12 : You have to select the proper pay-in-slip number from the list and enter the journal number of this slip and date provided by the bank. Once the form is successfully submitted, the pay-in-slip number will not be shown in the list.

Submit Application Form
Step 13 : After successfully submitting journal number, you have to click on the Application Form link on the home page
Step 14 : A blank form will appear on the screen where you have to enter all requisite details. You have to browse scan copy of photo and signature of the particular candidate.
Step 15 : If everything entered on the form is correct, please accept the declaration message by putting a tick mark on the check box. Now click on the Proceed button to move to the next step.
Step 16 : Now the form is submitted and an Acknowledgement Card will appear on the screen within a while. Please make a print-out of this card for your proof and future reference.
Exam Pattern
** The examination will be conducted in subjects like MIL, Mathematics, General Science & Social Science. The questions will be set from the syllabus of Class-VII.
** It will be a composite paper consisting of four papers/ sections, i.e. one section for each subject. Each section will carry full mark of 25 and the total mark will be 100.
** The questions will be of multiple choice type and the answers will given in the OMR Answer Sheet by darkening the right answer out of four options.
Examination Fees :
** The fee for NRTS Examination, 2020 is Rs.60/- (Rupees Sixty) per candidate.
** The Headmasters of Upper Primary & UGME Schools are required to collect the detail information of the students as per format along with total fee and deposit with the concerned Block Education Officer for doing the online registration.
Rate Of Scholarships
The selected students will get Rs.250/- per month for 24 months till he/ she continues his/ her studies in the secondary level with satisfactory performance.
Award Of Scholarships
** The B.S.E., Odisha will declare the results of the scholarship examination and publish the merit list in its website.
** The District Education Officer will prepare the list of selected students for each district on the basis of result and merit list provided by the B.S.E., Odisha, after verification of correctness of the data in the merit list.
** The District Education Officer will issue the award memo in favour of selected students. In no case the total number of awardees in a Block (Rural & Urban taken together) shall exceeds 10.
Disbursement Of Award Money
The scholarship money shall be disbursed to students through electronic transfer to their Bank Accounts.
Soon after the publication of result and issue of award memo the awardees will be informed to open joint bank account (student and one of the parents) and submit the account details to the DEO/ BEO who will transfer the award money to the account of the student. No other mode of payment is allowed