BSE Odisha NRTS Result 2020 : National Rural Talent Scholarship Examination
Organisation : Board of Secondary Education, BSE Odisha
Annoucement : Result Of National Rural Talent Scholarship Examination 2020
Scholarship Exam Name : National Rural Talent Search (NRTS) Examination, 2020
Applicable State : Odisha
Applicable For : Class-VIII Passed Students
Check Result Here : http://results.indiaresults.com/or/bse-orissa/national-rural-talent-scholarship-exam-2020/query.htm
BSE Odisha NRTS Result
Result Of National Rural Talent Scholarship Examination, 2020 has been announced.
How To Check NRTS Results?
To view the result of NRTS 2020, kindly follow the steps mentioned below
Steps :
Step 1 : Go to the official website of BSE Odisha through the URL http://www.bseodisha.ac.in/
Step 2 : Next click on the "Result Of National Rural Talent Scholarship Examination, 2020" link in the home page.

Step 3 : It will redirect to the results page.
Step 4 : Then Enter your Roll Number (or) Enter your Name


Step 5 : Click on the 'Find Results' button. Download and take a print of the result for future reference
Step 6 : The result will be displayed as shown below. Click on the "Get" button to view the complete result details.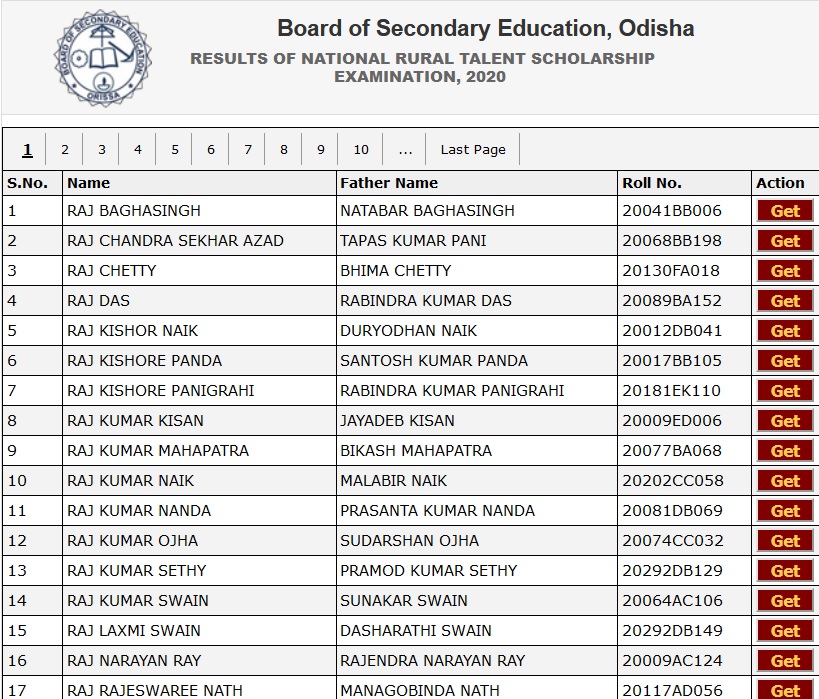 Rate Of Scholarships
The selected students will get Rs.250/- per month for 36 months till he/ she continues his/ her studies in the secondary level with satisfactory performance.
Award Of Scholarships
** The B.S.E., Odisha will declare the results of the scholarship examination and publish the merit list in its website.
** The District Education Officer will prepare the list of selected students for each district on the basis of result and merit list provided by the B.S.E., Odisha, after verification of correctness of the data in the merit list.
** The District Education Officer will issue the award memo in favour of selected students. In no case the total number of awardees in a Block (Rural & Urban taken together) shall exceeds 10.
Disbursement Of Award Money
The scholarship money shall be disbursed to students through electronic transfer to their Bank Accounts.
Soon after the publication of result and issue of award memo the awardees will be informed to open joint bank account (student and one of the parents) and submit the account details to the DEO/ BEO who will transfer the award money to the account of the student. No other mode of payment is allowed.
About us :
The Board of Secondary Education, Odisha is a Body Corporate constituted under the Odisha Secondary Education Act, 1953. It regulates, controls and developes Secondary Education in the State of Odisha.
It Provides varied courses in order to equip students for different occupations, to prepare them for University education and to equip them for various cultural purposes. It examines those who have completed a prescribed course of study and awards certificates to the successful candidates. Besides, it does all other things which are incidental to the above.
Contact Detail :
Board of Secondary Education, Odisha
Ph : 2415460, 2415428, 2415429, 2415439,
E-mail : info [AT] bseodisha.ac.in