mpsc.mp.nic.in ST/SC/OBC Post Matric Scholarship 2020-21 : Chhattisgarh State Scholarship Portal
Want to comment on this post?

Go to bottom of this page.
Organisation : Government of Chhattisgarh
Portal Name : Chhattisgarh State Scholarship Portal 2.0
Scholarship Name : CG Scholarship 2020 | Online ST/SC/OBC Scholarship 2020-21
Applicable For : ST/SC/OBC Students
Applicable State : Chhattisgarh
Last Date : 30.11.2020
Website : http://mpsc.mp.nic.in/CGPMS/Default.aspx
Chhattisgarh Post Matric Scholarship
Government of Chhattisgarh invites online applications for ST/SC/OBC Scholarship for the year 2020-21. The aim of the scholarship is to provide financial assistance to the weaker section of the society.
PMS Eligibility
** Family annual income should not exceed INR 2.5 Lac
** Candidate must belong to SC/ST/OBC category
** Candidate must be studying in Class 11 to post graduation
PMS Online Application
Just follow the below steps to apply for the Online ST/SC/OBC Post Matric Scholarship 2020-21.
Steps :
Step 1 : Go to the official website of Chhattisgarh State Scholarship Portal through the URL provided above.
Step 2 : Then select the application link in the menu bar and click on the "Register Yourself" link in the drop down list.

New Registration
Step 3 : Please Enter Your Details carefully, Some information has to be entered two times. It will minimize the possibility of errors. Enter active Mobile / Email Address for further applications status
Step 4 : Fill the registration form with the following details,
** Enter your First Name / Middle Name / Last Name
** Enter your Father/Husband Name, Mother Name
** Enter your Profile Related Details
** Enter your Mobile / Email Details
** Enter your Correspondence Address Details
Note :
Please enter correct mobile number and E-Mail address. Important information like status of your application, sanction details, login/password etc will be sent by portal to your E-mail address.
SMS updates will also be sent to your mobile. You can also get your mobile number updated by login in into the system
Step 5 : Please enter the code shown in the image and click on "Save above details and Register me" button.
Login
Step 6 : Already registered user can directly click on "Login" link in the application drop down list.
Step 7 : Next enter your User Name / Applicant ID [Raj]
Step 8 : Enter your Password
Step 9 : Please enter the code shown in the image
Step 10 : Click on "Login" button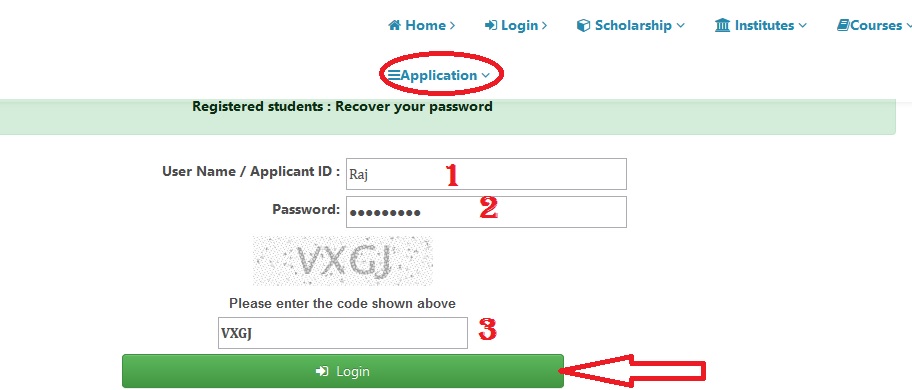 Note :
Post Matric (higher than Class 12th), SC students who have previously applied to National Scholarship Portal (scholarships.gov.in) also have the re-website of the department (tribal.cg.gov. in / escholarship) is mandatory. They will be provided scholarships only through this portal.
Track Application
You can View Your Application here and ,your Profile, Uploaded Documents and status of Application track record.
Steps :
Step 1 : Enter Your 7 digit Applicant Number [111111]
Step 2 : Choose Your Academic Year [2020-21]
Step 3 : Click on "Show My Application" button

Documents Required
Students have to attach the following documents along with the form
1. Caste certificate (Original Satyapan)
2. Income certificate by Tehsil office along with payment slip.
3. Class 10th mark sheet
4. XEROX COPY OF 12TH MARK SHEET
5. Xerox copy of fee receipt
5. Domicile certificate
6. Self attested Students Photo
7. Xerox copy of the pass book with IFSC code
Notification :
https://www.scholarships.net.in/uploads/pdf2020/44941-Advt.pdf
PMS Last Date
** Last date for student online for new application and Renewal from 15.10.2020 to 30.11.2020
** Draft Proposal Lock From date 15.10.2020 to 10.12.2020
** Sanction order lock from 15.10.2020 to 20.12.2020