Kautilya Academy Bharat Bhagya Vidhata 2020 Scholarship Test : kautilyaacademy.com
Organisation : Kautilya Academy
Scholarship Name : Bharat Bhagya Vidhata 2020 Scholarship Test
Applicable For : 10th, 12th, Graduation and Post Graduation Students
Exam Date : 25.06.2020
Website : https://kautilyaacademy.com/bharat-bhagya-vidhata-scholarship-test/
Kautilya Academy BBV Scholarship Test
Kautilya Academy invites applications for Bharat Bhagya Vidhata Scholarship Test 2020.
Related / Similar Scholarship : Webdy Scholarship Test 2020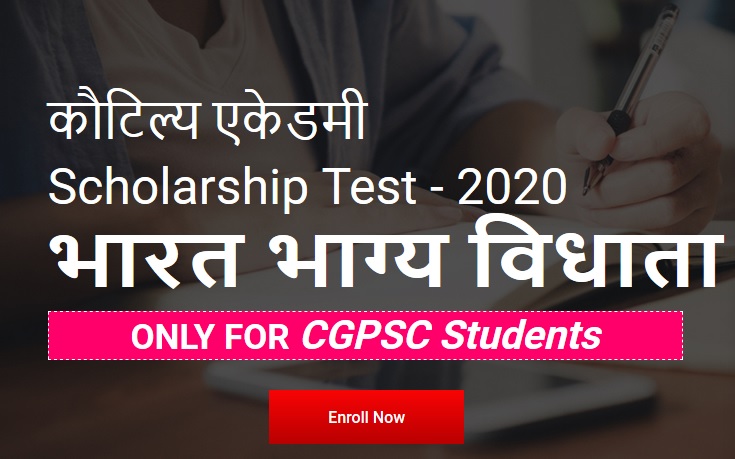 BBV Scholarship

Eligibility
10th, 12th, Graduation and Post Graduation Students are eligible to apply for Bharat Bhagya Vidhata Scholarship Test 2020
Enrollment Method
Register :
For registration you can connect to us over call or you can directly register through the website.
Enrollment Done :
For enrolling for the test you have to download the Kautilya Academy App from the Google Play Store and have to create an account there.
Admit Card :
On the decided schedule you can attempt the test from your device with your convenience.
BBV Scholarship Online Registration
Just follow the below steps to register for Bharat Bhagya Vidhata Scholarship Test 2020.
Steps :
Step 1 : Go to the official website of Kautilya Academy through provided above.
Step 2 : Next read the instructions carefully and click on the "Enroll Now" button.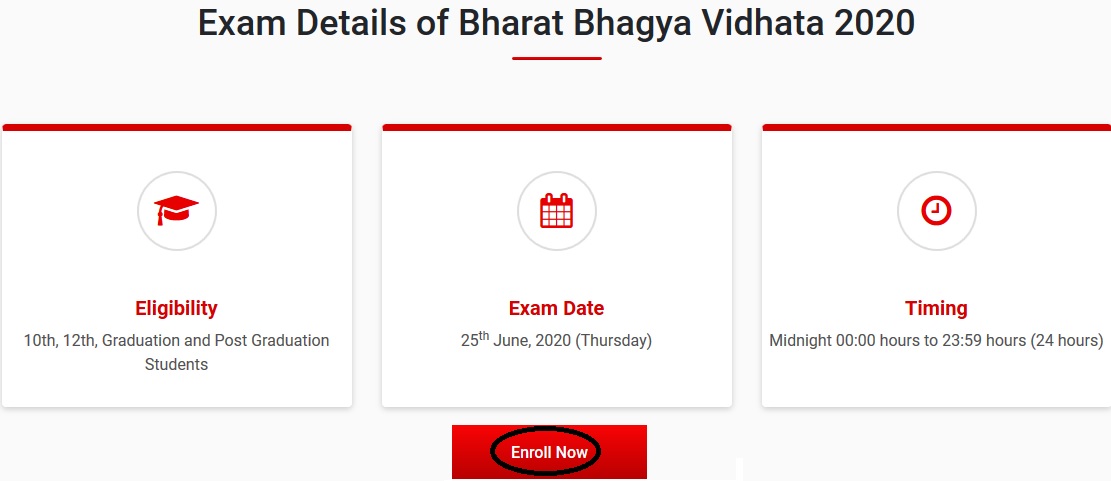 Step 3 : Fill the required additional details to complete your enrolment & Submit
Step 4 : After complete your registration you will get a confirmation message.
Step 5 : Get your Bharat Bhagya Vidhata Roll Number
Step 6 : Get your Admit Card (without Admit Card you can not give the Exam)
Exam Details
** Exam Date – 25th June 2020 (Thursday)
** Exam Slots – Midnight 00:00 hours to 23:59 hours (24 hours)
** Exam Platform – Kautilyaacademy.in Or Download App
Test Pattern
| | |
| --- | --- |
| Total Marks | 100 |
| Total Questions | 100 |
| Time Duration | 2 hours |
| Per Question | 1 marks |
Scholarship Details
| | |
| --- | --- |
| Category | Scholarship % in Tuition Fee |
| A | 100% |
| B | 75% |
| C | 50% |
| D | 25% |
| E | 10% |
Syllabus
History :
1. Ancient India
(i) Indus Valley Civilization
(ii) Rigvedic period, Past Vedic period
(iii) Foreign attack in India (Iran and Sikandar)
(iv) Maurya period
(v) Gupta period
2. Medieval India
(i) Delhi Sultanat (Aibak, Iltutmish, Balban, Alauddin, Muhammad bin Tughlaq)
(ii) Mughal period (Sher Shah, Akbar, Shah Jahan and Aurangzeb)
3. Modern India
(i) Self-government movement
(ii) The important person in Indian history
General Science & Environment :
(i) General Physics
(ii) General Chemistry 10th Class
(iii) General biology
(iv) General information of the computer
(v) Defence Technology
(vi) Nuclear technology
(vii) Space technology
Geography of India :
(i) Natural Division of India
(ii) Agriculture, Climate and Industry of India
(iii) Tribes of India
(iv) Census
(v) Rivers, Mountains, Plateau and Plains
(vi) Multipurpose river valley projects
Economics :
(i) Five Year Plan
(ii) Currency and Banking
(iii) Budget
State Polity :
(i) Preamble of the Constitution
(ii) Citizenship
(iii) Fundamental rights
(iv) Directive Principles
(v) President, Vice President, Prime Minister
(vi) Judiciary
Miscellaneous :
(i) Sports
(ii) Indian art and culture
(iii) Current Affairs
General Mathematics :
(i) Number system
(ii) Average
(iii) Percentage
(iv) Speed and distance
(v) Age related questions
(vi) Interest
(vii) Profit & loss
(viii) Ratio & Proportion
(ix) Time and work
(x) Area
About Bharat Bhagya Vidhata
Bharat Bhagya Vidhata scholarship test is a campaign directed towards helping the students with limited means but abundant ambition and willingness to strive hard for their dreams.
We believe that deserving students should get guidance and resources they require irrespective of their circumstances, based purely on their aptitude and skill.
FAQs
1. How to register for Bharat Bhagya Vidhata?
For registration you can connect to us over call or you can directly register through the website.
2. What is the registration fee?
There is no registration fee, the test is totally Free of Cost.
3. How can I change the centre once already registered?
For queries related to changing center you can call on this no. 9111010991 and change your Centre.