education.kerala.gov.in NMMSE Provisional List 2019-20 : National Means Cum Merit Scholarship Examination
Organization : General Education Department Kerala
Announcement : NMMSE Provisional List 2019-20
Scholarship Name : NMMS 2019-20 National Means Cum Merit Scholarship Examination
Applicable For : Standard VIII Students
Applicable State : Kerala
Exam Held On : 17-11-2019
Website : https://education.kerala.gov.in/
You can ask questions or answer questions about this scholarship.
Please go to the bottom of this page.
SCERT Kerala NMMS Result
Provisional list of NMMSE -Nov 2019. Kindly follow the below steps to check your NMMS Result 2019-20.
How to Check NMMS Result?
Steps :
Step 1 : Go to the official website of General Education Department Kerala through provided above.
Step 2 : Next, Click on the "Provisional list of NMMSE -Nov 2019" link under the Announcements section.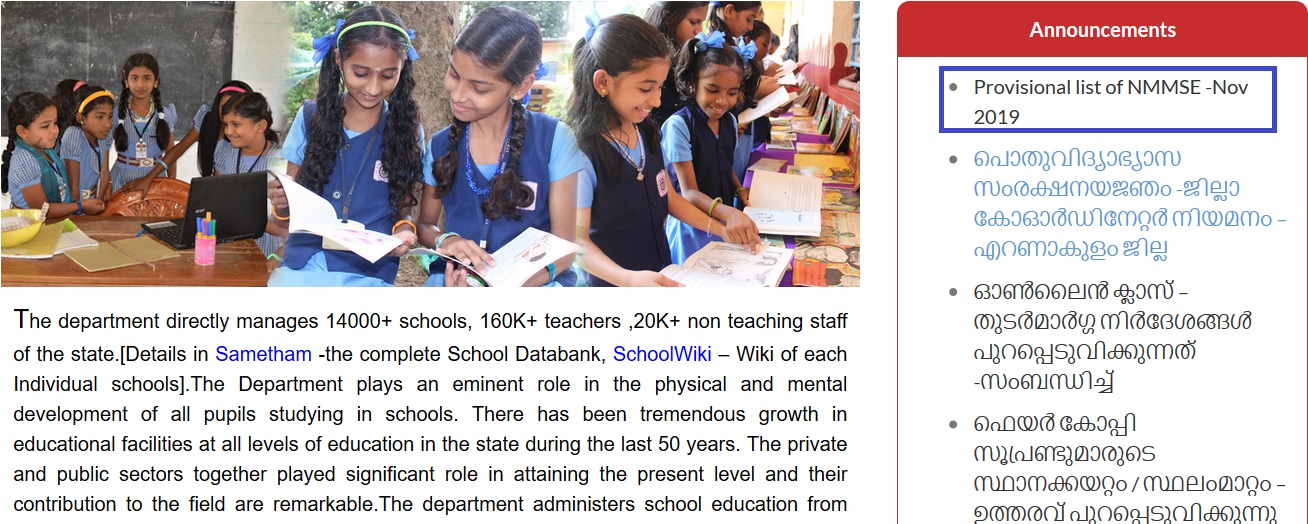 Step 3 : After that select the district from the following to know your results
** Trivandrum
** Kollam
** Pathanamthitta
** Alappuzha
** Kottayam
** Idukki
** Ernakulam
** Thrissur
** Palakkad
** Malappuram
** Kozhikkode
** Wayanad
** Kannur
** Kasaragod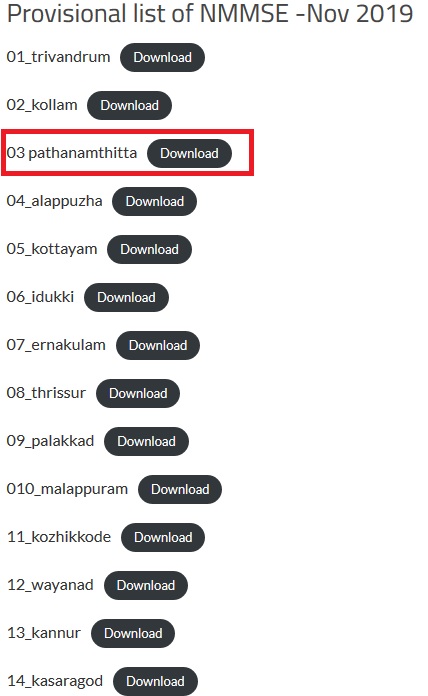 Step 4 : The result will be displayed in a PDF file. The PDF file contains the following details,
** Roll No
** Applicant Name
** Gender
** Caste
** Category
** Father Name
** Mother Name
** School_Name
** Remarks
Provisional List Of Eligible Candidates
Some of the selected candidates details are listed below. Please visit the above mentioned link to view the complete student details.
Thiruvananthapuram
Roll No.

Applicant Name

School Name

42192790174
SREEHARI VINOD
Govt. Model HSS For Boys Attingal
42192830290
GOPIKA I G
Govt. V.H.S.S. Kallara
42192730328
ARATHY M
GOVT. H S S, NEDUVELI,

KONCHIRA, VEMBAYAM

42192750125
ANAND SWAROOP J S
Govt. H S S Elampa
42192740003
AMAL A L
L. V. H. S. Pothencode
42192860293
DEVANARAYANAN S R
P. P. M. H. S. Karakonam
42192810350
KRIPA SUDISH
R R V GHSS Kilimanoor
42192830280
ASNA S
Govt. V.H.S.S. Kallara
42192870029
AKHILA S
St. Thomas H. S. S. Amboori
42192830299
MIDHUNA S NAIR
Govt. V.H.S.S. Kallara
42192740032
RESHMA S R
St. Goretti's Girls H. S. S. Nalanchira
42192760120
ASHTAMI A S
DBHS Vamanapuram
42192790241
GANGA G PRASANNAN
Govt H S S For Girls Attingal
42192790227
ATHIDI ANILKUMAR
Govt H S S For Girls Attingal
42192810135
DEVIKA B
Govt. HSS Kilimanoor
Kollam
Roll No

Applicant Name

School Name

42192710117
SULAIMAN

RAWUTHER S

Govt HSS Anchal West
42192620344
ADITHYAN J
Thazhava Govt: Girls H S S
42192620241
ALFIYA LATHEEF A
H S FOR GIRLS

KARUNAGAPPALLY

42192620245
ANCY JAMES
H S FOR GIRLS

KARUNAGAPPALLY

42192710219
DEVU SURESH
H. S. Poonkodu
42192610128
KARTHIK KRISHNA S
Chathannoor N S S H S S
42192620145
RISHIKESH A
G.H.S.S Ayyankoickal
42192640246
ABHINAV D
GHS Panayil
42192610252
SONA S
Paravoor S N V G H S

Paravoor

42192700111
ANAKHA B
Govt H. S. S. Kadakkal
42192710229
ADILSHA H S
Govt H. S. S. Kadakkal
42192700316
GOPIKA S
BMGHS Kulathupuzha
42192640254
SHREYA GOPAN
GHS Panayil
42192680089
VAISHNAV
GOVT.H.S.S SOORANADU
42192690303
ARCHA A S
T.V.T.M.H.S Veliyam
Pathanamthitta
Roll No

Applicant Name

School Name

42192580114
ANJANA AJAI
S. N. V.S. H. S. Thiruvalla
42192570202
ARJUN SURESH
A.B.H.S Omalloor
42192570031
SIBIN SIJU THOMAS
Netaji High School Pramadom
42192570028
KRISHNENDU S
Netaji High School Pramadom
42192560043
YADHU RAMACHANDRAN
GOVT. B H S S, ADOOR,

PATHANAMTHITTA

42192570198
ABHIJITH P
A.B.H.S Omalloor
42192570027
KEERTHY KRISHNAN
Netaji High School Pramadom
42192570175
ABHINANDH K R
S.H.H.S. Mylapra
42192590012
K PRANAV
TECHNICAL HSS MALLAPPALLY
42192560139
ABIYA ANNA BIJU
St.Benedict`s M.S.C.H.S Thannithode
42192550072
REVATHY R
Govt. H.S.S Thengamam
42192560160
ANAMIKA R S
Govt H.S.S And V.H.S.S Kalanjoor
42192550248
VISHNUPRIYA P C
M.G.H.S.S Thumpamon
42192570033
SWETHA SANTHOSH
Netaji High School Pramadom
42192570214
NEHA ANNA JOSE
A.B.H.S Omalloor