gokdom.kar.nic.in MCM Sanctioned List 2019-20 Merit Cum Means Scholarship : Karnataka Directorate of Minorities
Organization : Karnataka Directorate of Minorities
Announcement : Merit Cum Means Scholarship Sanctioned List 2019-20
Scholarship Name : Merit Cum Means Scholarship 2019-20
Applicable State : Karnataka
Website : http://gokdom.kar.nic.in/
You can ask questions or answer questions about this scholarship.
Please go to the bottom of this page.
GOKDOM MCM Scholarship Result
Karnataka Directorate of Minorities has announced the List of Students Sanctioned for Merit Cum Means Scholarship from Government of India 2019-20.
Related / Similar Post : GOKDOM Post Matric Scholarship Sanctioned List 2019-20
How to Check?
Steps :
Step 1 : Go to the Karnataka Directorate of Minorities official website through the URL gokdom.kar.nic.in
Step 2 : Then Click the Scholarship link available in the left side of the home page and Select the Merit Cum Means Scholarship link.

Step 3 : You can find the 'List of Students Sanctioned Merit Cum Means Scholarship from (GoI) 2019-20.' under the 'Merit Cum Means Scholarship for Minorities'.
Step 4 : The student list will be displayed in a PDF format.
Th PDF file contains the
** District
** School Name
** Student Id
** Student Name
** Parent Name
** Religion
** Gender
** Class
** Scholarship Amount Sanctioned & Released
Step 5 : Open the PDF file and Check your Student ID in the list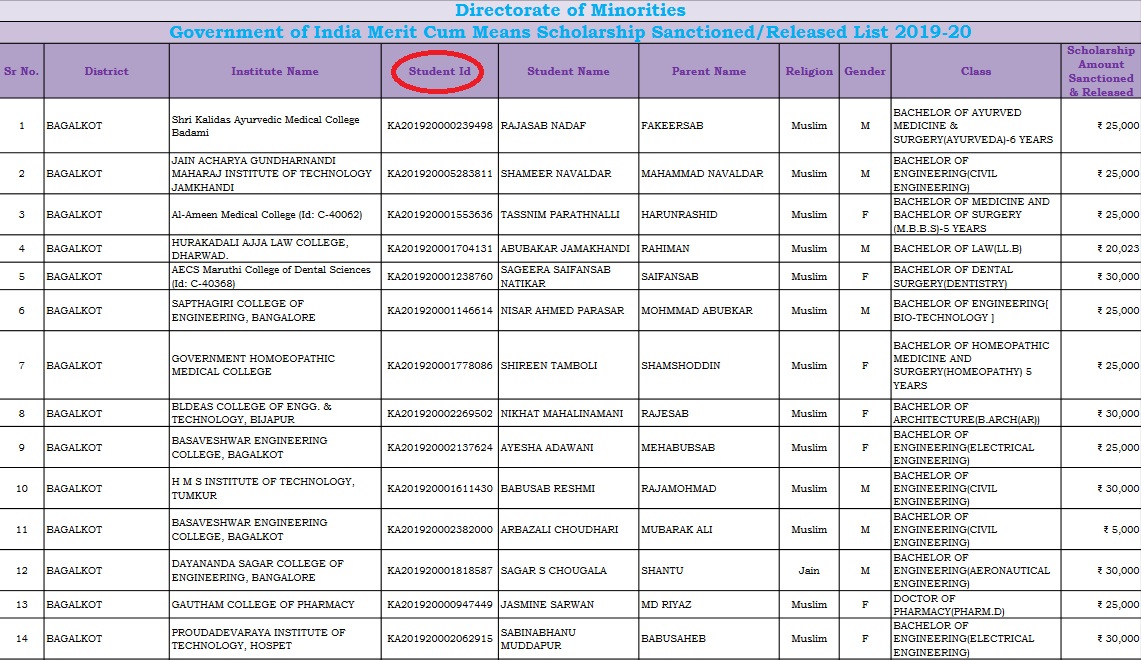 (or)
You can directly go to the below link to view the complete details of Sanctioned list 2019-20.
MCM 2019-20 Result :
https://www.scholarships.net.in/uploads/pdf2020/mcm2020.pdf
Sanctioned Students List
Some of the selected students details are listed below. Kindly refer the MCM 2019-20 result PDF links uploaded above for full list.
| | | | | |
| --- | --- | --- | --- | --- |
|  Sr No. | Student Id | Student Name | Class | Scholarship Amount Sanctioned & Released |
| 1 | KA201920000239498 | RAJASAB NADAF | BACHELOR OF AYURVED MEDICINE & SURGERY(AYURVEDA)-6 YEARS | ₹ 25,000 |
| 2 | KA201920005283811 | SHAMEER NAVALDAR | BACHELOR OF ENGINEERING(CIVIL ENGINEERING) | ₹ 25,000 |
| 3 | KA201920001553636 | TASSNIM PARATHNALLI | BACHELOR OF MEDICINE AND BACHELOR OF SURGERY (M.B.B.S)-5 YEARS | ₹ 25,000 |
| 4 | KA201920001704131 | ABUBAKAR JAMAKHANDI | BACHELOR OF LAW(LL.B) | ₹ 20,023 |
| 5 | KA201920001238760 | SAGEERA SAIFANSAB NATIKAR | BACHELOR OF DENTAL SURGERY(DENTISTRY) | ₹ 30,000 |
| 6 | KA201920001146614 | NISAR AHMED PARASAR | BACHELOR OF ENGINEERING[ BIO-TECHNOLOGY ] | ₹ 25,000 |
| 7 | KA201920001778086 | SHIREEN TAMBOLI | BACHELOR OF HOMEOPATHIC MEDICINE AND SURGERY(HOMEOPATHY) 5 YEARS | ₹ 25,000 |
| 8 | KA201920002269502 | NIKHAT MAHALINAMANI | BACHELOR OF ARCHITECTURE(B.ARCH(AR)) | ₹ 30,000 |
| 9 | KA201920002137624 | AYESHA ADAWANI | BACHELOR OF ENGINEERING(ELECTRICAL ENGINEERING) | ₹ 25,000 |
| 10 | KA201920001611430 | BABUSAB RESHMI | BACHELOR OF ENGINEERING(CIVIL ENGINEERING) | ₹ 30,000 |
| 11 | KA201920002382000 | ARBAZALI CHOUDHARI | BACHELOR OF ENGINEERING(CIVIL ENGINEERING) | ₹ 5,000 |
| 12 | KA201920001818587 | SAGAR S CHOUGALA | BACHELOR OF ENGINEERING(AERONAUTICAL ENGINEERING) | ₹ 30,000 |
| 13 | KA201920000947449 | JASMINE SARWAN | DOCTOR OF PHARMACY(PHARM.D) | ₹ 25,000 |
| 14 | KA201920002062915 | SABINABHANU MUDDAPUR | BACHELOR OF ENGINEERING(ELECTRICAL ENGINEERING) | ₹ 30,000 |
| 15 | KA201920001877036 | AMEENSAB HALAGALI | BACHELOR OF ENGINEERING(CIVIL ENGINEERING) | ₹ 20,000 |
| 16 | KA201920002225483 | ABHINANDAN B NYAMAGOUDAR | BACHELOR OF MEDICINE AND BACHELOR OF SURGERY (M.B.B.S)-5 YEARS | ₹ 30,000 |
| 17 | KA201920007081806 | RAFIK KAJESA TAHASILDAR | BACHELOR OF AYURVED MEDICINE & SURGERY(AYURVEDA)-6 YEARS | ₹ 25,000 |
| | | | | |
| --- | --- | --- | --- | --- |
| 18 | KA201920007041810 | TAUSIF PATHAN | BACHELOR OF ENGINEERING(MECHANICAL ENGINEERING) | ₹ 30,000 |
| 19 | KA201920000652305 | NAYUM TAMBOLI | BACHELOR OF ENGINEERING(ELECTRONICS & COMMUNICATIONS ENGINEERING) | ₹ 25,000 |
| 20 | KA201920000198645 | ALLABAKSH SAYED | BACHELOR OF LAW(LL.B) | ₹ 17,200 |
| 21 | KA201920004661996 | MUSTAF BHAVIKATTI | MASTER OF BUSINESS ADMINISTRATION(M.B.A) | ₹ 25,000 |
| 22 | KA201920004028326 | SHRILAXMI KUNCHANUR | BACHELOR OF ENGINEERING(CIVIL ENGINEERING) | ₹ 25,000 |
| 23 | KA201920002363241 | NISHATPARVEEN VASTAD | BACHELOR OF ENGINEERING(ELECTRONICS ENGINEERING) | ₹ 25,000 |
| 24 | KA201920002864561 | ANWAR BAGAWAN | BACHELOR OF MEDICINE AND BACHELOR OF SURGERY (M.B.B.S)-5 YEARS | ₹ 25,000 |
| 25 | KA201920002868808 | MUDASSAR RAMAZANSAB NADAF | BACHELOR OF ENGINEERING(CIVIL ENGINEERING) | ₹ 25,000 |
| 26 | KA201920003177075 | MUZAFFAR ALI AMALZERI | BACHELOR OF MEDICINE AND BACHELOR OF SURGERY (M.B.B.S)-5 YEARS | ₹ 30,000 |
| 27 | KA201920002628709 | MUSKAN PATHAN | BACHELOR OF ENGINEERING(ELECTRONICS ENGINEERING) | ₹ 20,510 |
| 28 | KA201920005364696 | SHRUSTTI AMBUDAKAR | BACHELOR OF ENGINEERING(COMPUTER SCIENCE & ENGINEERING) | ₹ 30,000 |
| 29 | KA201920003217117 | MUHAMMADADNAN J YAKSAMBI | BACHELOR OF MEDICINE AND BACHELOR OF SURGERY (M.B.B.S)-5 YEARS | ₹ 30,000 |
| 30 | KA201920002033739 | ISMAYAIL TAMBOLI | BACHELOR OF ENGINEERING(CIVIL ENGINEERING) | ₹ 5,100 |
| 31 | KA201920003342713 | MOHAMMADSOHIL S MANIYAR | BACHELOR OF ENGINEERING(MECHANICAL ENGINEERING) | ₹ 20,000 |
| 32 | KA201920003403607 | BUDDESAB NADAF | BACHELOR OF ENGINEERING(CIVIL ENGINEERING) | ₹ 25,000 |
| 33 | KA201920001072646 | MAHAMMADSADIQ AYUB TAMBOLI | BACHELOR OF ENGINEERING(MECHANICAL ENGINEERING) | ₹ 25,000 |
| 34 | KA201920003981989 | MD TAUKIR PARATHANALLI | BACHELOR OF MEDICINE AND BACHELOR OF SURGERY (M.B.B.S)-5 YEARS | ₹ 30,000 |