gokdom.kar.nic.in 2019-20 Post Matric Scholarship Sanctioned List : Karnataka Directorate of Minorities
Organization : Karnataka Directorate of Minorities
Announcement : Post Matric Scholarship Sanctioned List 2019-20
Scholarship Name : Post Matric Scholarship 2019-20
Applicable State : Karnataka
Website : http://gokdom.kar.nic.in/
You can ask questions or answer questions about this scholarship.
Please go to the bottom of this page.
GOKDOM Post Matric Scholarship Result
Karnataka Directorate of Minorities has announced the List of Students Sanctioned for Post Matric Scholarship from Government of India 2019-20.
Related / Similar Post : GOKDOM Pre-Matric Scholarship Sanctioned List 2019-20
How to Check?
Steps :
Step 1 : Go to the Karnataka Directorate of Minorities official website through the URL gokdom.kar.nic.in
Step 2 : Then Click the Scholarship link available in the left side of the home page and Select the Post-Matric Scholarship link.

Step 3 : You can find the 'List of Students Sanctioned Post Matric Scholarship from (GoI) 2019-20' under the 'Post Matric Scholarship for Minorities'.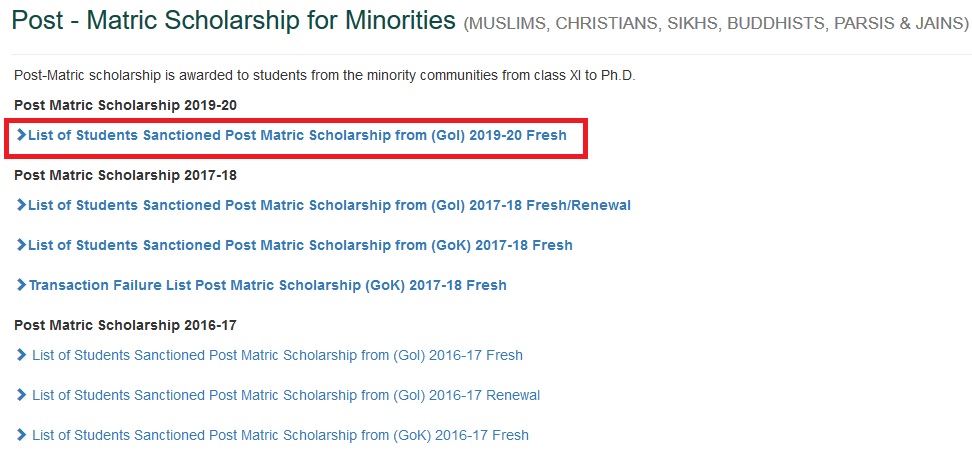 Step 4 : The student list will be displayed in a PDF format.
Th PDF file contains the
** District
** School Name
** Student Id
** Student Name
** Parent Name
** Religion
** Gender
** Class
** Scholarship Amount Sanctioned & Released
Step 5 : Open the PDF file and Check your Student ID in the list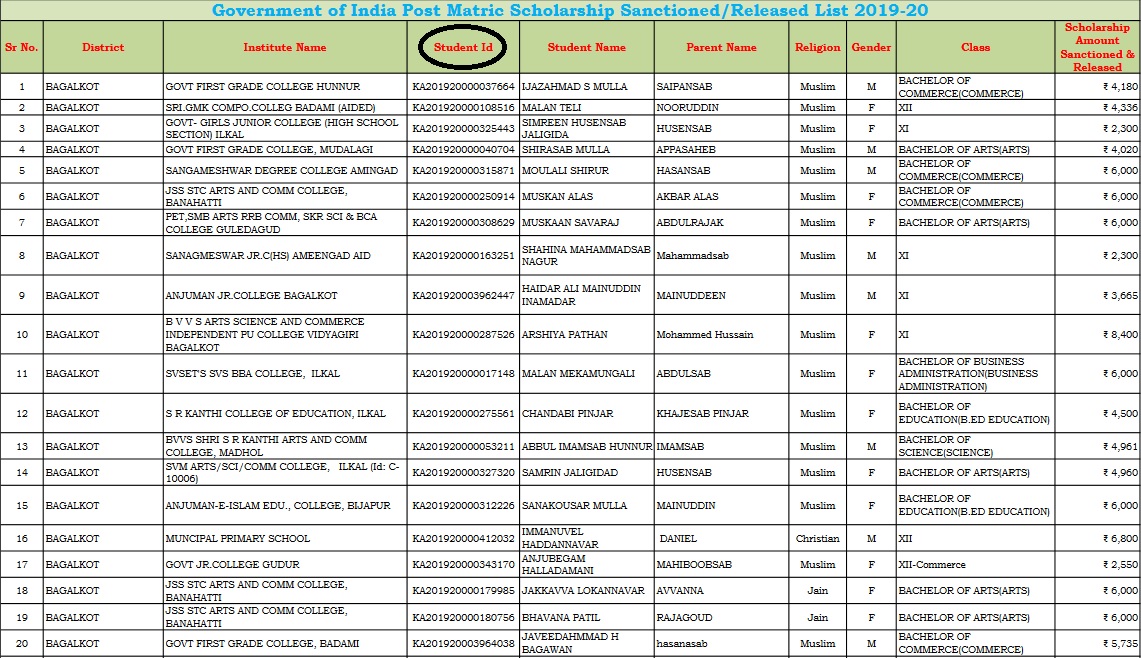 (or)
You can directly go to the below link to view the complete details of Sanctioned list 2019-20.
Post Matric Scholarship 2019-20 Result :
https://www.scholarships.net.in/uploads/pdf2020/43639-PMS.pdf
Sanctioned Student List
Some of the selected students details are listed below. Kindly refer the Post Matric Scholarship 2019-20 result PDF links uploaded above for full list.
| | | | | |
| --- | --- | --- | --- | --- |
|  Sr No. | Student Id | Student Name | Class | Scholarship Amount Sanctioned & Released |
| 1 | KA201920000037664 | IJAZAHMAD S MULLA | BACHELOR OF COMMERCE(COMMERCE) | ₹ 4,180 |
| 2 | KA201920000108516 | MALAN TELI | XII | ₹ 4,336 |
| 3 | KA201920000325443 | SIMREEN HUSENSAB JALIGIDA | XI | ₹ 2,300 |
| 4 | KA201920000040704 | SHIRASAB MULLA | BACHELOR OF ARTS(ARTS) | ₹ 4,020 |
| 5 | KA201920000315871 | MOULALI SHIRUR | BACHELOR OF COMMERCE(COMMERCE) | ₹ 6,000 |
| 6 | KA201920000250914 | MUSKAN ALAS | BACHELOR OF COMMERCE(COMMERCE) | ₹ 6,000 |
| 7 | KA201920000308629 | MUSKAAN SAVARAJ | BACHELOR OF ARTS(ARTS) | ₹ 6,000 |
| 8 | KA201920000163251 | SHAHINA MAHAMMADSAB NAGUR | XI | ₹ 2,300 |
| 9 | KA201920003962447 | HAIDAR ALI MAINUDDIN INAMADAR | XI | ₹ 3,665 |
| 10 | KA201920000287526 | ARSHIYA PATHAN | XI | ₹ 8,400 |
| 11 | KA201920000017148 | MALAN MEKAMUNGALI | BACHELOR OF BUSINESS ADMINISTRATION(BUSINESS ADMINISTRATION) | ₹ 6,000 |
| 12 | KA201920000275561 | CHANDABI PINJAR | BACHELOR OF EDUCATION(B.ED EDUCATION) | ₹ 4,500 |
| 13 | KA201920000053211 | ABBUL IMAMSAB HUNNUR | BACHELOR OF SCIENCE(SCIENCE) | ₹ 4,961 |
| 14 | KA201920000327320 | SAMRIN JALIGIDAD | BACHELOR OF ARTS(ARTS) | ₹ 4,960 |
| 15 | KA201920000312226 | SANAKOUSAR MULLA | BACHELOR OF EDUCATION(B.ED EDUCATION) | ₹ 6,000 |
| 16 | KA201920000412032 | IMMANUVEL HADDANNAVAR | XII | ₹ 6,800 |
| 17 | KA201920000343170 | ANJUBEGAM HALLADAMANI | XII-Commerce | ₹ 2,550 |
| 18 | KA201920000179985 | JAKKAVVA LOKANNAVAR | BACHELOR OF ARTS(ARTS) | ₹ 6,000 |
| 19 | KA201920000180756 | BHAVANA PATIL | BACHELOR OF ARTS(ARTS) | ₹ 6,000 |
| 20 | KA201920003964038 | JAVEEDAHMMAD H BAGAWAN | BACHELOR OF COMMERCE(COMMERCE) | ₹ 5,735 |
| 21 | KA201920001683440 | UMMESALMA ABDULRAJAK MALDAR | BACHELOR OF EDUCATION(B.ED EDUCATION) | ₹ 6,000 |
| 22 | KA201920007956920 | SHAMMEERA LAIN | I.T.I(FITTER) | ₹ 12,300 |
| 23 | KA201920000225336 | RAFIK JATAGERI | BACHELOR OF COMMERCE(COMMERCE) | ₹ 6,000 |
| 24 | KA201920000646294 | SADHIK RAMANDURGA | DIPLOMA MECHANICAL ENGINEERING(DIPLOMA IN MECHANICAL ENGG.)-3YEARS | ₹ 6,300 |
| | | | | |
| --- | --- | --- | --- | --- |
| 25 | KA201920006037186 | DASAGIR KOLAR | BACHELOR OF ARTS(ARTS) | ₹ 6,000 |
| 26 | KA201920000222917 | PRIYASHI JAIN | BACHELOR OF COMMERCE(COMMERCE) | ₹ 6,000 |
| 27 | KA201920000253876 | MADINA SOUDAGAR | BACHELOR OF ARTS(ARTS) | ₹ 6,000 |
| 28 | KA201920000350894 | ALTAF SAIYAD | BACHELOR OF ARTS(ARTS) | ₹ 4,960 |
| 29 | KA201920000475454 | MOHAMMADBILAL NADAF | XI | ₹ 9,300 |
| 30 | KA201920000255351 | ALTAF MUCHALI | XI | ₹ 3,066 |
| 31 | KA201920000257643 | ISHTIYAK MAKANDAR | DIPLOMA (ELECTRICAL AND ELECTRONICS ENGINEERING)-3 YEARS | ₹ 12,300 |
| 32 | KA201920000240768 | RAJESAB IMAMSAB HUNNUR | XII-Commerce | ₹ 9,300 |
| 33 | KA201920003000454 | MUSKAN DADAPIR BANTANUR | XI | ₹ 4,401 |
| 34 | KA201920000510569 | SAMEERAKHAN MOKHASHI | XI | ₹ 9,300 |
| 35 | KA201920000322677 | ABDULJAHIDA PADASALIMANI | BACHELOR OF EDUCATION(B.ED EDUCATION) | ₹ 6,000 |
| 36 | KA201920000648886 | SAHEEL HUSENSAB MAKANADAR | DIPLOMA MECHANICAL ENGINEERING(DIPLOMA IN MECHANICAL ENGG.)-3YEARS | ₹ 6,300 |
| 37 | KA201920000647409 | RABIYA BAGWAN | BACHELOR OF EDUCATION(B.ED EDUCATION) | ₹ 6,000 |
| 38 | KA201920000546323 | KHAJAAMEEN BAGAWAN | BACHELOR OF ARTS(ARTS) | ₹ 4,110 |
| 39 | KA201920000576672 | MUSKAN KARNUL | XI | ₹ 3,680 |
| 40 | KA201920000942722 | AFZAL AHMED SARWAN | XII | ₹ 9,300 |
| 41 | KA201920000515125 | MAHAMMEDFAROOQ KALADGI | PRIMARY TEACHERS TRAINING(B.ED.)-2 YEARS | ₹ 12,300 |
| 42 | KA201920000568331 | SAMEER ARI | XI | ₹ 2,525 |
| 43 | KA201920000432007 | HASEEN NADAF | BACHELOR OF ARTS(ARTS) | ₹ 4,960 |
| 44 | KA201920000670624 | SAHIL N BAVAKHAN | DIPLOMA(CIVIL ENGINEERING)-3YEARS | ₹ 12,300 |
| 45 | KA201920000447644 | MAHAMMAD SHAREEFSAB HUBBALLI | BACHELOR OF ARTS(ARTS) | ₹ 6,000 |
| 46 | KA201920000452156 | RAIMANASAB ATTAR | BACHELOR OF ARTS(ARTS) | ₹ 6,000 |
| 47 | KA201920000662148 | AAFREEN BANU MALLABADI | XI | ₹ 2,550 |
| 48 | KA201920000527651 | SAKIRABEGM NADAF | XI | ₹ 2,300 |