gokdom.kar.nic.in Pre-Matric Scholarship Sanctioned List 2019-20 : Karnataka Directorate of Minorities
Organization : Karnataka Directorate of Minorities
Announcement : Pre-Matric Scholarship Sanctioned List 2019-20
Scholarship Name : Pre-Matric Scholarship 2019-20
Applicable State : Karnataka
Website : http://gokdom.kar.nic.in/
You can ask questions or answer questions about this scholarship.
Please go to the bottom of this page.
GOKDOM Pre-Matric Scholarship Result
Karnataka Directorate of Minorities has announced the List of Students Sanctioned for Pre Matric Scholarship from Government of India 2019-20.
Related / Similar Post : GOKDOM MCM Sanctioned List 2019-20
How to Check?
Steps :
Step 1 : Go to the Karnataka Directorate of Minorities official website through the URL gokdom.kar.nic.in
Step 2 : Then Click the Scholarship link available in the left side of the home page and Select the Pre-Matric Scholarship link.

Step 3 : You can find the 'List of Students Sanctioned Pre Matric Scholarship from (GoI) 2019-20.' under the 'Pre -Matric Scholarship for Minorities'.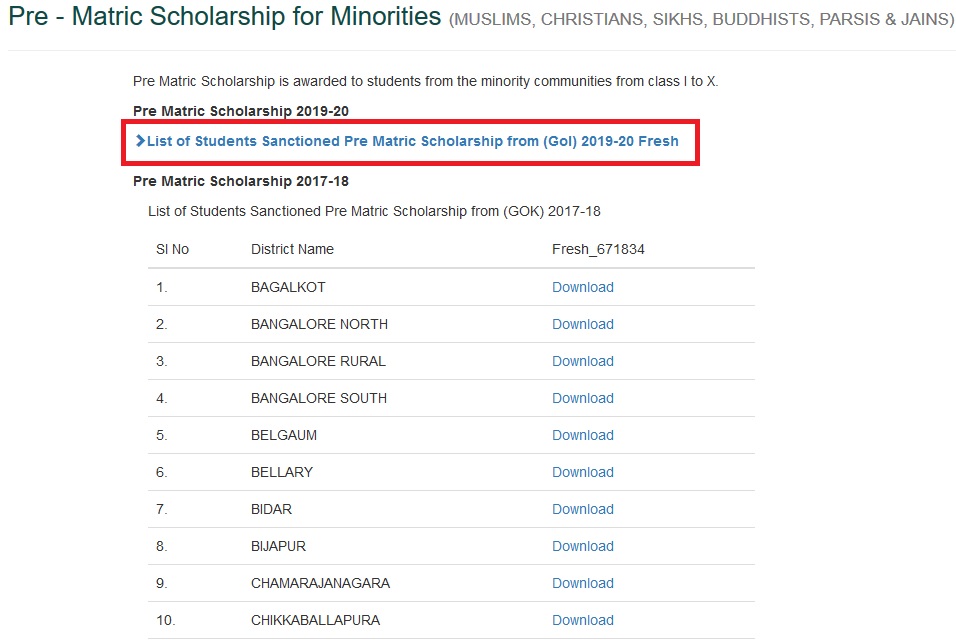 Step 4 : The student list will be displayed in a PDF format.
Th PDF file contains the
** District
** School Name
** Student Id
** Student Name
** Parent Name
** Religion
** Gender
** Class
** Scholarship Amount Sanctioned & Released
Step 5 : Open the PDF file and Check your Student ID in the list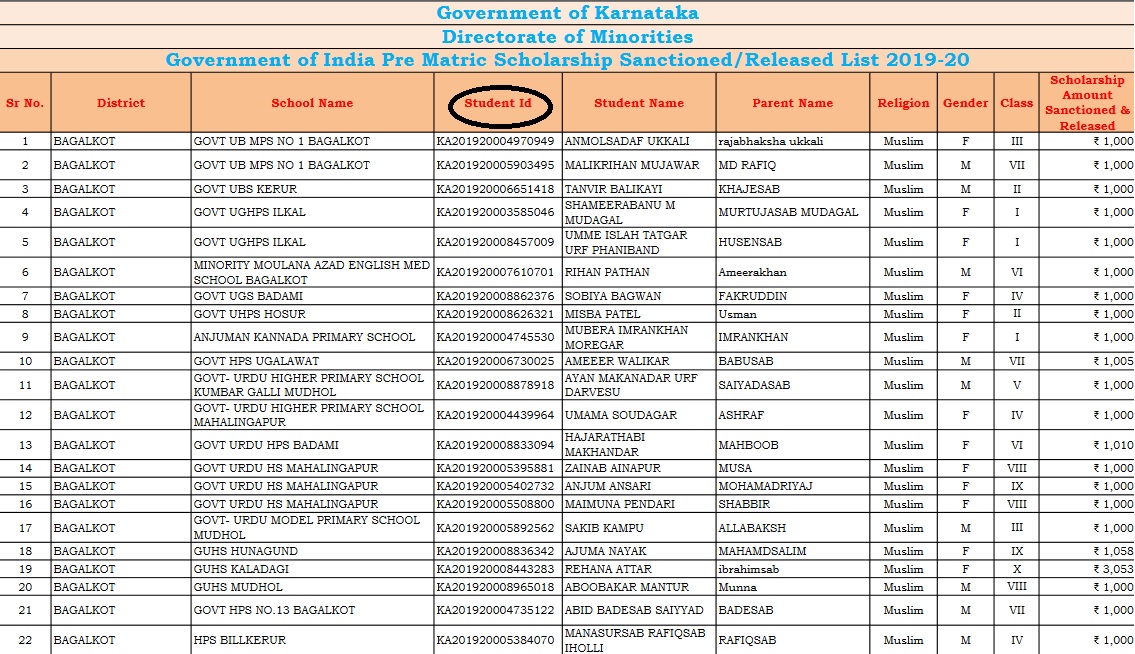 (or)
You can directly go to the below link to view the complete details of Sanctioned list 2019-20.
Pre-Matric Scholarship 2019-20 Result :
https://www.scholarships.net.in/uploads/pdf2020/43628-Pre.pdf
Sanctioned Student List
Some of the selected students details are listed below. Kindly refer the Pre-Matric Scholarship 2019-20 result PDF links uploaded above for full list.
| | | | | | |
| --- | --- | --- | --- | --- | --- |
| Sr No. | School Name | Student Id | Student Name | Class | Scholarshi Amount Sanctioned & Released |
| 1 | GOVT UB MPS NO 1 BAGALKOT | KA201920004970949 | ANMOLSADAF UKKALI | III | ₹ 1,000 |
| 2 | GOVT UB MPS  NO 1 BAGAKOT | KA201920005903495 | MALIKRIHAN MUJAWAR | VII | ₹ 1,000 |
| 3 | GOVT UBS KERUR | KA201920006651418 | TANVIR BALIKAYI | II | ₹ 1,000 |
| 4 | GOVT UGHPS ILKAL | KA201920003585046 | SHAMEERABANU M MUDAGAL | I | ₹ 1,000 |
| 5 | GOVT UGHPS ILKAL | KA201920008457009 | UMME ISLAH TATGAR URF PHANIBAND | I | ₹ 1,000 |
| 6 | MINORITY MOULANA AZAD ENGLISH MED SCHOOL BAGALKOT | KA201920007610701 | RIHAN PATHAN | VI | ₹ 1,000 |
| 7 | GOVT UGS BADAMI | KA201920008862376 | SOBIYA BAGWAN | IV | ₹ 1,000 |
| 8 | GOVT UHPS HOSUR | KA201920008626321 | MISBA PATEL | II | ₹ 1,000 |
| 9 | ANJUMAN KANNADA PRIMARY SCHOOL | KA201920004745530 | MUBERA IMRANKHAN MOREGAR | I | ₹ 1,000 |
| 10 | GOVT HPS UGALAWAT | KA201920006730025 | AMEEER WALIKAR | VII | ₹ 1,005 |
| 11 | GOVT- URDU HIGHER PRIMARY SCHOOL KUMBAR GALLI MUDHOL | KA201920008878918 | AYAN MAKANADAR URF DARVESU | V | ₹ 1,000 |
| 12 | GOVT- URDU HIGHER PRIMARY SCHOOL MAHALINGAPUR | KA201920004439964 | UMAMA SOUDAGAR | IV | ₹ 1,000 |
| 13 | GOVT URDU HPS BADAMI | KA201920008833094 | HAJARATHABI MAKHANDAR | VI | ₹ 1,010 |
| 14 | GOVT URDU HS MAHALINGAPUR | KA201920005395881 | ZAINAB AINAPUR | VIII | ₹ 1,000 |
| 15 | GOVT URDU HS MAHALINGAPUR | KA201920005402732 | ANJUM ANSARI | IX | ₹ 1,000 |
| 16 | GOVT URDU HS MAHALINGAPUR | KA201920005508800 | MAIMUNA PENDAR | VIII | ₹ 1,000 |
| 17 | GOVT- URDU MODEL PRIMARY SCHOOL MUDHOL | KA201920005892562 | SAKIB KAMPU | III | ₹ 1,000 |
| 18 | GUHS HUNAGUND | KA201920008836342 | AJUMA NAYAK | IX | ₹ 1,058 |
| 19 | GUHS KALADAGI | KA201920008443283 | REHANA ATTAR | X | ₹ 3,053 |
| 20 | GUHS MUDHOL | KA201920008965018 | ABOOBAKAR MANTUR | VIII | ₹ 1,000 |
| 21 | GOVT HPS NO.13 BAGALKOT | KA201920004735122 | ABID BADESAB SAIYYAD | VII | ₹ 1,000 |
| 22 | HPS BILLKERUR | KA201920005384070 | MANASURSAB RAFIQSAB IHOLLI | IV | ₹ 1,000 |
| 23 | JNANAJYOTI LOWER PRIMARY SCHOOL | KA201920003500421 | MAHAMMADTAHA CHOUDHARI | II | ₹ 1,000 |
| 24 | KALIDAS M.SCH.UGALVAT AIDED | KA201920007865712 | LALASAB WALIKAR | VIII | ₹ 1,355 |
| 25 | MINORITY MOULANA AZAD ENGLISH MED SCHOOL BAGALKOT | KA201920006499952 | ALAMAS DODDAMANI | VII | ₹ 1,000 |
| 26 | MINORITY MOULANA AZAD MODEL ENGLISH MEDIUM SCHOOL NAVANAGAR | KA201920005690976 | RABIYA MULLA | VII | ₹ 1,000 |
| 27 | GOVT UBMPS TERADAL | KA201920006599735 | IRFAN ALTAF APTAGIRI | X | ₹ 1,000 |
| 28 | ADISHAKTI SHIKSHAN SANSTE KERUR | KA201920008656506 | RIYAJ RAGHAPUR | IV | ₹ 1,000 |
| 29 | SAJJAN HIGH SCHOOL ILKAL | KA201920007015059 | UMARFARUKH HUNAGUND | X | ₹ 5,300 |
| 30 | SANGAMANATH I CBSE SCH MUDHOL | KA201920004940766 | NIYAJ BIDIVALE | VI | ₹ 1,000 |