DSIMS Bright Sparks Scholarship 2020 For PGDM Program : rset.edu.in
Organization : RSET DSIMS
Scholarship Name : Bright Sparks Scholarship 2020
Applicable For : Meritorious Students
Website : https://www.rset.edu.in/dsims/bright-sparks-scholarship-2020/
RSET DSIMS Bright Sparks Scholarship
DSIMS is pleased to announce the Bright Sparks Merit Scholarships for the 2020-22 batch of its two-year, full-time, AICTE approved Post Graduate Diploma in Management (PGDM) program.

Objective
The objective is to reward meritorious talent and offer them merit scholarships for pursuing PGDM program at DSIMS, Mumbai.
Scholarships in the form of a tuition fee waiver, will be offered to meritorious students, who have appeared for CAT, XAT, GMAT, MH-CET, CMAT, ATMA or ATMA and fulfil the eligibility criteria mentioned below.
Eligibility
Eligibility : Percentile/Score in any of the following:
and
Category
Tuition Fee Waiver per year (Rs.)
CAT
XAT
GMAT Score
CMAT
MHCET
MAT
ATMA
Graduation %
A+
1,00,000
85
85
700
90
90
NA
NA
70%
A1
75,000
75
75
650
80
80
95
95
65%
A2
50,000
70
70
600
75
75
90
90
60%
Scholarship Details
Scholarship for In-House students of the following institutions of Rajasthani Sammelan Education Trust (RSET)
** Ghanshyamdas Saraf College of Arts & Commerce
** Ladhidevi Ramdhar Maheshwari Night College of Commerce
** Deviprasad Goenka Management College of Media Studies
In-house students from any of the above Institutions of RSET seeking admission to the 2 year full time AICTE approved PGDM program at DSIMS will be entitled to receive a tuition fee waiver of Rs. 35,000 per year.
These students can however apply for the scholarship under the Bright Sparks Merit Scholarships for PGDM 2020-22 batch under any of the above categories viz A+, A1 or A2 and will be considered as per eligibility and will receive the higher of the two.
How To Apply?
Just follow the below steps to apply for the Bright Sparks Scholarship 2020.
Steps :
Step 1 : Visit the official website of DSIMS through the URL https://www.rset.edu.in/dsims/

Step 2 : Next, fill the application form with the required details
Step 3 : Finally click on "Submit" button and you will get a confirmation message.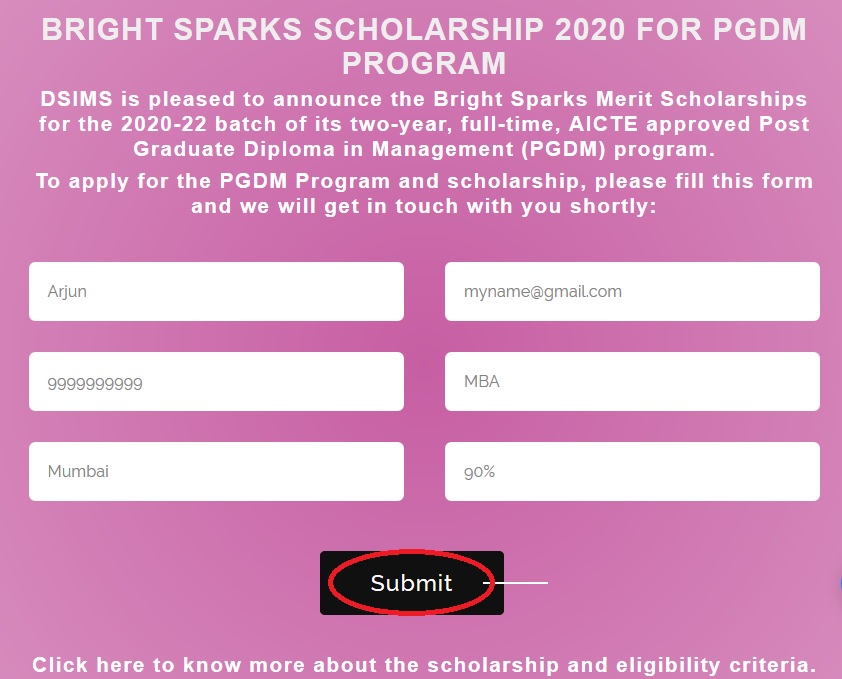 Documents Required
Documents required for the application process
1. Graduation Mark Sheet
2. CAT/CMAT/GMAT/MH- CET/ATMA/MAT/XAT Score Card
3. Application Form – Online application form for PGDM enrolment
4. Admission Offer letter from DSIMS
5. In-house students of RSET will need to give their student ID number of the college
Note :
If suitable candidates are not found in any of the categories mentioned above, the Scholarship Committee is free to choose deserving candidates from any other category or choose not to offer any scholarship.
Terms & Conditions
** Students may apply for scholarships if he/she fulfills any of the criteria above for merit scholarships using any of the MBA entrance test score mentioned above and the percentage of marks secured in their graduation examination.
** A student is eligible to receive only one scholarship during the course of study. If a student receives any other scholarship/ Freeship/ tuition fee waiver from RSET/ DSIMS during the study, the scholarship awarded would be withdrawn.
** The Scholarship Committee will decide the final merit list for awarding of scholarships based on the candidate's performance in the selection process and fulfilment of the eligibility criteria for the 2 year AICTE approved PGDM Program.
Those studying in the final year of their bachelor's degree programme will be granted provisional scholarship, subject to the fulfilment of the eligibility criteria. The decision of the committee will be final and binding.