T.I.M.E CAT Talent Search Scholarship Exam TTSE 2020 : time4education.com
Rate this post:
[ Votes=

0

, Average =

0

]
Organization : Triumphant Institute of Management Education T.I.M.E 4 Education
Scholarship Name : CAT Talent Search Scholarship Examination 2020 (TTSE)
Applicable For : Students prepare for CAT 2020/21
Exam Date : 6th June 2020
Applicable State/ UTs : All India
Website : https://www.time4education.com/local/articlecms/page.php?id=4219
T.I.M.E CAT TTSE
It gives us immense pleasure to announce the much-awaited Scholarship Test – T.I.M.E. Talent Search Examination (TTSE) which will be conducted on the 6th of June, 2020 (Saturday) in two slots.

Who Can Apply?
The TTSE is open to students who wish to prepare for CAT 2020/21. Based on performance, students writing this examination will become eligible for a certain amount of scholarship on the CAT 2020/21 full course (Online/Classroom) fee
Exam Details
The TTSE will be conducted in an online mode and can be taken from the comfort of your home.
Test Areas : Quantitative Ability, Logical Ability and Verbal Ability
Test Date : 6th June 2020 (Saturday).
Test Slots : 10:00 am & 6:00 pm slot (Student is requested to register for only one preferred slot)
Test Duration : 1 hour.
How to Register?
You can register for the TTSE by entering the relevant details in the online registration form.
Steps :
Step 1 : Go to the official website of TIME through the URL provided above.
Step 2 : Then fill the registration form with the following details
** Enter the Name of the Student [Arjun Kumar S]
** Enter Your Mobile No [9876543210]
** Enter Your Email Id [myname@gmail.com]
** Enter Your College Name [SSS College]
** Select your nearest T.I.M.E Office
** Select the Time Slot of the exam [10 AM/ 6 PM]
** Select the Course Interested [CAT 2020/ CAT 2021]
** Select your Experience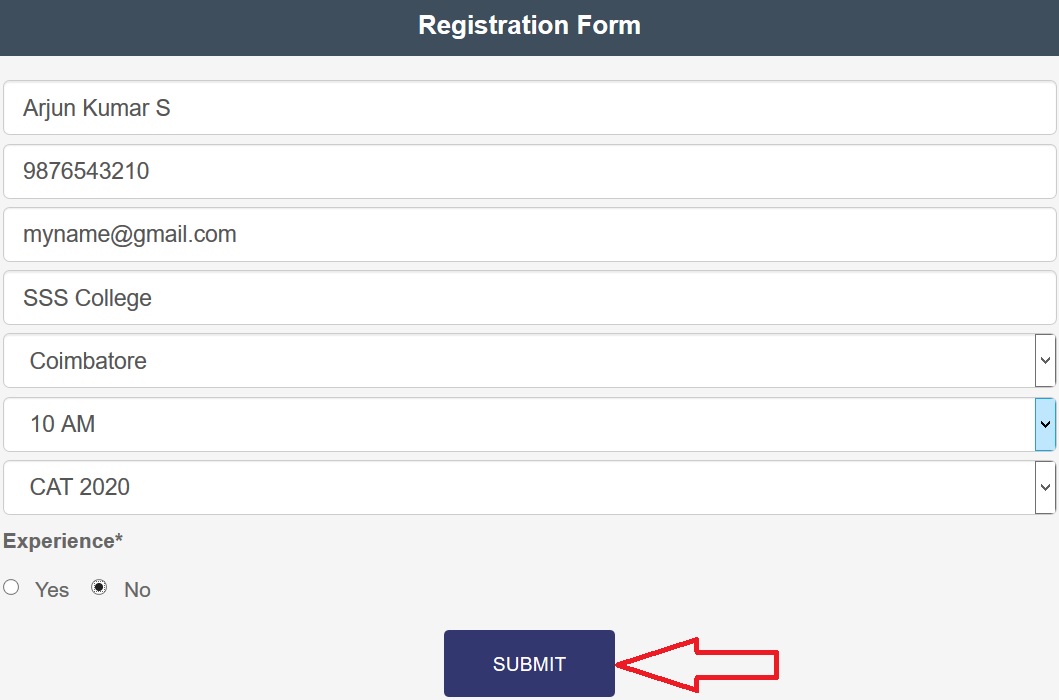 Step 3 : After entering all the details click on the submit button.
Step 4 : After you enter the required details, an email on the time slot, hall ticket number and the test link will be sent to you.
Scholarship Details
A special aspect of this TTSE is that every student writing it and enrolling for the CAT 2020/21 course between 1st of June to 6th of June, 2020 gets a minimum assured discount of 10% (T&C Apply).
To grab this opportunity and get yourself a minimum assured discount for CAT 2020/21 course, Enrol now. We strongly recommend that you make the best use of this wonderful opportunity!
About T.I.M.E.
T.I.M.E. is today acknowledged as a multi-location, multi-programme training specialist run on corporate lines and offers a wide range of programmes not only for national and state-level entrance exams like the CAT, MAT, JEE MAIN, and JEE ADVANCED but also for international exams like GMAT, GRE, IELTS and TOEFL.
Through its Campus Recruitment Training conducted at various engineering colleges across the country every year, T.I.M.E. trains thousands of students in aptitude tests and communication skills as a part of preparing them for their campus placements.
Helpdesk
In case you have any further clarifications, please feel free to mail us at info [AT] time4education.com.