SheBegan International Scholarship for Women 2020-2021
Want to comment on this post?

Go to bottom of this page.
Organisation : SheBegan Women's Magazine
Scholarship Name : International Scholarship for Women 2020-2021
Applicable For : Women
Applicable Country : All Countries other than Iran
Application Last Date : 30.06.2020
Website : https://shebegan.com/isw/
SheBegan ISW
In the United States (US) Universities, the International Scholarship for Women (ISW) will be granted to the women for full-time research or study.
Related/ Similar Scholarship : IELTS Test Fee Scholarship 2020

Who Can Apply?
** The international scholarship for women (ISW) program offers sponsorship for women studying full-time graduate, undergraduate, or postdoctoral programs in the U.S.A.
** The full education funding grants are offered to the women of all countries other than Iran, to study in U.S. Universities and exemption for the women, those are ISW institution members.
Application Process
Eligible women interested to get funding for education in the U.S. have two chances in 2020 to submit the application. Please read this guide carefully before you begin downloading the application form, filling it and submission.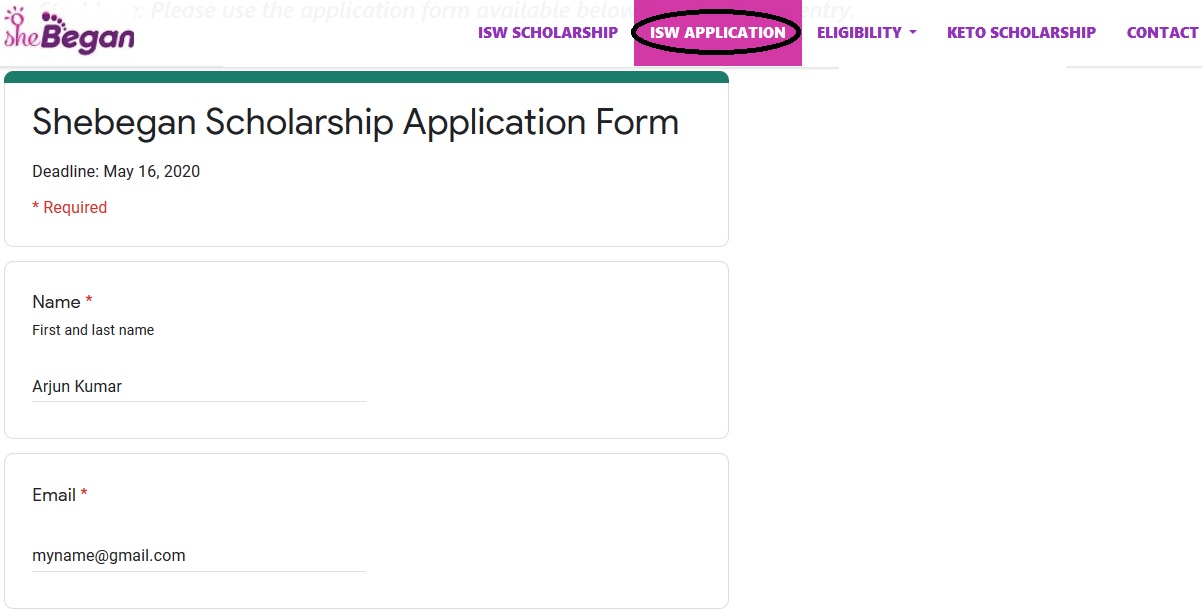 Guidelines
1. Study & abide by all guidelines.
A lot of applications are ineligible every year since candidates ignore instructions or ignore a crucial phase in guidelines.
2. Check all the work carefully.
Applications that are unclear or include several errors poorly reflects the applicant's capacity to submit a convincing application, these applications end up as rejected. Make sure that all the sentences are clear, complete, & grammatically right.
3. Have somebody else go through the whole application.
An unbiased reader will often spot areas that require additional clarification & might discover mistakes the candidate has ignored.
4. Be brief
Assessors should go through loads of applications. Therefore the applications that are perfect & concise have high chances of being selected for the next stage of evaluation.
Documents Required
Before you apply for ISW funding, you need the list of following documents
** Scholarship for women application form 2020-2021 intake
** Conditional admission letter from the U.S. University in medical, engineering or science program
** Evidence of candidate's English reading, writing and speaking proficiency. A letter from a previous University stating that the previous degree was taught in the English language is acceptable. Candidates submitting IELTS with at least 6 bands don't need an English proficiency letter from University.
** Detailed Resume enlisting all the extra-curricular activates and volunteer participation by the candidate
** Two recommendation letters from professors of last attended an educational institute
** Research proposal for Doctoral degree program applicants and study plan for master degree course applicants is also mandatory
** Motivation letter that states why you wish to study in the U.S. and how ISW Scholarship can help you
Scholarship Amount
** Health insurance in sponsorship with Sunlife insurance company
** Expense on Return flight: US$1600 (Once per annum)
** Undergraduate degree sponsorship: US$18,000
** Master's/first professional degree sponsorship: US$28,000
** Doctoral degree sponsorship: US$26,000
** Postdoctoral degree sponsorship: US$32,000
** Books & Literature expense: US$1000 per year
** Monthly stipend of US$1200 for an undergraduate student, US$1600 for Master student, US$1800 for Doctoral Student and flexible package for post-doctorate student
Selection Process
** All the applications will be screened first to sort eligible and deserving candidates on top of the list and then those candidates may receive web-based interview call letters for the evaluation of final selection.
** First preference will be given to the women that prove prior dedication to the charitable or volunteering work for empowering women in their specific fields and also to the women through professional, community, or civic work.
Application Deadline
The deadline for the selection of the first batch is April 20, 2020, and the deadline for the second batch is June 30, 2020.