Stanford University Knight-Hennessy Scholars Program 2021
Want to comment on this post?

Go to bottom of this page.
Organisation : Stanford University
Scholarship Name : Knight-Hennessy Scholars Program 2021
Applicable For : Graduate Students
Applicable State/UTs : All India
Last Date : 14.10.2020
Website : https://knight-hennessy.stanford.edu/admission
Knight-Hennessy Scholars Program
The Knight-Hennessy Scholars application is now open for autumn 2021 enrollment.
Related / Similar Scholarship : International Scholarship for Women 2020-2021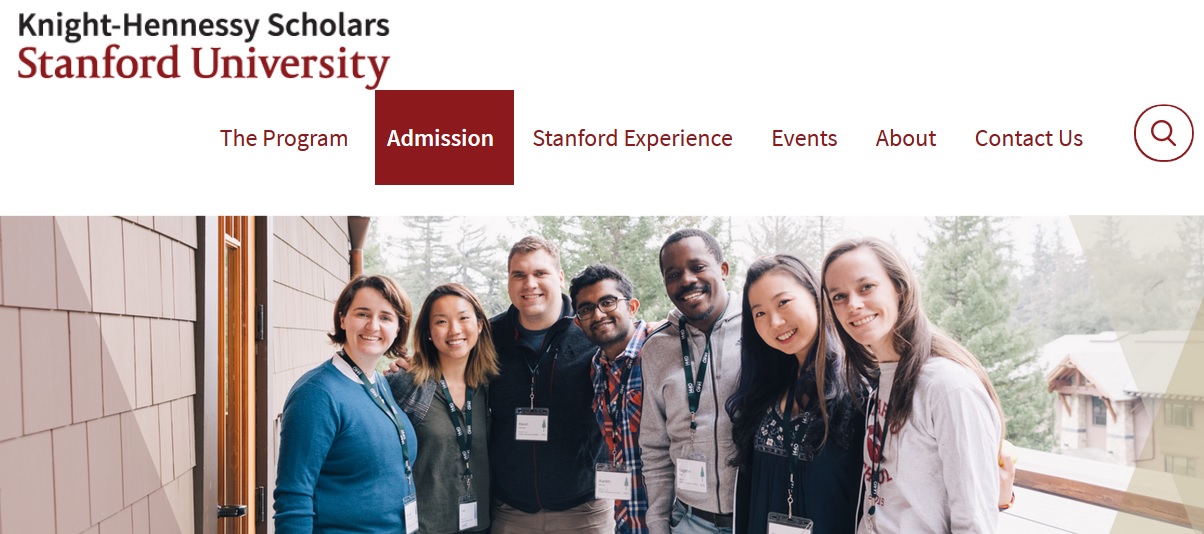 Eligibility
1. We encourage applications to Knight-Hennessy Scholars from residents of all countries.
2. You are eligible to apply if you are applying to enroll in a full-time graduate program(s) at Stanford (for example, but not limited to, DMA, JD, MA, MBA, MD, MFA, MPP, MS, or PhD) or if you plan on pursuing one of Stanford's many joint- and dual- graduate degree options (for example, but not limited to, MD+PhD, JD+MA, MBA+MS).
3. You are eligible to apply if you received your first/bachelor's degree in 2014 or later. That means
** You must have graduated in January 2014 through September 2021 to enroll at Stanford in autumn 2021.
** U.S. military (active or veteran) applicants – You receive a two-year extension of eligibility due to longer service commitments. You are eligible if you earned your undergraduate (bachelor's or first) degree in 2012 or later.
Note :
** We will give priority to applicants who will spend at least two years at Stanford.
** If you are still in college studying for your first/bachelor's degree, you are eligible to apply as long as you will complete your first/bachelor's degree before you enroll as a graduate student at Stanford.
How to Apply?
Just follow the below steps to apply for the Knight-Hennessy Scholarship 2021.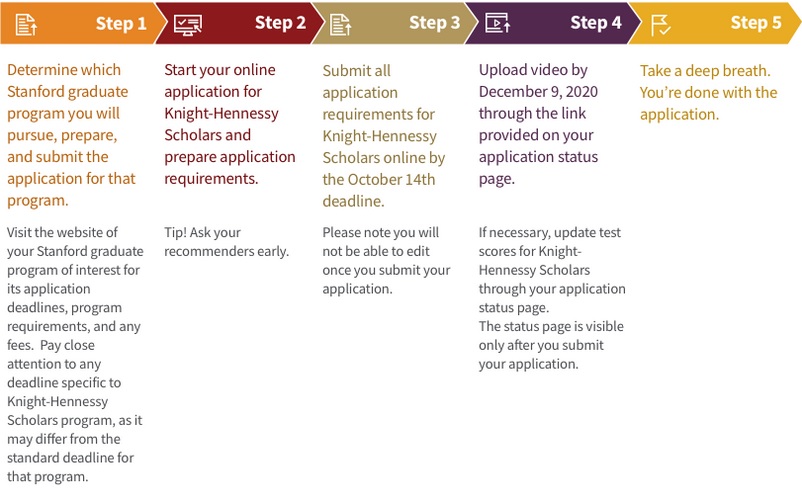 Steps :
Step 1 : Visit the official website of Stanford University through provided above.
Step 2 : Read the instructions carefully and click on the "Apply Now" button in the home page.
Step 3 : Next, click on the "Start Your Application" button.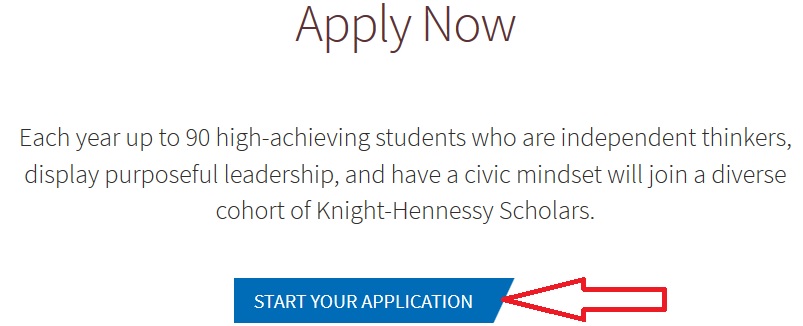 Step 4 : First, log in to your existing account or create a new account.


Step 5 : Once you are logged in, fill the application form with the required details.
Step 6 : Upload the necessary documents and finally submit your application.
Application Requirements
You must apply separately to the Knight-Hennessy Scholars program and to your Stanford graduate degree program.
** You must submit all Knight-Hennessy Scholars application materials in English via our online application. We do not accept materials sent via email or postal mail.
** We highly recommend that you apply using a current version of Google Chrome or Mozilla Firefox.
Benefits
** Join a multidisciplinary community of Stanford graduate students dedicated to tackling the world's challenges.
** Experience the King Global Leadership platform of personal development opportunities, with coaching and feedback, and the opportunity to learn from diverse leaders from different walks of life.
** Receive full funding for up to three years of your graduate degree program at Stanford, plus a stipend for room and board.
** Build skills in leadership and communication that will empower you to work across disciplines and to scale creative solutions for complex challenges.
Application Deadline
The deadline to apply for the 2021 cohort is Wednesday, October 14, 2020, at 1:00 pm Pacific Time.
FAQs
1. As a result of COVID-19, my home institution graded an entire semester P/F. How will this impact the evaluation of my transcript?
We recognize that many institutions (including Stanford University) moved to a pass/fail or credit/no credit grading policy as a result of COVID-19. We will not penalize you for an institutional change that was out of your control. We will continue to review your application contextually.
2. Is there a minimum GPA or test score requirement to be a Knight-Hennessy Scholar?
Although we expect Knight-Hennessy Scholars to have performed well, there is no minimum requirement for your grades or scores. Please check with the graduate department websites for their requirements to be accepted to the graduate degree program you are interested in
3. Can I update my test score after I have submitted my application?
Yes, you can do this by submitting the Test Score Update form available on your status page after you submit your application.
4. Do I need to submit my English proficiency test results to Knight-Hennessy Scholars?
If you have to submit English proficiency test results to the degree program you are applying to, then yes, you need to submit to Knight-Hennessy Scholars as well.
5. Can I ask the same person to provide recommendations for both Knight-Hennessy Scholars and my graduate degree program?
It is fine to ask the same person to provide recommendations for your graduate program and for the Knight-Hennessy Scholars program, but ensure that he/she submits distinctive letters of reference.