Vidya Poshak 2020-21 SSLC Nurture Merit Scholarship Karnataka : vidyaposhak.ngo
You can ask questions or answer questions about this scholarship.
Please go to the bottom of this page.
Organisation : Vidya Poshak
Scholarship Name : Nurture Merit Scholarship 2020-21 (Financial Assistance)
Applicable For : SSLC/Class10 Students aspiring to join Commerce, Arts, Diploma, ITI, GTTC
Applicable City/District/State : Selected Districts/Taluk's in Karnataka
Application Last Date : 15th May 2020
Website : http://www.vidyaposhak.ngo/nurture-merit-application-form-for-2020-21-sslc-students/
Vidya Poshak Nurture Merit Scholarship
Vidya Poshak is invites Applications for Nurture Merit Application form for 2020-21 SSLC Students.
Related / Similar Scholarship : KAVM Scholarship Form 2020

Who Can Apply?
** Should have appeared for the SSLC examination for the first time in March/April, 2020
** The applicant should have scored at least 80% in the SSLC Karnataka board/CBSE examination.
** Aspiring to join Commerce, Arts, Education in PUC 1st year & Diploma, ITI, GTTC
** Total family income should be less than Rs.80, 000 /- per annum (Rupees Eighty Thousand only).
** Parents of the applicant should be resident of one of the below districts of Karnataka.
How To Apply?
Just follow the below steps to apply for Nurture Merit Scholarship 2020-21.
Steps :
Step 1 : Visit the official website of Vidya Poshak through provided above.
Step 2 : Read the instructions carefully and click on the "Apply Now" button.


Step 3 : Fill in all the relevant information, attach supporting document/s (Marks card copy)
Step 4 : Finally click on the "Submit" button to complete your application.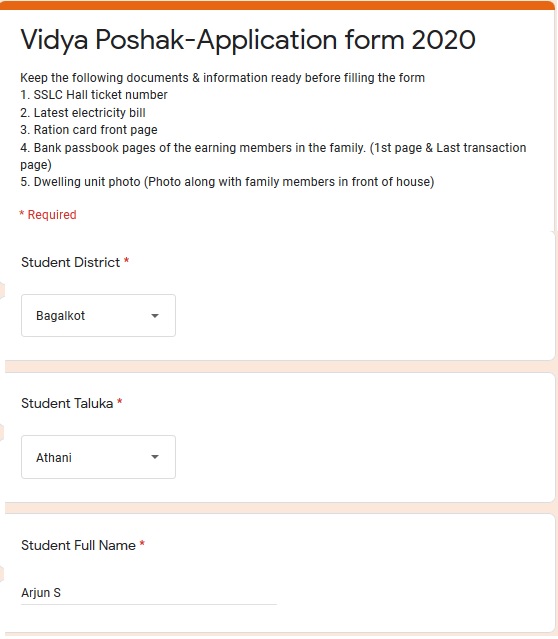 Documents Required
Keep the following documents & information ready before filling the form
1. SSLC Hall ticket number
2. Latest electricity bill
3. Ration card front page
4. Bank passbook pages of the earning members in the family. (1st page & Last transaction page)
5. Dwelling unit photo (Photo along with family members in front of house)
Branch Office Addresses:
Application forms are available in Vidya Poshak website www.vidyaposhak.ngo and at branch our offices mentioned below
Applicable Districts/Taluks
Therefore new applications will be entertained only from following Districts/taluk's in Karnataka
Bagalkot District : Badami, Jamakhandi, Hunagund, Mudhol, Bilagi, Bagalkot
Vijayapur District : Vijayapur, Indi, Muddebihal, B. Bagewadi
Belagavi District : Belagavi, Bailhongal, Savadatti, Chikodi, Hukkeri, Gokak, Athani, Mudalagi, Raibag, Ramadurga, Khanapur
Dharwad District : Dharwad, Kundagol, Hubballi, Kalghatagi, Navalgund
Gadag District : Ron, Mundaragi, Shirahatti, Naragund, Gadag
Davanagere District : Davanagere Harihar, Honnali, Jagalur, Harapnahalli, Channagiri
Uttar Kannada : Sirsi, Siddapur, Yallapur, Mundagod, Kumata, Bhatkal, Haliyal, Joida, Karwar, Honnavar, Ankola
Shimoga District : Sagar, Shivamogga, Hosanagar Shikaripura, Teerthahalli, Soraba.
Scholarship Instructions
** Please keep the contact number used in application form for the vidya Poshak financial assistance .All the communications with the students will be through this contact number only.
** Students joining science stream in 1st year PUC are not eligible to apply for the Vidya Poshak financial assistance.
** Complete information, guidelines, instructions, terms and conditions are posted on our website www.vidyaposhak.ngo
About Us :
We strongly believe Education is the solution for Ending Poverty. When we invest in a Young, economically challenged meritorious youth for a few years, we can break the poverty cycle of a family forever.
Mission :
1. To provide financial assistance to meritorious students who cannot afford to continue higher education owing to their financial difficulties.
2. To guide and train the students towards achieving excellence in professional and personal life through 'skill to succeed' training
3. To involve the community – individuals and institutions – to participate in the endeavors of the organization's initiatives.
Scholarship Helpdesk
Phone : 0836-2747357,
Email : info [AT] vidyaposhak.org