Medhavi SWABHIMAN Scholarship 2020 Practice/Mock Test : medhavionline.org
You can ask questions or answer questions about this scholarship.
Please go to the bottom of this page.
Organisation : Human Resources & Development Mission
Facility/ Service Name : SWABHIMAN 2020 Scholarship Mock/Practice Test
Applicable For : 10th, 12th, Graduation, Post-Graduation, any degree or diploma
Applicable State/UT : All India
Mock Test Date : 19.04.2020
Main Exam Date : 26.04.2020
Website : https://www.medhavionline.org/schemedetail.aspx
Medhavi SWABHIMAN Scholarship Mock Test
MOCK/PRACTICE TEST for SWABHIMAN-2020 Scholarship Exam
Related / Similar Post : MEDHAVI Scholarship Exam Question Paper

Mock/Practice Test for registered candidates of SWABHIMAN-2020 scholarship exam is scheduled to be held in various time slots on 19th April 2020 under normal circumstances (all dates subject to such conditions which are out of the control of organization).
Mock/Practice exam is only a practice exam which will familiarise registered candidates with the process of actual online exam. All registered candidates must attend the mock/practice exam to avoid any mistake during actual scholarship exam on 26.04.2020.
Exam Time
LOGIN TIME for Mock/Practice Exam for each registered candidate is available under ONLINE EXAM section of Medhavi application. Candidates must login for the mock/practice exam within given time limit, failing which will lead to disqualification. No request will be entertained later in this regard.
How to Take Test?
** Candidates need to confirm their date of birth (as mentioned in the registration form) for login.
** Once logged in, candidates will not be allowed to switch window or close the application, doing so will result in disqualification.
** Login window will be available strictly for available time only and no candidates will be able to login after the given time.
** After login, INSTRUCTIONS page will be displayed for 10 minutes. Candidates must read all instructions carefully.
** Exam will AUTO START after completion of 10 minutes of INSTRUCTIONS page.
** Candidates can submit their test by clicking on SUBMIT button anytime. Exam will be auto submitted at the completion of time.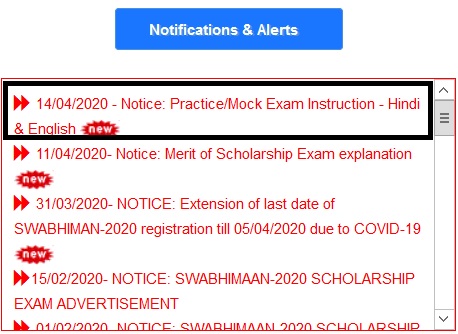 Instructions
Candidates must adhere to below instructions for the successful completion of online mock/practice exam.
1. Ensure a disturbance free internet connection and power supply for your android device during exam.
2. Candidates must ensure that they are using LATEST VERSION of MEDHAVI APPLICATION. Candidates themselves will be responsible for any problem occurs due to the use of old version of Medhavi App. No request will be entertained later in this regard.
3. Any phone call i.e. receiving or outgoing on mobile phone during exam will lead to disqualification of candidates.
It is strongly recommended to follow any of the below methods to avoid phone call during exam, failing which will result in disqualification of candidate and no request will be entertained later in this regard.
Below are the following methods :
a) Keep mobile phone on AEROPLANE MODE and Use a Wi-Fi internet service.
or
b) Forward all incoming calls using call settings of your android mobile phone.
or
c) Block all incoming calls using call settings of your android mobile phone.
or
d) Candidates may also choose to use any authentic call blocker application.
4. All applications on android device of candidates, except Medhavi app [and call block app (if using)], shall remain close during the exam.
5. Candidates must not share the password of Medhavi application with anyone.