sje.rajasthan.gov.in Sahyog & Uphar Financial Assistance Scheme : Social Justice & Empowerment Department
You can now ask your doubts / questions.
Please go to the the bottom of this page for comments section.
Organisation : DoSJE Website, Social Justice & Empowerment Department
Scholarship / Scheme Name : Sahyog & Uphar Scheme
Applicable For : SC Girls
Applicable State : Rajasthan
Website : http://www.sje.rajasthan.gov.in/Default.aspx?PageID=370
SJE Rajasthan Sahyog & Uphar Scheme
Social Justice Management System, Rajasthan invites applications for Sahyog & Uphar Financial Assistance Scheme.
Related / Similar Scheme : SJE Rajasthan Inter-Caste Marriage Scheme
Objective
Sahyog & Uphar Yojna, a scheme launched in April 2005, provides financial assistance of Rs 5,000 per girl to BPL families of Scheduled Castes for marriage of their first two girls between the age group of 18 and 21 years.
The scheme was amended in 2008 and 2009, when the amount of assistance was increased to Rs 10,000 for every girl having completed the age of 18 years or above.
How to Apply?
Just follow the below steps to apply for the Sahyog & Uphar Scheme.
Steps :
Step 1 : Go to the following link https://sjms.rajasthan.gov.in/sjms/Login.aspx.
Step 2 : Click "Citizen SSO Login".
Step 3 : Link forwards us to SSO page login. Close the Message window and put your user name, password and Capcha code.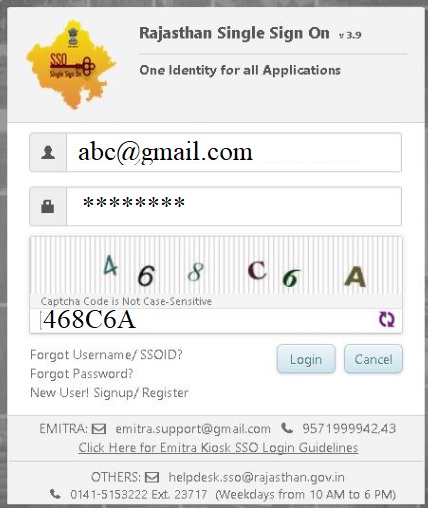 Step 4 : Government web portal's list will appear as above. Select SJMS portal from the list which gets open on next screen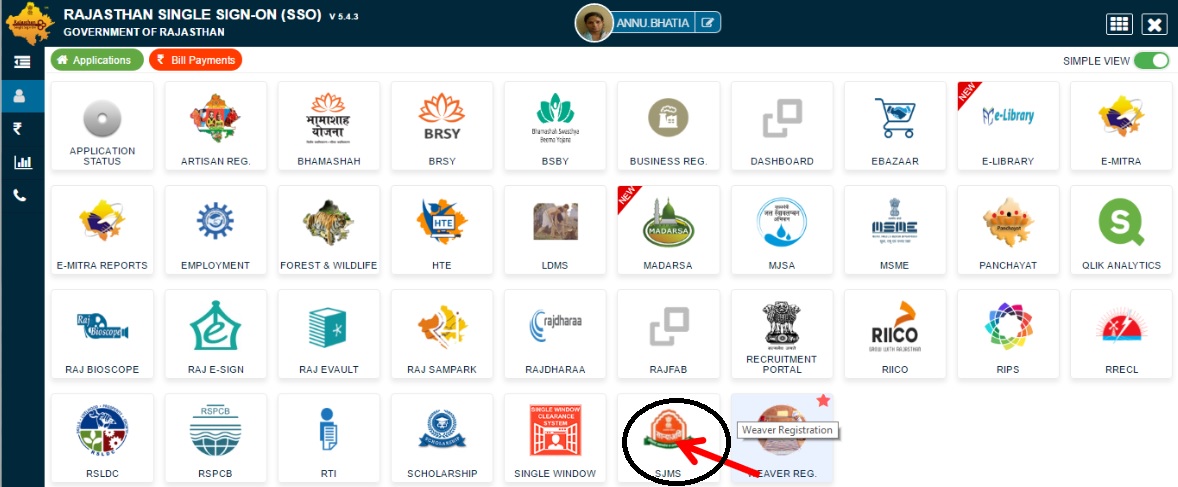 Applying For Scheme :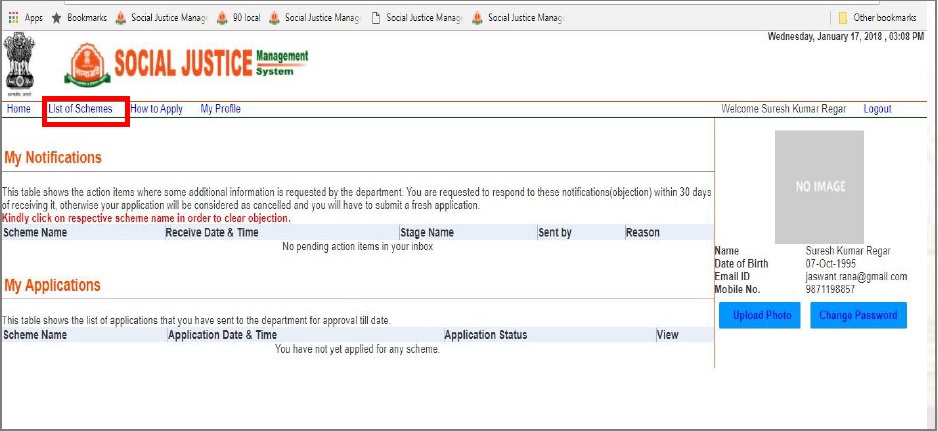 Step 5 : Here, on this page citizen's personal information appears and also it shows the detail under My Application tab of scheme citizen has been applied for.
Step 6 : Click on "List of Schemes", list of schemes appears at left hand side
panel and then Click " Sahyog & Uphar Scheme" and apply.
Step 7 : Application form will appear. This application form contains basic detail of applicant with his/ her panchayat samiti number, Ward number and Nagar palika number. Fill all mandatories and submit the form.
Step 8 : Personal detail of candidate appears in non-editable form.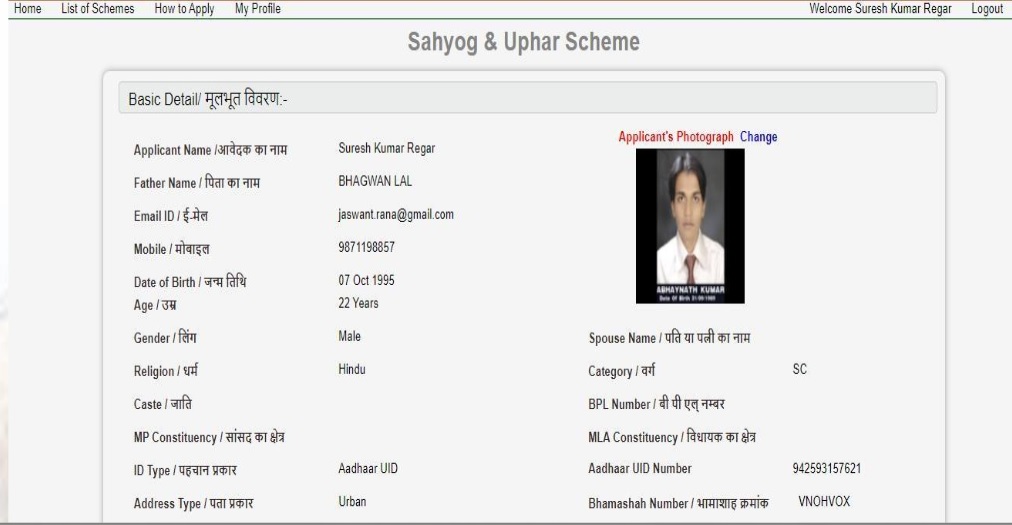 Step 9 : Fill Panchayat Samiti number and nagar palika number that is mandatory fields and also attach photograph as well. Click "Save & Next" button.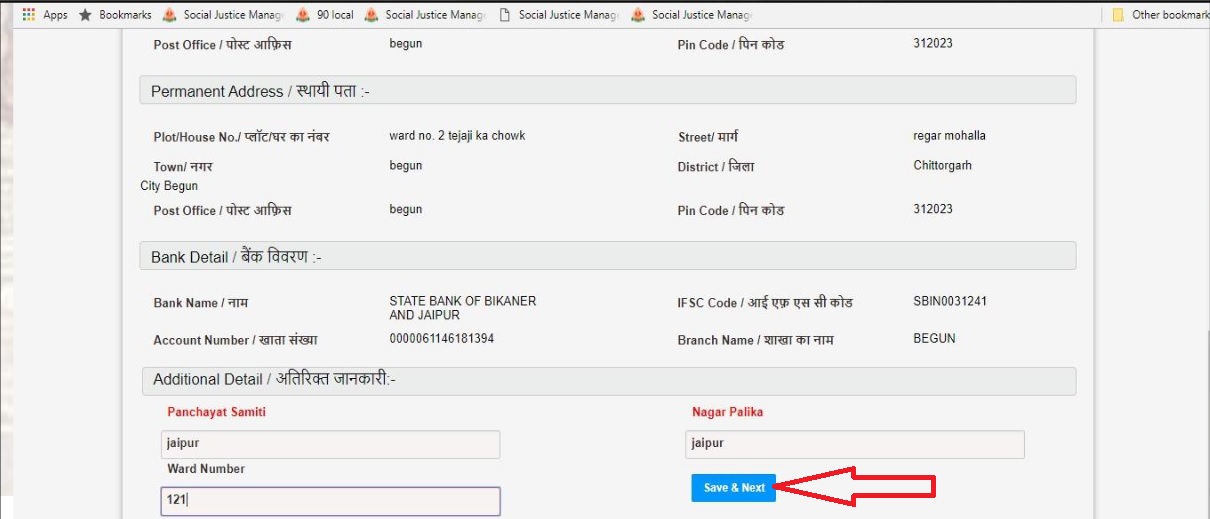 Family Member's Detail :
Step 10 : Enter family member's detail that would be bride's family members and Click "Save & Next" button.

Daughter's & Groom Detail :
Step 11 : Fill all mandatory fields of daughter's detail panel then move towards Groom detail.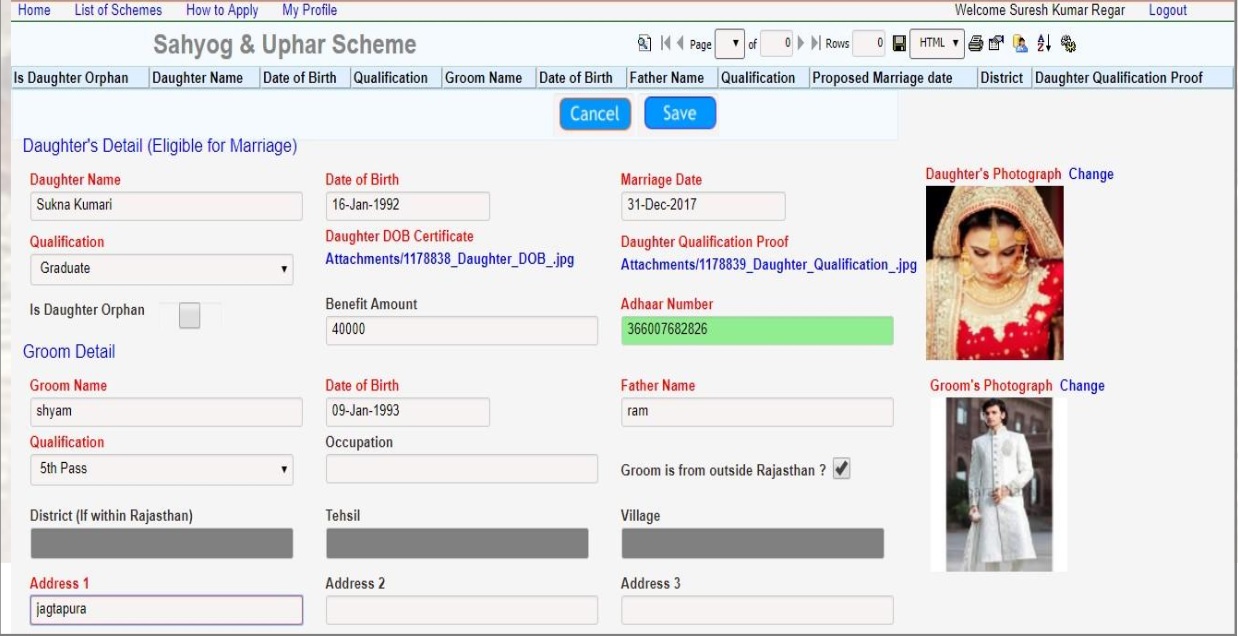 Step 12 : Click "Save & Next" button. Attachment document page will appear.
Document Attachment
Only the applicant can apply for this scheme that belongs to any one category from BPL/ Astha/ Antyodaya /Widow.
If applicant is BPL member then he/she does not need to show Astha or Antyodaya card and Astha/ Antyodaya/Widow. Option will not be visible over document page.
If applicant does not belongs BPL category then Astha or Antyodaya/Widow. Option will appear on the document page and one of them needs to select and enter appropriate number.
Note :
If daughter(s) is orphan then parent death certificate is mandatory.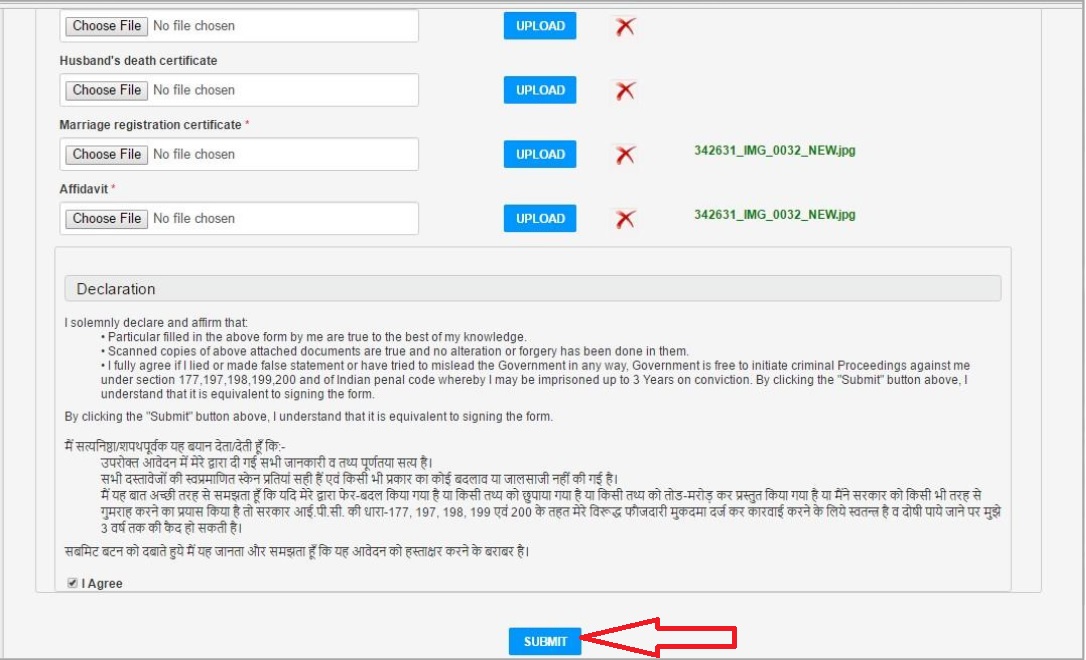 Step 13 : Fill all mandatory fields, then click submit button.
Step 14 : System will generate an application number and forward application to related verifier.
Step 15 : Applicant can view their profile over their dashboard by clicking view button.


** To view application, click on view symbol appearing under view column.
** Application will be forwarded to verifier corresponding to application's domicile.
Terms & Conditions
** The CAG report for the year ended March 31, 2011, presented during the current assembly session, revealed that in the nine test districts, financial assistance was provided under the scheme in 35 cases where either the boy (11 cases) or the girl (24 cases) had not attained the marriageable age of 21 years and 18 years, respectively, as provided in Section 3 of the Prohibition of Child Marriage Act, 2006.
** At the time of marriage, the minimum age of boy and the girl should be 21 years and 18 years, respectively.
** However, the audit scrutiny revealed that the district officers of nine test areas released financial aid despite the fact that the age of groom and bride was below 21 and 18 years in 10 cases.
** The state government stated in November 2011, the report pointed out, that the financial assistance was given without obtaining age certificates on humanitarian grounds and directions for obtaining the certificate were being issued to all the district officers.