PFMS Track NSP Payments : Public Financial Management System
Organization : Public Financial Management System PFMS
Service Name : Track NSP Payments
Applicable State/UTs : All India
Website : https://pfms.nic.in/static/NewLayoutCommonContent.aspx?RequestPagename=static/TrackNSPpayments.aspx
You can now ask your question on this scholarship.
Ask here
(OR) Go to the bottom of this page for comments.
PFMS Track NSP Payments
Kindly follow the below steps to Track your NSP Payments status.
Related / Similar Service :
1. PFMS Bank Branch & Scheme Wise Contact List
How to Track?
Steps :
Step 1 : Visit the official website of PFMS through the URL https://pfms.nic.in/NewDefaultHome.aspx

Step 2 : Next, Click on the "Track NSP Payments" link in the home page.


Step 3 : Enter First Few Characters Of Bank Name [i.e State Bank of India]
Step 4 : Enter Your Account Number OR Enter NSP Application Id [i.e AY201920123456]

Step 5 : Enter the letters as they are shown in the image (Letters are case-sensitive)
Step 6 : Finally click on the "Search" button.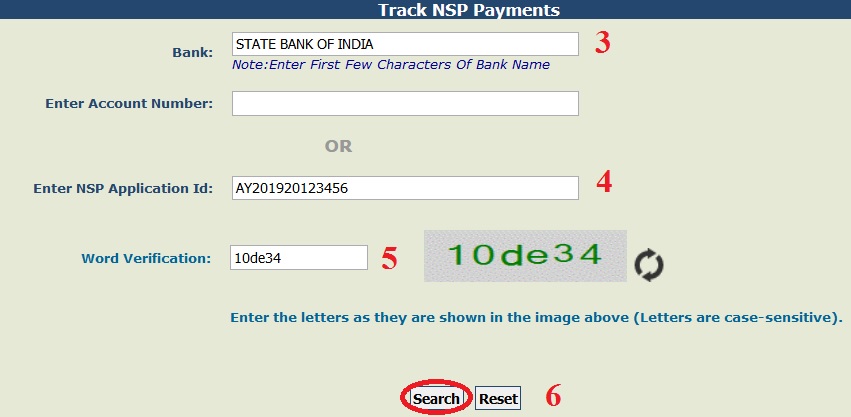 PFMS FAQs
1. Beneficiaries Aadhaar based payment got rejected by bank, how can I make Account payment to beneficiaries?
First Priority is given to Aadhaar based payment, in case the Aadhaar based payment is rejected for the beneficiary, the Beneficiary is now automatically available only for Account Based Payment.
2. Where can I check whether payment is due for a beneficiary?
You use Payment Periodicity check whether payment is due for a beneficiary.
3. Can I perform DBT transactions if my bank account is in Cooperative Bank?
Yes, provided the bank is listed in Home Page>User Support> Bank Account Validation Time.
4. What are the guidelines for specifying payment period ? How the payment period is to be decided for JSY payments?
Payment period is decided as per respective scheme guidelines.
5. We have uploaded beneficiaries with both Aadhaar Number and Account number details. We want to make account based payment to the beneficiaries as Aadhaar Numbers are not seeded with the accounts as yet. How to do this?
You cant, Skip Aadhaar Number and enter Account Number of the beneficiaries.
6. If the bank account of the student is invalid?
If the account of the student is invalid, student will receive the sms/email alert. After receiving the information, they need to change the bank account.
7. Payment to beneficiary based on Aadhaar Number has got rejected. How Can I initiate the account based payment to the beneficiary now?
You don't need to do anything extra, Beneficiary is now automatically available only for Account Based Payment as it Aadhaar Based payment was rejected.
8. While approving payment, It has been noticed that some additional beneficiaries are coming. How to remove these beneficiaries from this transaction?
You cant remove additional beneficiaries while approving the Payment. Reject the Payment and ask the "Maker " to make a fresh voucher with correct list of beneficiaries.
About PFMS :
Public Financial Management System (PFMS) initially started as a Plan scheme named CPSMS of the Planning Commission in 2008-09 as a pilot in four States of Madhya Pradesh, Bihar, Punjab and Mizoram for four Flagship schemes e.g. MGNREGS, NRHM, SSA and PMGSY.