UGC National Fellowship for Persons with Disabilities NFPwD 2018-19 & 2019-20
Organization : UGC University Grants Commission
Scholarship / Fellowship Name : NFPwD National Fellowship for Persons with Disabilities 2018-19 & 2019-20
Applicable For : Persons with Disabilities
Application Last Date : 29th February 2020
Website : https://www.ugc.ac.in/ugc_schemes/
You can now ask your question on this scholarship.
Ask here
(OR) Go to the bottom of this page for comments.
UGC National Fellowship for PwD
University Grants Commission invites Applications For National Fellowship For Persons With Disabilities (NFPwD) For The Years 2018-19 & 2019-2020.
Eligibility
Any student with disabilities who has been admitted to M.Phil/Ph.D degree and pursuing research through regular and full time mode in a University or academic institution by completing the required formalities for admission in that University or academic institution is eligible for the fellowship.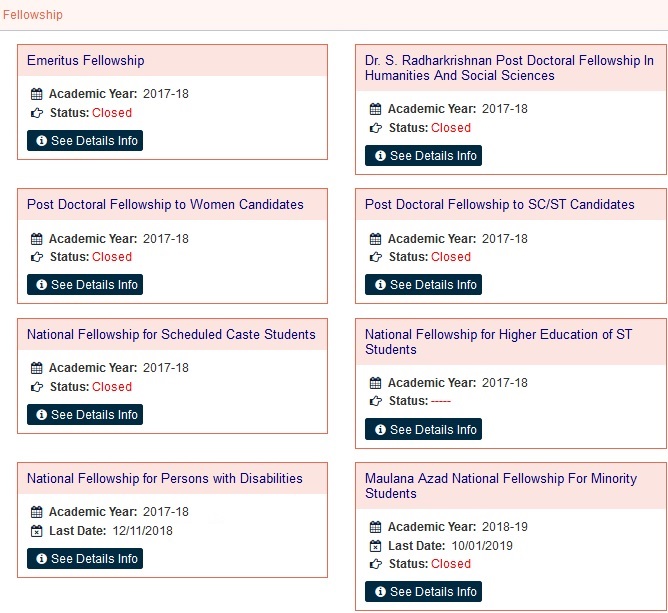 Reservation
There are 200 slots for each year with provision of reservation of 15% for Scheduled Castes and 7.5% for Scheduled Tribes.
How to Apply?
Just follow the below steps to apply for the NFPwD 2018-19 & 2019-20.
Steps :
Step 1 : Go to the official website of University Grants Commission through the URL provided above.
Step 2 : Read the instruction carefully and Click on the "Apply Now" button in the menu bar.


Step 3 : Accept the terms & conditions and Click on "Proceed for Registration" button to continue with registration.
Step 4 : Next, Fill-in Personal Information and other required fields to complete the registration.
Step 5 : Accept the declaration and finally click on "Submit" button
Duration Of Fellowship
| | |
| --- | --- |
| Name of the Course | Maximum duration |
| M.Phil. | 2 years or submission of dissertation whichever is earlier |
| M.Phil.+ Ph.D. | 5 years from commencement of Fellowship or till submission of Ph.D. thesis, whichever is earlier |
| Ph.D. | 5 years or till submission of Ph.D. thesis, whichever is earlier |
Amount Of Fellowship
Presently the rate of fellowship for JRF and SRF, under the scheme, is as under
Fellowship
@Rs.25,000/-p.m. initial two year as JRF.

@Rs.28,000/-p.m. for remaining tenure as SRF.

Contingency

(Humanities & Social Sciences including Arts/Fine Arts)

@Rs.10,000/-p.a. for initial two year (JRF)

@Rs.20,500/-p.a. for remaining tenure(SRF)

Contingency

(Science, Engineering & Technology)

@Rs.12,000/-p.a. initial two year (JRF)

@Rs.25,000/-p.a. for remaining tenure (SRF)

Escorts/Reader assistance
@Rs.2,000/- p.m. in case of candidates with physical and visual disabilities.
HRA
As per Govt. of India norms.
Selection Process
** The selection will be made purely on merit based on the percentage of marks obtained by the candidates in their Post Graduation (PG) examination, after verification of applications, from amongst the candidates whose applications are received through online mode on the designated portal of UGC.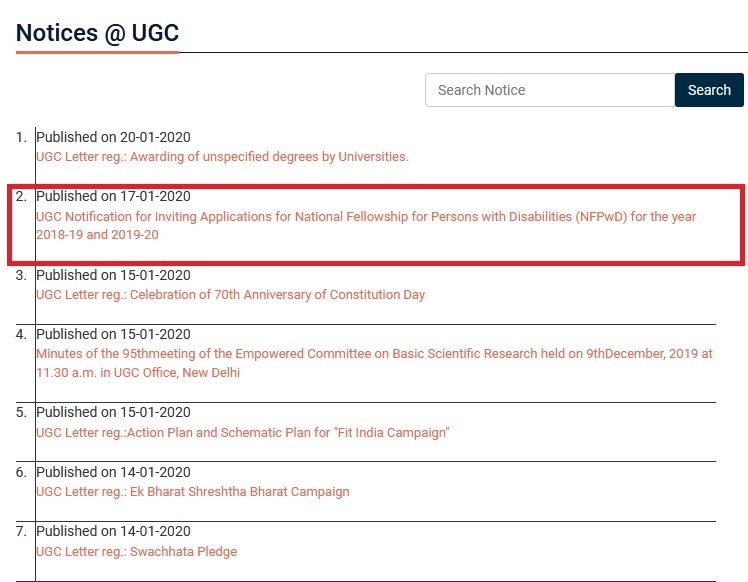 ** After the selections process, UGC will issue a list containing names of provisionally selected candidates. They will be allowed to join the fellowship only after verification of facts/information furnished by them in their online applications.
Resignation & Transfer
(i) If the Fellow resigns or relinquishes the fellowship before the end of the tenure, information may be submitted by the concerned University/ institution on the designated web portal itself and stop/discontinue payment link may be used at the time of monthly confirmation.
(ii) Transfer of Research place will be allowed only once during the entire tenure. Transfer can be made by the concerned University/ institution itself on the designated web portal through the concerned link available therein.
Notification :
https://www.scholarships.net.in/uploads/pdf2019/40059-Advt.pdf
Cancellation Of Award
The fellowship in liable to cancellation, in case of
i. Misconduct.
ii. Unsatisfactory progress of research work.
iii. Candidate is later found ineligible.
iv. Candidate is already availing scholarship/fellowship from any other sources.
v. Candidate is found employed during the M.Phil/Ph.D research.
Application Last Date
The last date for receiving the online applications is 29th February, 2020 till 5.00 PM