Kreatryx Scholarship Test 2020 For GATE/ESE Aspirants
Organisation : Kreatryx
Scholarship Name : Kreatryx Scholarship Test 2020
Applicable For : Any GATE or ESE Aspirants
Exam Date : 16th February 2020
Result Date : 17th February 2020
Website : https://www.kreatryx.com/scholarship-test/
Kreatryx Scholarship Test
Online applications are invited for Kreatryx Scholarship Test 2020. Win scholarships worth Rs.1 Crores on GATE (EE) & ESE 2021 Classroom Courses
Related / Similar Post : GATE Academy Scholarship Test 2020
About Test
It is a National Level Scholarship exam conducted by Kreatryx to invite GATE & ESE Aspirants from all over India to appear for the exam and compete with each other.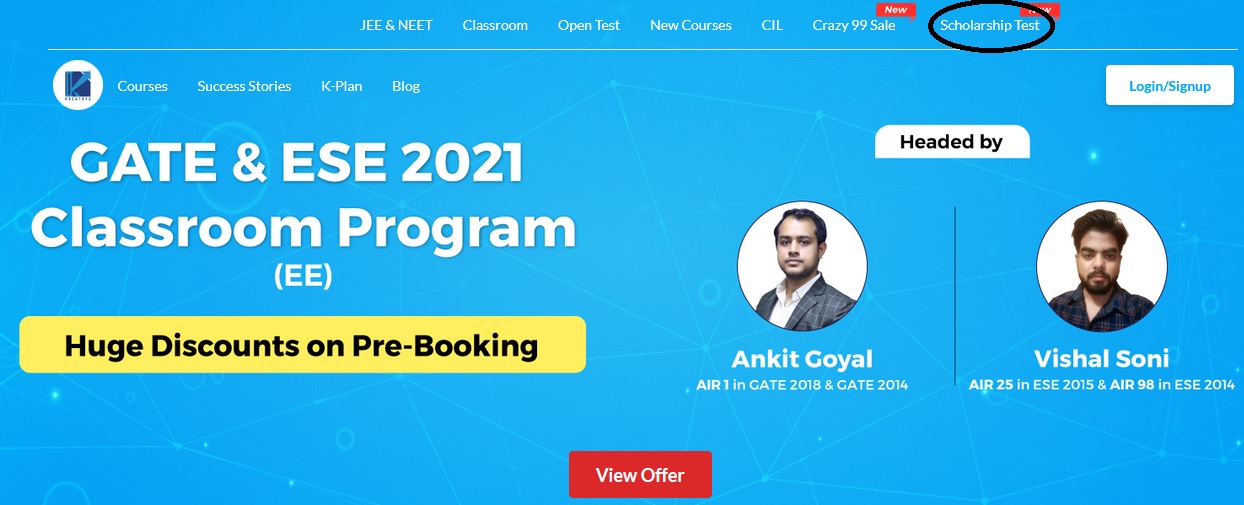 It also gives students an opportunity to win Scholarships worth more than 1 Crore to avail admission into Kreatryx's much renowned GATE & ESE 2021 Classroom Program.
Who Can Appear?
Any GATE or ESE Aspirant from Electrical branch are eligible to apply for Kreatryx Scholarship Test 2020.
How To Register?
** No Registration Required. We have ZERO Registration Costs.
** Signup on www.kreatryx.com & you will be able to appear for the test once the exam window opens at 10 am on 16th February 2020.
** Test link given below will be activated on 16th Feb.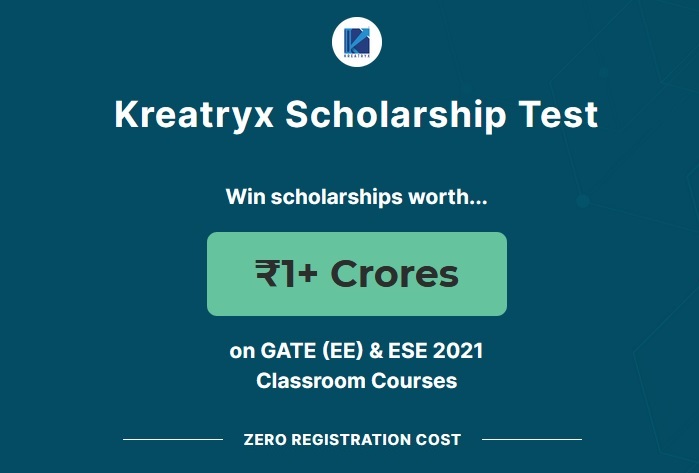 Test Details
| | |
| --- | --- |
| Date | 16th February 2020 (Sunday) |
| Test Window | 10 am – 10 pm |
| Duration | 2 Hours |
| Syllabus | Basic Maths & General Aptitude |
| Maximum Marks | 100 |
| No. of Ques | 65 |
| Result | 17th February (11 AM) |
Check Result :
https://www.kreatryx.com/login?test_id=674
FAQs
Q) When does the First Batch Starts for GATE & ESE Classroom?
The First Batch starts from 1st March 2020
Q) What will be the total Classroom fees?
The Total Fees for GATE (EE) 2021 Classroom is ?70,800/- (incl. of GST) & for GATE + ESE 2021 (EE) 2021 Classroom is Rs. 80,240/- (incl. of GST)
Q) I pre-booked my seat for Classroom 2021, Can I still appear for the Scholarship Test?
Yes. If you have pre-booked your seat, you will still be eligible to appear for the Scholarship Test.
Q) How to appear for Scholarship Test?
You only need to start the test from the link that will be live on this page when test window opens on 1st June.
Q) Cutoff to get the scholarship?
The cutoff/offers will be announced shortly after the end of scholarship test. We will inform you via email in case you are eligible for any offer.
Q) When results will be out?
The result will be declared on Monday, 17th February at 11 AM. The offer emails will be sent shortly after the results to qualified candidates.
Q) How it will be monitored if somebody is cheating or not?
Our test platform system keeps track of every activity that a candidate does during the test. Please avoid using unfair means since you will be denied any offer if found cheating and will be barred from future offers as well.
Q) How will I get to know that won the scholarship?
The Scholarship mails will be sent separately to those who have won the scholarship. The scholarship offered is at Kreatryx's discretion.
Contact Us
Kreatryx Admissions Office,
65-A, Basement, Govind House, Kalu Sarai,
New Delhi, 110016, India
Kreatryx Ghitorni Classroom,
3rd Floor, Jagat Complex,
Plot number 354, 100 Feet Rd,, Ghitorni,
New Delhi, 110030, India