dot.gov.in Scholarship, Hostel Subsidy & Lump Sum Grant to the Differently Abled Wards of Employees 2017-18 & 2018-19
Organization : Department of Telecommunications
Scholarship Name : Grant Of Scholarship , Hostel Subsidy, Transport Charges & Lump Sum Grant To The Differently Abled Wards Of DOT Employees 2017-18 & 2018-19
Applicable To : Wards of DoT Employees
Last Date : 31/01/2020
Website : http://dot.gov.in/circulars/grant-scholarship-hostel-subsidy-transport-charges-and-lump-sum-grant-differently-abled
You can now ask your question on this scholarship.
Ask here
(OR) Go to the bottom of this page for comments.
DOT Employees Differently Abled Wards Scholarship
Grant Of Scholarship , Hostel Subsidy, Transport Charges & Lump Sum Grant To The Differently Abled Wards Of DOT Employees For The Academic Year 2017-2018 And 2018-2019.
Related / Similar Post :
1. DOT Incentive for Meritorious Students 2017-19
Eligibility
1) The minimum degree of disability shall be 40% as certified by the accredited Medical Board in respect of the following disabilities of the child
a) Visual impairment
b) Locomotor/ Orthopaedic disability
c) Speech & hearing disability
d) Mental retardation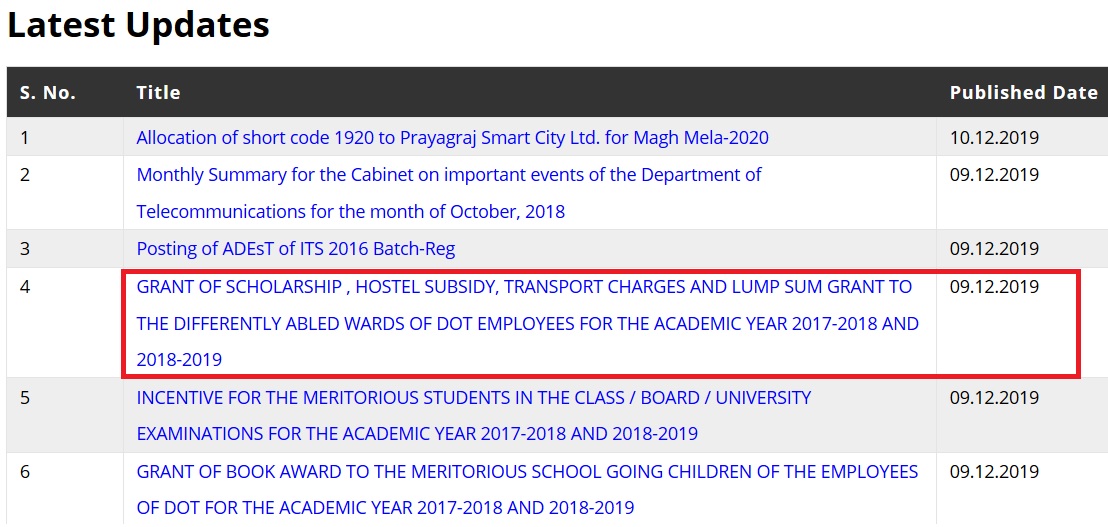 2) Age :
Differently Abled children will be eligible for the benefits between the age limits 5 to 22 years and for more than two academic years in the same class subject to the upper age limit of 22 years.
3) Assistance as per the above scheme shall be restricted to two elder children (only if the child attends the school regularly) and should be an employee of DoT in the respective academic year. This may be duly verified/endorsed by the applicant through their respective administration.
How to Apply?
Just follow the below steps to apply for the Grant Of Scholarship , Hostel Subsidy, Transport Charges & Lump Sum Grant To The Differently Abled Wards Of DOT Employees 2017-18 & 2018-19.
Steps :
Step 1 : Visit the official website of Department of Telecommunications through provided above.
Step 2 : Download the Application Form from the official website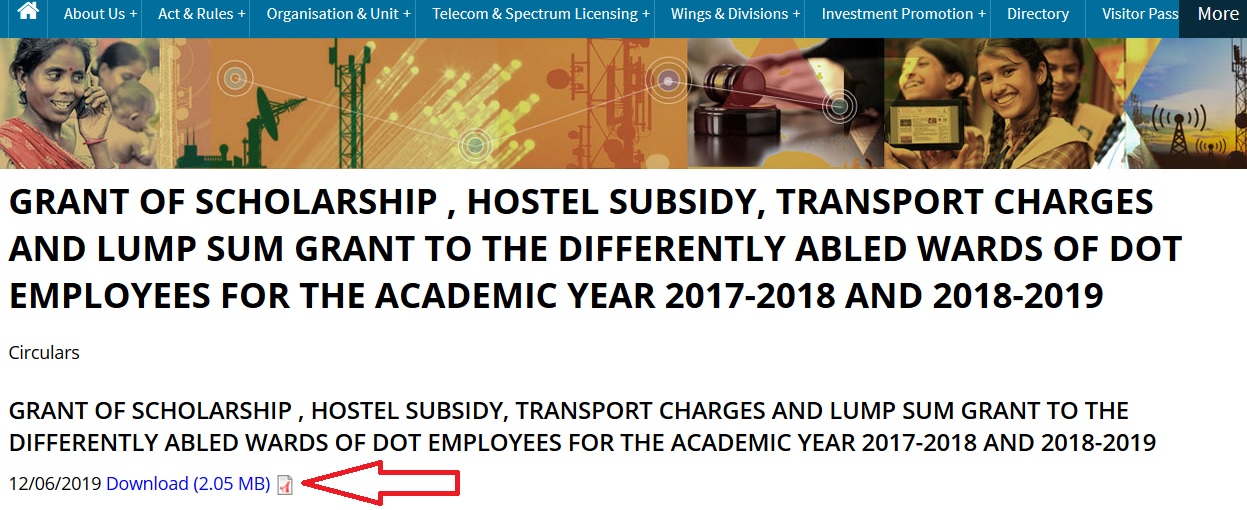 or you can directly download it from below mentioned link
Download Application Form :
https://www.scholarships.net.in/uploads/pdf2019/38836-Form.pdf
Step 3 : Fill the application form with the required details and attach the relevant documents.
Step 4 : Please submit separate applications for the Academic Year 2017-2018 and 2018-2019 as per proforma attached.
Step 5 : Application in the prescribed proforma (copy enclosed) along with duly self-attested copy of the mark-sheet/report card may be sent to the following address.
Section Officer (Welfare/General II Section),
Mezz floor, DoT,
Sanchar Bhavan, 20, Ashoka Road,
New Delhi-110001
Note :
Forms are also available at http://dot.gov.in/circulars/general-section dot. It is mandatory for applicants to furnish their Bank Details (Mandate Form enclosed) for making payments through ECS.
Scholarship Details
Telecom Staff Welfare Board has approved the following schemes to enable DoT employees to meet special educational requirements of Differently Abled wards
Name of Scheme
Course/Class
Rate
Scholarship Award
1.Primary, Secondary and Higher and Senior Secondary classes (I-XII)
2.Degree/Diploma courses in both Technical and Non Technical streams
Rs. 800/- per annum per child

Lumpsum incentive grant for purchasing special teaching aids including Transport Allowance/ Hostel Subsidy

       -do –
Rs. 5,000/- per annum per child
Application Last Date
Last date to submit the application is 31/01/2020. The applications, which are incomplete in any respect or received after the last date, will not be entertained.
Helpdesk
For any clarification regarding Scholarship Scheme, Welfare/General II Section (Tele. No. 011-23036464/6897) may be contacted.