megeducation.gov.in NEC Scholarship/ Stipend 2019-20 : Meghalaya Education
Organization : Directorate of Higher & Technical Education
Scholarship Name : NEC North Eastern Council Scholarship/Stipend 2019-20
Applicable For : North Eastern Region Students
Applicable States : Meghalaya
Application Last Date : 15.01.2020 (Date is Extended)
Website : http://megeducation.gov.in/index.html
You can ask questions or answer questions about this scholarship.
Please go to the bottom of this page.
Meghalaya Education NEC Scholarship
Directorate of Higher & Technical Education, Meghalaya invites application for NEC North Eastern Council Scholarship/Stipend for the year 2019-20.
Related / Similar Post :
Meghalaya Border Areas Scholarship 2019-20
Objective
Fresh and Renewal applications are invited from the students who are permanent residents in the State of Meghalaya studying within and outside the state for the year 2019-20 for grant of North Eastern Council Merit Scholarship (for those who are applying as fresh from 2017-18 on wards)/NEC Book Grant and Stipends (for those who applied as fresh before 2017-18) for the General, SC/ST students undergoing Vocational/Technical courses.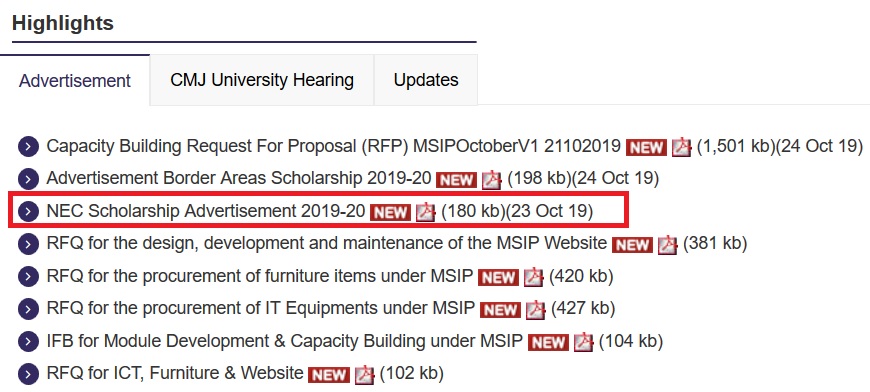 Who Can Apply?
** General candidates who secure 70% and above and those SC/ST candidates who secure 60% and above in their last final examination are eligible to apply as fresh.
** The Income ceiling of both the Parents/Guardians from all sources should not exceed Rs.4.5 (lakh) per annum.
How to Apply?
Just follow the below steps to apply for the NEC Scholarship 2019-20.
Steps :
Step 1 : Go to the following link [http://megeducation.gov.in/dhte/scholarship/schemes/scholarship_forms.html]
Step 2 : Download the application form from the website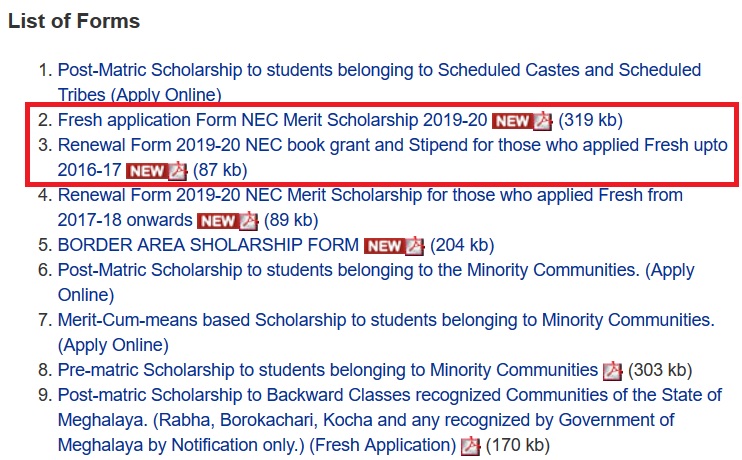 or you can directly download it from the below mentioned link.
Download Application Form :
Fresh :
https://www.scholarships.net.in/uploads/pdf2019/377388-Fresh.pdf

Renewal :
https://www.scholarships.net.in/uploads/pdf2019/377388-Renew.pdf
Step 3 : Fill the application form with the required details and attach the necessary documents.
Step 4 : Application Must Be Submitted Through The Head Of The Institution Joined By Him/Her.
Step 5 : The application (submitted through the head of the institution) should be reach the office of the Director of Higher & Technical Education, Meghalaya, Shillong –793001
Note :
** The student must not be in receipt of any other financial assistance from any other source except national or state merit scholarship.
** Students studying outside the state may forward their application directly to this office after getting the form certified by institute authorities before the last date.
Notification :
https://www.scholarships.net.in/uploads/pdf2019/377388-NEC.pdf
Required Documents
1. All those students applying (both fresh & renewal) under the scheme are to mandatorily submit any one of the following ID proofs if Aadhaar Number is not available.
a) Elector's Photo Identity card
b) Indian Passport
c) Photo ID Card issued by Central Government of State Govt.
d)Photo ID issued by Educational Institute (For Students) and
e) Certificate issued by Bank that should be duly attested, containing applicant's photo and Bank account number.
2. The Students should produce P.R.C/ST certificate obtained from the Deputy Commissioner of the District in which the candidate is a permanent resident along with their relevant documents.
Last Date
Last date for submission of application forms for NEC Scholarship is hereby extended upto 15th January 2020.