megeducation.gov.in Border Areas Scholarship 2019-20 : Meghalaya Education
You can ask questions or answer questions about this scholarship.
Please go to the bottom of this page.
Organization : Directorate of Higher & Technical Education
Scholarship Name : Border Areas Scholarship 2019-20
Applicable For : SC/ST Students
Applicable States : Meghalaya
Application Last Date : 15.01.2020 (Date is Extended)
Website : http://megeducation.gov.in/index.html
Meghalaya Education Border Areas Scholarship
Applications are invited for award of Border Areas Scholarship from students belonging to SC/ST categories of Meghalaya who are pursuing Post Matric Studies within and outside the State during the current year 2019-2020.
Related / Similar Post :
Meghalaya NEC Scholarship/ Stipend 2019-20
Eligibility
a) The student should be a permanent resident of Meghalaya, whose village is included in the notified border areas villages given by Border Area Department.
b) He/She belongs to SC/ST Community of the State of Meghalaya.
c) He/She is pursuing a regular Course of Studies in any recognized institution.
d) His/Her guardian/ parent is Citizen of India.
e) That He/She is not employed in any Service under the Government or any Non- Government establishment.
f) He/She is not a repeater in the same class for more than once.
How to Apply?
Just follow the below steps to apply for the NEC Scholarship 2019-20.
Steps :
Step 1 : Go to the following link [http://megeducation.gov.in/dhte/scholarship/schemes/scholarship_forms.html]
Step 2 : All Head of the Institution and students may collect the forms from the Office of the undersigned from Room No. 206(A), Addl. Sectt. Building, Shillong or download the same from the website of the Directorate.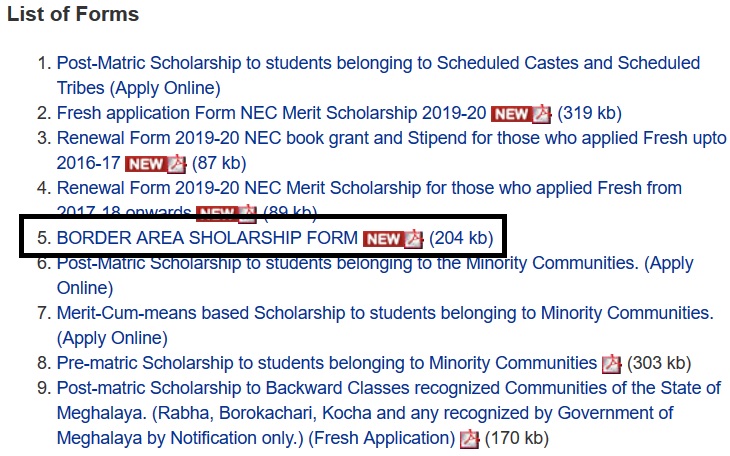 or you can directly download it from the below mentioned link.
Download Application Form :
https://www.scholarships.net.in/uploads/pdf2019/37775-Form.pdf
Step 3 : Fill the application form with the required details and attach the necessary documents.
Step 4 : Application Must Be Submitted Through The Head Of The Institution Joined By Him/Her.
Step 5 : The application (submitted through the head of the institution) should be reach the office of the Director of Higher & Technical Education, Meghalaya, Shillong –793001
Note:
All Head of the Institution should submit the application forms along with the soft copy.
Terms & Conditions
** The subsidy/scholarships will be awarded year-wise on the basis of promotion examinations.
Both Father and Mother Income from all sources must be derived from Border Area. Govt. Service is not eligible for subsidy/scholarships. Ph.D./M.Phil are not entitled for subsidy/scholarship.
** The scholar is warned that her/his participant in any Govt. Political Activities/Demonstration will entail lost of scholarship.
** The scholarship is tenable on the usual conditions of good conduct, regular in attendance and satisfactory progress, the scholarship will be suspended if any scholar leave his/her studies before completion of the course of study.
** The scholarship holder under this scheme can enjoy with any other scholarship as this scheme is a grant/subsidy only
** BEd, MEd students who are pursuing the course are eligible and will not apply to those who are already in service as they will not be entitled for scholarship.
Notification :
https://www.scholarships.net.in/uploads/pdf2019/37775-Advt.pdf
Last Date
Last date for submission of application forms for Border Areas Scholarship is hereby extended upto 15th January 2020.