gokdom.kar.nic.in 2018-19 Documents Verification for Merit-Cum-Means Scholarship & Fee Reimbursement : Karnataka
Organisation : Karnataka Directorate of Minorities
Announcement : Documents Verification for Merit-Cum-means Scholarship & Fee Reimbursement 2018-19
Applicable For : MD/MDS/Equivalent Courses Students
Applicable State : Karnataka
Verification Date : 14.08.2019
Website : https://gokdom.kar.nic.in/index_en.asp
You can now ask your question on this scholarship.
Ask here
(OR) Go to the bottom of this page for comments.
GOKDOM MCM Scholarship Documents Verification
Students of 2018-19 applied MD, MS & MDS Scholarship are advised to attend document verification programme with two sets of attested copies on 14-08-2019 at 9.30 AM.
Related : GOKDOM Post-Matric & Merit Cum Means Scholarship Fresh & Renewal 2019-20 : www.scholarships.net.in/25600.html
Venue :
K.A.S officers Association Building, Infantry road near police commissioner office, Bangalore without fail.
Note :
If any student fails to attend the verification of documents programme his application will not be considered for scholarship, no further intimation or attempt will be allowed. It will be presumed that he is not eligible for the scholarship 2018-19.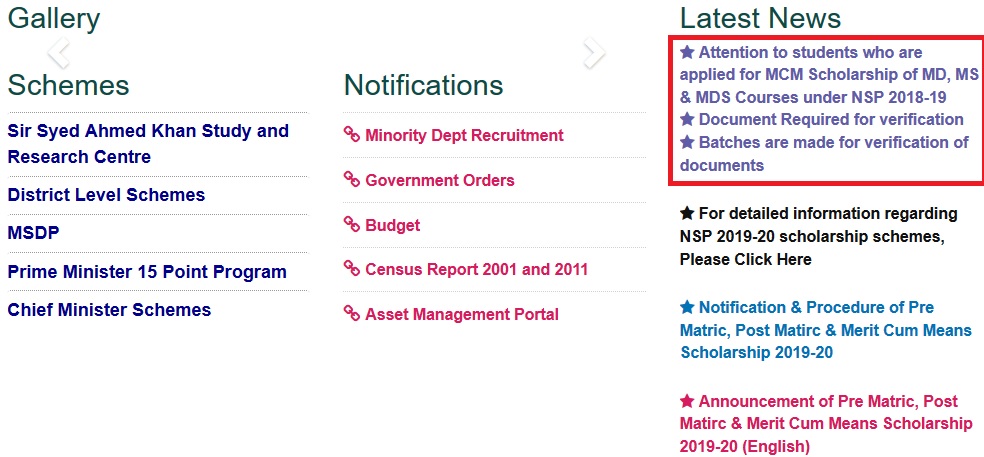 Documents Required
1. 2018-19 Online Application /Registration Copy
2 Income and Caste Certificate issued by the Tahsildar.
3. Previous year/Sem Marks Cards.
4. Study Certificate
5. Admission and Tuition Fee Receipt
6. Fee Structure
7. Bonafide Study Certificate
8. Aadhaar Card9Bank Pass Book (Original + Photocopy)
Selected Students List 2018-19 :
https://www.scholarships.net.in/uploads/pdf2019/37310-MCM.pdf
Selected Students
Some of the selected student details are listed below. Kindly refer the above PDF links to view the complete student list.
| | | | |
| --- | --- | --- | --- |
| INSTITUTION NAME | APPLICATION ID | APPLICANT NAME | COURSE NAME |
| P M NADAGOWDA MEMORIAL DENTAL COLLEGE & HOSPITAL | KA201819010555424 | RISHITA LAMECHWAL | MASTER OF DENTAL SURGERY |
| BVV SANGHA'S AYURVEDIC MEDICAL COLLEGE | KA201819010780839 | BURANODDIN KUDCHI | MASTER OF AYURVED IN MEDICINE AND SURGERY(AYURVEDA) |
| B.V.V.S SANGHA'S S.NIJALINGAPPA MEDICAL COLLEGE & HSK HOSPITAL, BAGALKOT | KA201819002926199 | ZAINAB N ATTAR | DOCTOR OF MEDICINE(ANESTHESIOLO GY)-3 YEARS |
| RAJA RAJESWARI DENTAL COLLEGE & HOSPITAL | KA201819003605517 | MANSOOR PASHA | MASTER OF DENTAL SURGERY(DENTISTRY) |
| SVM V V SANGHA'S AYURVEDIC MEDICAL COLLEGE,ILKAL, | KA201819010641631 | SUMAIYA HAKKI | DOCTOR OF MEDICINE(AYURVEDA) -3 YEARS |
| RAJA RAJESWARI DENTAL COLLEGE & HOSPITAL | KA201819006649523 | DEEBA SADAF | MASTER OF DENTAL SURGERY(DENTISTRY) |
| BVV SANGHA'S AYURVEDIC MEDICAL COLLEGE | KA201819007362820 | RESHMA BEGUM | MASTER OF AYURVED IN MEDICINE AND SURGERY(AYURVEDA) |
| RAJA RAJESWARI DENTAL COLLEGE & HOSPITAL | KA201819000557647 | GULAFSHA M | MASTER OF DENTAL SURGERY(DENTISTRY) |
| RAJA RAJESWARI DENTAL COLLEGE & HOSPITAL | KA201819010466743 | THASLIM FATHIMA N | MASTER OF DENTAL SURGERY(DENTISTRY) |
| SDM TRUST AYURVEDIC MEDICAL COLLEGE | KA201819003880899 | DASTAGIR IQBAL MUDDEBIHAL | DOCTOR OF MEDICINE(AYURVEDA) -3 YEARS |
| RAJA RAJESWARI DENTAL COLLEGE & HOSPITAL | KA201819009189081 | GEETHA K | MASTER OF DENTAL SURGERY(DENTISTRY) |
| | | | |
| --- | --- | --- | --- |
| RAJA RAJESWARI DENTAL COLLEGE & HOSPITAL | KA201819005206223 | UME SAMEERA | MASTER OF DENTAL SURGERY(DENTISTRY) |
| P M NADAGOWDA MEMORIAL DENTAL COLLEGE & HOSPITAL | KA201819008355474 | MOHAMMAD TAMIM A LASHKARI | MASTER OF DENTAL SURGERY(DENTISTRY) |
| SDM TRUST AYURVEDIC MEDICAL COLLEGE | KA201819003887087 | NAZIA KOTWAL | DOCTOR OF MEDICINE(AYURVEDA) -3 YEARS |
| SDM TRUST AYURVEDIC MEDICAL COLLEGE | KA201819011336191 | NAZIA KOTWAL | DOCTOR OF MEDICINE(AYURVEDA) -3 YEARS |
| BVVS HANAGAL SHRI KUMARESHWAR COLLEGE OF PHARMACY | KA201819005065982 | AFTABALAM DHAVALAGI | DOCTOR OF MEDICINE(PHARMACY) -3 YEARS |
| The Oxford Dental College (Id: C-40321) | KA201819010681805 | PURVA MILIND CHOUGULE | MASTER OF DENTAL SURGERY(DENTISTRY) |
| The Oxford Dental College (Id: C-40321) | KA201819003852323 | C M R RIZWAN ULLA | MASTER OF DENTAL SURGERY(DENTISTRY) |
| The Oxford Dental College (Id: C-40321) | KA201819009443860 | SHOAIB AHMED | MASTER OF DENTAL SURGERY(DENTISTRY) |
| MVJ Medical College And Research Hospital | KA201819003138819 | MOHAMMED TANZEEM P | DOCTOR OF MEDICINE(ORTHOPAEDICS) -3 YEARS |
| The Oxford Dental College (Id: C-40321) | KA201819001240039 | ANEES SULTANA K N | MASTER OF DENTAL SURGERY(DENTISTRY) |
| M.S. RAMAIAH UNIVERSITY OF APPLIED SCIENCES, BANGALORE (Id: U-0724) | KA201819001504548 | ARBIYA ANJUM S | MASTER OF DENTAL SURGERY(DENTISTRY) |
Batches Details
 Batch
Districts allotted
No of Students
1st Batch
1. Bagalkote
2. Bangalore Rural
3. Belgaum
4. Tumkur
16
05
15
1
2nd Batch
1. Bangalore Urban
40
3rd Batch
1. Bellary
2. Bidar
3. Dakshina Kannada
4. Udupi
5. Mandya
2
3
31
2
1
4th Batch
1. Davanagere
2. Dharwad
3. Gadag
4. Gulbarga
5. Koppal
7
2
1
26
2
5th Batch
1. Bijapur
2. Hassan
3. Mysore
4. Raichur
5. Shimoga
18
6
4
8
3
Grand Total
193