AICTSD Albert Einstein International Scholarship Test 2019-20
Organization : All India Council for Technical Skill Development AICTSD
Scholarship Exam Name : Albert Einstein International Scholarship Test 2019-20
Applicable For : School, College Student & Professional
Application Last Date : 31st Dec 2019
Exam Date : 25th Jan 2020 & 26th Jan 2020 (Online) | 15th Feb 2020 (Offline)
Website : https://www.aictsd.com/albert-einstein-international-scholarship-test/
You can now ask your question on this scholarship.
Ask here
(OR) Go to the bottom of this page for comments.
AICTSD Albert Einstein International Scholarship Test
"Albert Einstein International Scholarship Entrance Test" is a part of the mission of AICTSD to promote & create the leaders from the student & professional community among the Country & world.
Related / Similar Scholarship : All India Scholarship Test Exam 2020
Through this competition, we are searching the "International Research Scholar" From Student Community
Who Can Apply?
** Any School Student ( From Std. 4th to Std. 12th )
** Any College Student
** Any Professional ( After College till Age 28)
** Only Asia, Europe, Australia, North America & South America continent's Candidate can Apply
Total Applications
Every Year around 5,00,000 students apply for this scholarship test worldwide but we take first 10,000 applications only & rest of the applications will be get rejected & their amount will be refunded to them.
How to Apply?
Just follow the below steps to apply for the Albert Einstein International Scholarship Test 2019.
Steps :
Step 1 : Fill the Online Application Form
Step 2 : Pay Application Processing Fee of Rs.240 /- only ( For Out of INDIA students it's $10 only )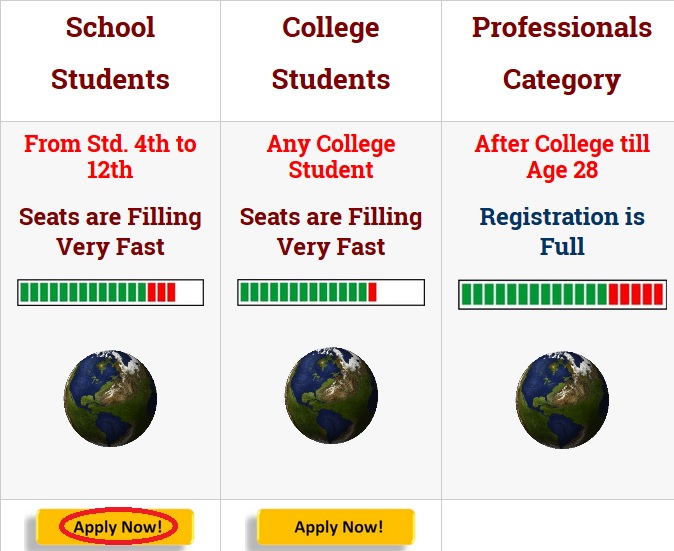 Step 3 : After Filling the Online Application Form & Processing Fee Payment, you will get a Registration Confirmation Acknowledgment within 48 hrs on your registered E-mail ID with Hall Ticket Number (Only Hall Ticket Number) from AICTSD.
Step 4 : First, You have to appear for an Online Exam. The Online Exam Link will be provided to you on your Registered Mobile Number. You have to give the online exam at home only.
Step 5 : If you cleared the Online Exam , then after only you will be appearing for Offline Exam whose schedule is mentioned below. Offline Exam will be at MUMBAI Location.
Note :
Registration will be close automatically as soon as all the seats are Full irrespective of last date of registration
Exam Schedule
| | | |
| --- | --- | --- |
| Sr. No | Parameters | Dates |
| 1 | Last Date of Registration | 31st Dec 2019 |
| 2 | Online Exam Date | 25th Jan 2020 & 26th Jan 2020 |
| 3 | Online Exam Result Date | 8th Feb 2020 |
| 4 | Offline Exam Date | 15th Feb 2020 |
| 5 | Final Result Declaration Date | 22nd Feb 2020 |
Download Syllabus
Syllabus Contains Basic Maths & General Aptitude Questions
School Students :
https://www.scholarships.net.in/uploads/pdf2019/36961-School.pdf

College & Professionals Category Students :
https://www.scholarships.net.in/uploads/pdf2019/36961-College.pdf
Selected Students for Offline Exam
Following is the list of the candidates who are selected for the Offline Exam
| | | |
| --- | --- | --- |
| Sr. No | All India Rank | Name  |
| 1 | All India Rank – 1 | Niraj K.Patil |
| 2 | All India Rank – 2 | Himashu D.Gupta |
| 3 | All India Rank – 3 | Akhilesh H.Tyagi |
| 4 | All India Rank – 4 | Rahul Nadar |
| 5 | All India Rank – 5 | Jayesh P.More |
| 6 | All India Rank – 6 | Jhonson Feder |
| 7 | All India Rank – 7 | Lily D'Ray |
| 8 | All India Rank – 8 | Uttam E.Gogoi |
| 9 | All India Rank – 9 | Anchal K.Kongna |
| 10 | All India Rank – 10 | Dipashree T.Dev |
| 11 | All India Rank – 11 | Jayraj P.Sindhia |
| 12 | All India Rank – 12 | Manoj S.Kogra |
| 13 | All India Rank – 13 | Alpesh V.Vani |
| 14 | All India Rank – 14 | Devraj I.Shah |
| 15 | All India Rank – 15 | George R.Tikita |
| 16 | All India Rank – 16 | Ahmed M.Ansari |
| 17 | All India Rank – 17 | Siddhesh R.Rao |
| 18 | All India Rank – 18 | Akhil P.Surajoda |
| 19 | All India Rank – 19 | Rupali Y.Menon |
| 20 | All India Rank – 20 | Pradnya B.Jadhav |
Rewards
First Prize
** Scholarship Prize Money of Rs. 96,000/- +
** Industrial Certified International Level AICTSD Certificate +
** International Scholarship Trophy +
** 1 Year Free Training & R&D on Robotics Automation & Softwares with Industrial Professionals worth Rs.1,00,000/- at Free of Cost +
** The chance to Participate in International Level Project Competition Organised by AICTSD
Second Prize
** Scholarship Prize Money of Rs. 25,000/- +
** Industrial Certified International Level AICTSD Certificate +
** International Scholarship Trophy +
** 6 Months Free Training & R&D on Robotics Automation & Softwares with Industrial Professionals worth Rs.75,000/- at Free of Cost +
** The chance to Participate in International Level Project Competition Organised by AICTSD
Third Prize
** Scholarship Prize Money of Rs. 10,000/- +
** Industrial Certified International Level AICTSD Certificate +
** International Scholar Scientist Trophy +
** 3 Months Free Training & R&D on Robotics Automation & Softwares with Industrial Professionals worth Rs.50,000/- at Free of Cost +
** The chance to Participate in International Level Project Competition Organised by AICTSD
Additional Benefits
** Become permanent Member of All India Council for Technical Skill Development (AICTSD) with Industrial Professionals
** Chance to attend various technical event organizing by AICTSD
** Represent your Innovation on AICTSD Website
** Get the free help from AICTSD in your future innovation in technology
** Make your resume more strong with AICTSD's Industrial Certificate
** Chance to interact with industrial professionals about your innovation & future technology innovations
** Chance to attend seminars & give seminars