gokdom.kar.nic.in 2019-20 National Overseas Scholarship For Minorities : Karnataka
Organisation : Karnataka Directorate of Minorities
Scholarship Name : National Overseas Scholarship For Minorities 2019-20
Applicable For : Minority Community Students
Applicable State : Karnataka
Application Last Date : 18-07-2019
Website : https://gokdom.kar.nic.in/index_en.asp
You can now ask your question on this scholarship.
Ask here
(OR) Go to the bottom of this page for comments.
GOKDOM National Overseas Scholarship
2019-20 Online Application for Award of National Overseas Scholarship to Minority Community Candidates of Karnataka Only.
Related / Similar Post :
GOKDOM NOS 2019-20 Batch I Sanction List

GOKDOM NOS Minorities 2nd Batch Shortlisted Candidates 2019-20
Eligibility Conditions
1. For Post Doctoral – Candidates should have scored 60% and above marks or equivalent grade in relevant Master Degree.
2. For Ph.d – Candidates should have scored 60% and above marks or equivalent grade in relevant Master Degree.
3. For Master Degree – Candidates should have scored 60% and above marks or equivalent grade in relevant Bachelor Degree.
4. The student must be a domicile of Karnataka.
5. The student must be below 38 years.
Applicable Courses
Minority Students opting to pursue higher studies in the following subjects only can apply and get benefit of Scholarship
1) Automation Robotics including Artificial Intelligence, Mechatronics and Manufacturing Technology.
2) Laser Technology
3) Paper technology
4) Naval Architecture/ Offshore Structures/ Architecture in General.
5) Information Technology including Computer Engineering Software, software Quality Assurance, Networking / Connectivity Engineering, Communication system, under hazardous or Post – Disaster conditions, Multimedia communication
6) Low temperature Thermal Dynamics
7) Optometry
8) Art Restoration technology
9) Ceramic and Glass Technology
10) Dock and Harbour Engineering
11) Bio-Technology/ Genetic Engineering
12) Industrial Safety
13) Petroleum Technology
14) Aircraft/ Space Engineering
15) Imaging System Technology
16) Graphic engineering
17) Composite materials engineering including Decentralized Power, Distribution (for Solar Heat) System, Energy Storage Engineering, Energy conservation, Energy efficient habitat Engineering,
18) Satellite or remote Sensing
19) Packaging Engineering/ Technology
20) Nuclear Engineering
21) Medicine / Dental / Nursing/ Para- Medical
22) Business Administration/ Management Studies
23) MPhil/Ph.d in any area of applied Sciences., Basic Sciences, Cultural and Historical Studies.
Non Eligibility Conditions
1. Post Degree Diploma course, Trainings, certificate course, Integrated course, crash courses, correspondence course
2. 2nd term Master's Degree course
3. Students who have already availed this benefit from Minority Department Previously
4. Students belonging to other states
5. Students from other communities other than Minority Communities
6. Students scoring less than 60% of Marks in their Degree Exam
7. Students already done their Master's Degrees in any other Subject
8. Incomplete Offer Letter from Foreign Universities (not furnishing Correct Course details, Fees information, living expenses, duration of course Etc..,)
9. 2nd child of the same family not eligible to apply
10. Exceeding Income Limit of 15 Lakhs per annum
11. Students already done their Master's degree are opting for Master's Degree again
12. Students not scanning the required documents at the time of Online application.
Financial Assistance & Income Limit
** A maximum Scholarship of Rs.10.00 lakh per annum and a maximum of Rs.20.00 lakh (for 2 years) for the entire course will be sanctioned to the candidates whose total Family income from all sources (of the candidate and his/her parents/ Guardians) should not exceed Rs.6.00 lakhs per annum.
** Students whose total family income from all sources is between Rs. 6.00 lakhs per annum to Rs 15.00 Lakhs per annum, are eligible for 50% of the Scholarship subject to a maximum of Rs. 5.00 lakhs per annum (for 2 years).
** The Sanctioned amount covers the tuition Fee, Living expenses, and one side Airfare as has been prescribed for all levels of courses covered under the scheme.
How to Apply NOS?
Just follow the below steps to apply for the National Overseas Scholarship For Minority Community Students 2019-20.
Steps :
Step 1 : Go to the official website of Karnataka Directorate of Minorities provided above.
Step 2 : Then click on the link "Apply online for National Overseas Scholarship for the year 2019-20" under the 'Latest News' section.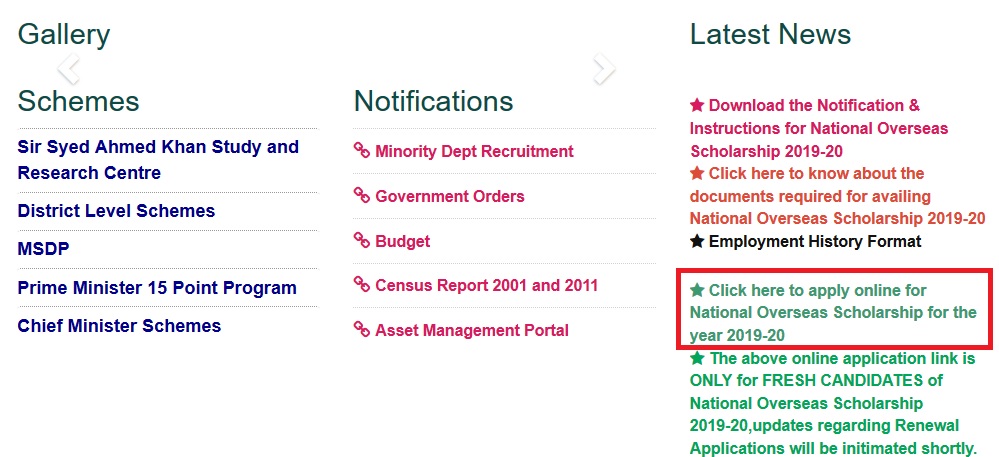 Step 3 : Next tick the check box to accept all conditions and click on "Apply" button.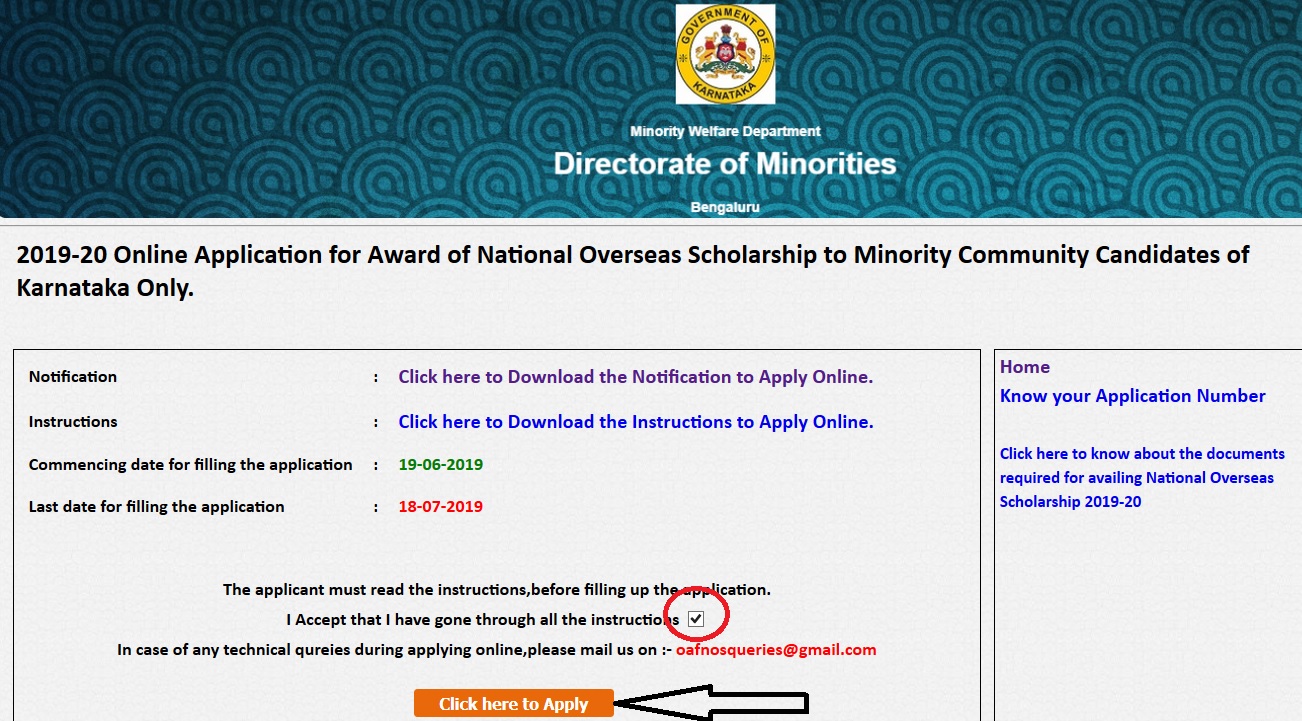 Step 4 : Select the Name of the course you wish to study in Abroad and select your Religion.
Step 5 : After that Enter the SSLC / 10th Details As Per Your SSLC / 10th Marks Card and click on "View" button
** Candidate Name (In Block Letters)
** Gender
** Date of Birth (Date must be Format of MM/DD/YYYY)
** SSLC/10th Pass Type
** SSLC/10th Register Number
** SSLC Pass Year
** Father's Name
** Mother's Name
** Place Of Birth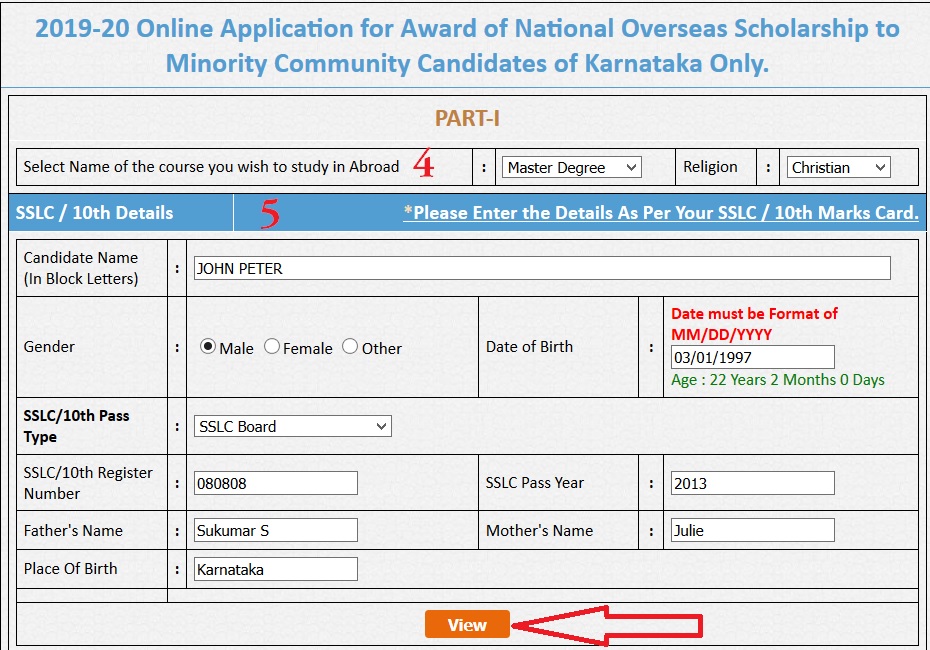 Step 6 : Then fill the remaining details and Upload the necessary documents to complete the application
Step 7 : Finally submit the uploaded application along with all the required, attested certificates and documents (Hard copies) to the Directorate of Minorities, in person or through post on or before the last date for submission.
Documents Required
1. SSLC/10th Marks Card.
2. PUC Marks Card
3. Degree Marks Cards :
** Ist-Semester
** IInd-Semester
** IIIrd-Semester
** IVth-Semester
** Vth-Semester
** VIth-Semester
** VIIth-Semester
** VIIIth-Semester
4. Convocation/Provisional Degree Certificate of Degree/Master Degree.
5. G-MAT/TOEFL/GRE/IELTS/SAT Certificate/Score Card
6. Caste Certificate
7. Income Certificate
8. Residential Certificate
9. Income Tax Returns of Father(Latest), If he's an Income Tax Payee (Form-16).
10. Income Tax Returns of Mother(Latest), If She's an Income Tax Payee (Form-16).
11. Income Tax Returns of Guardian(Latest), If he's an Income Tax Payee (Form-16).
12. Income Tax Returns of Candidate(Latest), If You are Income Tax Payee (Form-16).
13. Personnel statement of the candidate presenting his/ her case for scholarship (Not more than 2 pages).
14. Aadhar Card
15. 1st recommendation / reference letter – academic and 2nd recommendation / reference letter – in case of currently employed applicants, it has to be from a professional, preferably his/ her superiors, else it can be academic (Not more than 2 pages on A4 size).
16. Printout of ranking/ rating of course/ college from global university rankings (if any)
17. Bank Loan Details
18. Employment Details Number of Organization you have worked(In Specified Formate).
19. Offer Letter(I-20).
20. Passport Copy.
21. Cancelled Cheque Leaf
22. Bank Pass Book(Front Page)
23. Upload Affidavit as per the Annexure(Enclosed in Home page)
24. Candidate Photo with Signature
Mode Of Selection
** The candidates will be selected in pursuance of the guidelines followed by an interview by the selection Committee and after selection the list approved by the Minority Welfare Department.
** Not more than one child of the same parent/Guardian will be eligible
** The selected candidates have to execute a bond on a non-judicial stamp paper of Rs.200/- as required under this scheme.
NOS Last Date
Last Date to submit Online application is 18.07.2019
Notification :
https://www.scholarships.net.in/uploads/pdf2019/36684-NOS.pdf
Contact/Helpdesk
In case of any technical queries during applying online,please mail us on – oafnosqueries [AT] gmail.com