gokdom.kar.nic.in National Overseas Scholarship 2nd Batch Shortlisted Candidates 2019-20 : Karnataka Directorate of Minorities
Organisation : Karnataka Directorate of Minorities
Announcement : National Overseas Scholarship 2019-20 Shortlisted Candidates 2nd Batch
Scholarship Name : National Overseas Scholarship For Minorities 2019-20
Applicable For : Minority Community Students
Applicable State : Karnataka
Interview Date : 28.01.2020
Website : https://gokdom.kar.nic.in/index_en.asp
You can ask questions or answer questions about this scholarship.
Please go to the bottom of this page.
GOKDOM NOS 2nd Batch Student List
Intimation & List of Shortlisted Candidates of 2nd Batch for documents verification of National Overseas Scholarship 2019-20,Students/parents are directed to attend without fail on 28/01/2020 at KAS Officers Association Hall, Bengaluru-01.
Related / Similar Post :
GOKDOM Free Training To Join Indian Army 2019-20
This is to inform that an interview is fixed for 2nd & Final batch on 28.01.2020 at 10.00 Am at K.A.S Officers Association Building, beside Police Commissioners Office, Infantry Road, Bangalore-01 regarding selection of candidates by the selection committee for National Overseas Scholarship 2019-20.

Intimation for Interview does not Guarantee Selection, it is Subject to further verification of records and Confirmation by selection committee.
Documents Required
You are therefore, informed to attend the Counselling Scheduled to be held on 28.01.2020 at 10.00 AM, with the following Original Documents along with one additional Xerox Set duly attested by gazetted officer/ notary.
1) SSLC & 1st & 2nd PUC Marks Card.
2) Semester wise Degree Marks cards and Degree Convocation Certificate.
3) Income and Caste Certificate issued by Tahasildar.
4) Domicile / Residential Certificate issued by Tahasildar
5) Offer Letter issued by the foreign University for Admission with Tuition fee, Living Expenses date commencement and End Date of Course opted by students.
6) Aaadhar Card Xerox copy.
7) Bank Pass Book Front Page Xerox Copy with details/ Cancelled cheque leaf of the candidate Bank Account
8) Passport and Visa of the candidate
9) Copy of Income Tax Returns of Parents (Father & Mother) & Candidate for the Financial Year-2018-19, assessment year 2019-20 along with PAN Card numbers Xerox copy. (If Not an Income Tax payee declaration in the prescribe format duly notarised.
10) Copy of world Ranking of University to which candidate has applied.
11) Bank loan letter copy/ any Financial Assistance take from others Copy of the letter for payment of study Expenditure.
12) Copy of Qualifying eligibility Exam i.e., GRE/TOEFL/GMAT/IELTS etc. If selected on Merit bases copy of letter of selection.
Absentees students of 1st Batch Dated: 18.12.2019 & 19.12.2019 are also shortlisted for counselling, list of such students is enclosed for their reference and directed to attend without fail.
Pending Documents
Common Documents Which Are Pending For Many Students :
1. Improper Offer Letter, Date of start of course not mentioned, duration of not mentioned, Fees Details not mentioned, Living Exp's not mentioned, & Date of completion of course not mentioned.
2. Mother & Candidate IT Returns are not uploaded/ submitted for the Financial Year-2018-19, assessment year 2019-20.
3. Employment Details not uploaded/submitted.
4. The list of pending documents for each/individual candidate is displayed on the department's website https://gokdom.kar.nic.in and have been enclosed along with this intimation letter, Candidates are advised to bring the pending documents without fail, if documents as advised is not furnished your candidature will be rejected and no further correspondence will be entertained.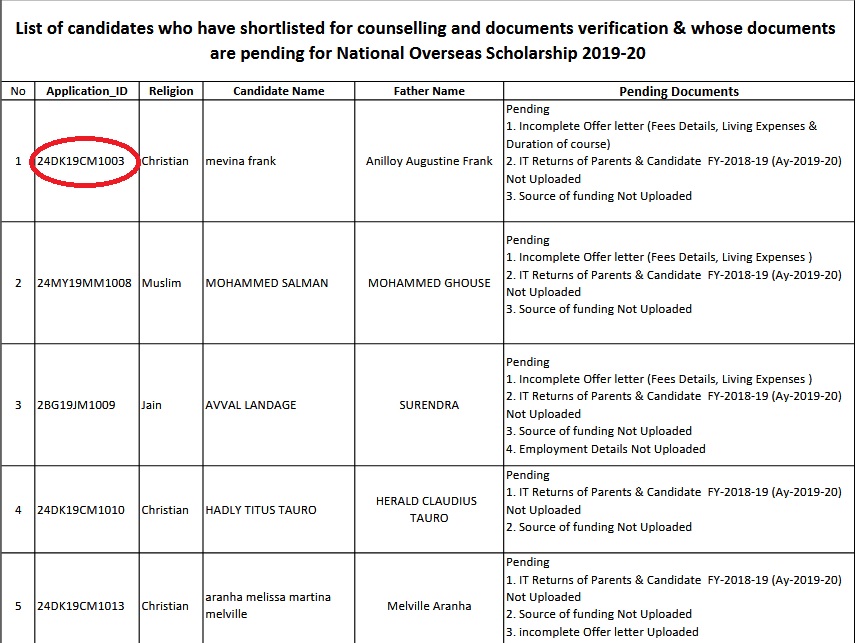 Note :
Candidates are informed to assemble at the above address at 9.00 A.M with all the required Original Documents and one set of attested Xerox copies for verification before interview.
Candidate are instructed to come prepared to stay one more days if they are advised to stay for verification of required documents.
Shortlisted Candidates List
List of candidates who have shortlisted for counselling and documents verification & whose documents are pending for National Overseas Scholarship 2019-20.
NOS 2nd Batch List :
https://www.scholarships.net.in/uploads/pdf2020/40065-NOS.pdf
Some of the selected candidates names are listed below. Kindly refer the above PDF links uploaded for full candidates list.
No
Application_ID
Candidate Name
Pending Documents
1
24DK19CM1003
mevina frank
Pending
1. Incomplete Offer letter (Fees Details, Living Expenses & Duration of course)
2. IT Returns of Parents & Candidate FY-2018-19 (Ay-2019-20) Not Uploaded
3. Source of funding Not Uploaded
2
24MY19MM1008
MOHAMMED SALMAN
Pending
1. Incomplete Offer letter (Fees Details, Living Expenses )
2. IT Returns of Parents & Candidate FY-2018-19 (Ay-2019-20) Not Uploaded
3. Source of funding Not Uploaded
3
2BG19JM1009
AVVAL LANDAGE
Pending
1. Incomplete Offer letter (Fees Details, Living Expenses )
2. IT Returns of Parents & Candidate FY-2018-19 (Ay-2019-20) Not Uploaded
3. Source of funding Not Uploaded 4. Employment Details Not Uploaded
4
24DK19CM1010
HADLY TITUS TAURO
Pending
1. IT Returns of Parents & Candidate FY-2018-19 (Ay-2019-20) Not Uploaded
2. Source of funding Not Uploaded
5
24DK19CM1013
aranha melissa martina Melville
Pending
1. IT Returns of Parents & Candidate FY-2018-19 (Ay-2019-20) Not Uploaded
2. Source of funding Not Uploaded
3. incomplete Offer letter Uploaded
6
2SH19CM1024
nishitha nancy lima
student has not furnish the details of duration of course,tution fees, Living Expenses Etc.., in his offer letter & IT Returns of Parents & Candidate FY-2018-19 (Ay-2019-20) Not Uploaded hence kept Pending
7
24BU19CM1032
LIJI MARIYA GEORGE
student has not furnish the details of duration of course,tution fees, Living Expenses Etc.., in his offer letter & IT Returns of Parents & Candidate FY-2018-19 (Ay-2019-20) Not Uploaded hence kept Pending
8
21BD19MM1035
MOHAMMED ABRAR AHMED
Pending becaue this course is a post Graduate course and not Master's submit proof
IT Returns not submitted , Source of Funding not submitted , Emp Details not submitted, World Ranking not submitted, recommendation letter not submitted, IT Returns of Parents NOt Uploaded
9
24MY19MM1042
mohammed danish jidda
Pending
1. Incomplete Offer letter (Fees Details, Living Expenses & Duration of course)
2. IT Returns of Parents & Candidate FY-2018-19 (Ay-2019-20) Not Uploaded
3. Source of funding Not Uploaded
10
24BG19MM1043
SHIPHA SHAKEEL AHMED NANADI
Pending
1. Incomplete Offer letter (Fees Details, Living Expenses & Duration of course)
2. IT Returns of Parents FY-2018-19 (Ay-2019-20) Not Uploaded
3. Source of funding Not Uploaded