Dakshana JDST 2020 Result : Joint Selection Test
You can ask questions or answer questions about this scholarship.
Please go to the bottom of this page.
Organisation : Dakshana Foundation
Announcement : JDST 2020 Result
Scholarship Name : Joint Dakshana Selection Tests 2020
Acceptance Form Submission Deadline : February 29, 2020
Website : https://dakshana.org/jdstresult.php
Dakshana JDST Result
JDST 2020 Result Declared. Selection through JEE Mains/NEET scores will happen after the final results are declared.
Related / Similar Post : Dakshana NDST Result 2020
How to Check Result?
Just follow the below steps to check the JDST 2020 Result.
Steps :
Step 1 : To find out your result, visit the official website of Dakshana Foundation through provided above.
Step 2 : Enter your Dakshana roll no and Click on "Submit" button.

Document Verification Meeting
The first step towards final selection as a Dakshana Scholar is complete if you have been shortlisted for provisional selection. A confirmation mail of the student being shortlisted has been sent to his/her email ID (provided during online registration).
Update :
In view of the Corona Virus epidemic, the final schedule of the Document Verification Meetings is kept on hold. The final dates and venues will be notified to you on April 20, 2020. Kindly await further instructions
Kindly check your email. Enquiries on telephone will not be entertained. Kindly send any queries by email to jdst [AT] dakshana.org only.
How to Fill Acceptance Form?
** Go to the link https://tinyurl.com/jdstint20
** Enter Your Email address and click on "Next" button
Step 1 : Enter your Dakshana Roll Number *[201819123456]
Step 2 : Enter your Full Name *[Arjun]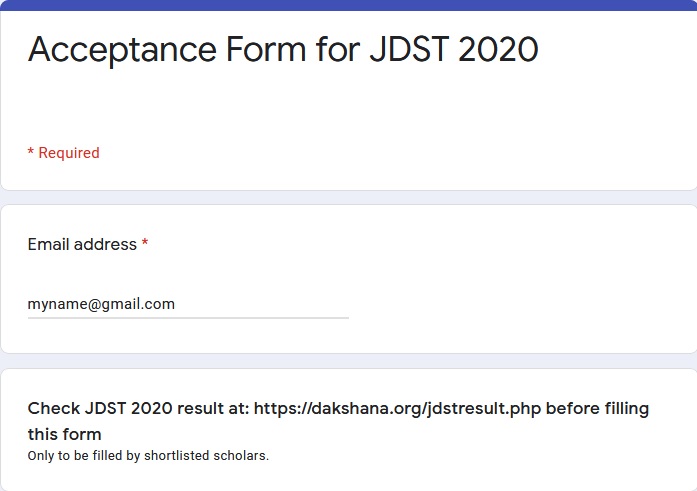 Step 3 : Click "Yes, thank you. I am willing to join the Dakshana Scholarship program at Dakshana Valley, Pune and prepare for JEE/NEET 2021″
Step 4 : Click Next button
Step 5 : Select your Assigned Interview Location
Step 6 : Select your Time Slot
Step 7 : Select Your T-shirt Size *
Step 8 : Select Your Jeans Waist Size *

Step 9 : Select Have you appeared/appearing for any of the below exam ?
Incase the exam name is not mentioned you can write it in the other option
** JEE Mains/Advanced
** NEET
** AIIMS
** NDA
Step 10 : Please provide application number/roll number for the above mentioned exam
Step 11 : Finally click on "Submit" button
Note :
It is mandatory for all shortlisted students (Boys and Girls) to appear for the Document Verification Meeting. These meetings will be held at select centres in India between March 23 to April 20, 2020.
Students have been assigned their centres for the meeting and the information is included in the email sent to them individually. If any student finds the assigned centre inconvenient, he/she should indicate the same in the Acceptance form.
Documents Required
Documents to bring for Interview-
1. Admit Card for JDST 2020
2. Aadhar Card and school Identity card
3. Original and copy of Parent's PAN card
4. Original and a Copy of caste certificate (If caste is OBC, SC, ST)
5. Original and a Copy of Disability certificate (If applicable)
6. Original and a copy of Income Certificate/ Salary Slip (with company seal)/ Form 16/ Income Tax Return (As of March 2019)
7. Family Photograph taken in front of the house where you and your family live (Post card size)
The above documents are essential to attend the personal Interview One Parent MUST accompany you for the interview.
Document Verification Meeting Centres :
Ahmedabad, Bengaluru, Bhopal, Bhubaneswar, Chandigarh, Delhi, Dharwad, Dibrugarh, Ernakulam, Guntur, Guwahati, Hassan, Howrah, Hyderabad, Imphal, Jaipur, Kota, Leh, Lucknow, Nagpur, Patna, Pune, Raipur, Ranchi, Sambalpur
JDST Result Notification :
https://www.scholarships.net.in/uploads/pdf2020/36545-JDST.pdf
Students Not Shortlisted
Over 13,000 students took the Joint Dakshana Selection Test on December 08, 2019. Due to limited dorm and class room capacity, we are only able to accept the most promising ones.
However, we would like to inform the remaining students who appeared for our test that you have all the talent needed to go to IIT or Medical college.
Last Date
The deadline for submitting the acceptance form is Saturday, February 29, 2020. Please note that this is a shortlist and NOT the FINAL selection list. Final selection list will be released latest by April 30, 2020.