Dakshana NDST 2020 Result : Navodaya Selection Test
Rate this post:
[ Votes=

1

, Average =

5

]
Organisation : Dakshana Foundation
Announcement : NDST 2020 Result
Scholarship Name : Navodaya Dakshana Selection Test 2020
Acceptance Form Submission Deadline : March 05, 2020
Website : https://dakshana.org/become-a-scholar/
Dakshana NDST Result
NDST 2020 Result Declared. Results are e-mailed only to selected students and to their JNV email ID. Consult your JNV for confirmation. (Check spam/junk folder also).
Update :
In view of the Corona Virus epidemic, the final schedule of the Document Verification Meetings is kept on hold. The final dates and venues will be notified to you on April  20, 2020. Kindly await further instructions

Coaching Centre
The 2020 Navodaya Dakshana Selection Test Results are declared. Coaching will be conducted for a total of 437 Dakshana Scholars at the following JNVs
 JNV Centre of Excellence (Coaching Location)
Selected Scholars
Stream
Joining Dates
Elective Subjects
JNV Bengaluru Urban

(Karnataka)

265 Scholars
Engineering
June 03,04,05,06

Refer email for exact date

Hindi, Computer Science
JNV Rangareddy (Telangana)
112 Scholars
Engineering
June 04,05

Refer email for exact date

Hindi, IP
JNV Pune (Maharashtra)
60 Scholars
Medical
June 04, 2020
Hindi, Physical Education
Scholars must report to their allotted location on the joining dates. In case a scholar does not report to his/her JNV Centre of Excellence, his/her seat will be allotted to the next wait-listed scholar. Please ask your JNV Principal about arrangements for your travel and transfer.
Scholars will be at JNV Centre of Excellence, from their joining date till the date of their JEE/NEET in 2022 without any vacation. With concentrated focus and proper hard work, we believe all 437 Dakshana Scholars can make it to the IIT /Medical College!
Fill Acceptance Form
Selected students must confirm their acceptance of the Dakshana Scholarship through the URL provided below. The web-link of the form will remain active till March 05, 2020.
Steps :
Step 1 : Go to the link https://tinyurl.com/ndst20conf
Step 2 : Enter Your Email address and click on "Next" button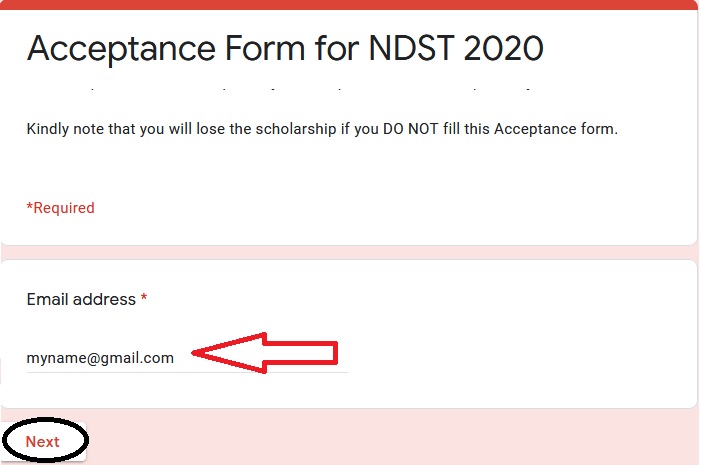 Step 3 : Fill the remaining details to complete the Form.
Step 4 : Finally click on "Submit" button.
Wait-list :
Wait-listed students are confirmed when slots are not accepted by scholars. Next waitlist will be released on March 15, 2020.
Scholars Not Selected
Over 6000 scholars took the Navodaya Dakshana Selection Test on December 08, 2019. Due to JNV dorm and class room capacity, we are only able to accept the most promising ones.
However, we would like to inform the remaining students who appeared for our test that you have all the talent needed to go to IIT/Medical College. You just need to put in the efforts and be properly guided.
To the extent that your families and schools can provide resources, do try to prepare for the JEE/NEET in 2022.
Documents Required
Download the PDF from the below link: In the absence of the mentioned documents/materials, he/she may be rejected for admission to the programme.
For JNV Bengaluru Urban :
https://www.scholarships.net.in/uploads/pdf2020/41931-Bengaluru.pdf
For JNV Rangareddy :
https://www.scholarships.net.in/uploads/pdf2020/41931-Ranga.pdf
For JNV Pune :
https://www.scholarships.net.in/uploads/pdf2020/41931-Pune.pdf
Important Information
** Selections are made based on information provided by the student in the Dakshana Scholar Application Form. Any misappropriation or misinformation could result in termination or withdrawal of the studentship at any point of time.
** Selected students must be willing to join the course and to stay continuously at the assigned JNV for a period of 24 months until they appear for the JEE Advanced/NEET 2022. No vacation will be declared till then.
Kindly note that no request for leave to attend family weddings/functions or religious ceremonies will be entertained during the course of the two years.
Result Notification :
https://www.scholarships.net.in/uploads/pdf2020/41931-NDST.pdf
A scholar leaving the program without permission from Dakshana and the JNV COE's Principal will lose his/her studentship and will not be allowed to re-join the program.
** Selected students must stay in school till JEE Advanced/NEET exam. Only those students who do not qualify for the JEE Advanced will be allowed to leave the school on the day of the JEE Main results.
** No mobile phones are allowed to be held by the selected students during the two-year Dakshana program.
** We have made best efforts to create regionally homogenous batches as far as possible. Please do not make any request for change of center. Centers once allotted remain final.
** No TC should be brought by the scholar. TC will be issued only by Parent JNV (where the student has completed Class 10) after the CBSE Class 12 exam.