mhrd.gov.in Chinese Government Scholarship 2020-21 : Ministry of Human Resource Development
Organisation : Ministry of Human Resource Development
Scholarship Name : Chinese Government Scholarship 2020-21
Applicable For : Indian Nationals
Application Last Date : 24-01-2020
Website : http://mhrd.gov.in/
MHRD Chinese Government Scholarship
Online applications are invited for selection of Indian nationals for Chinese Government Scholarship 2020-21
Related / Similar Post :
ASEM DUO-Belgium/Flanders Scholarship 2020
Eligibility Conditions
(A) Qualifications & Age :
i) Undergraduate programs – applicant must be a high school graduate under the age of 25
ii) Master's programs – applicant must be a bachelor's degree holder under the age of 35
iii) Doctoral programs – applicant must be a master's degree holder under the age of 40
iv) General Scholar program – applicant must be under the age of 45 and have completed at least two years of undergraduate study when applying for general scholar programs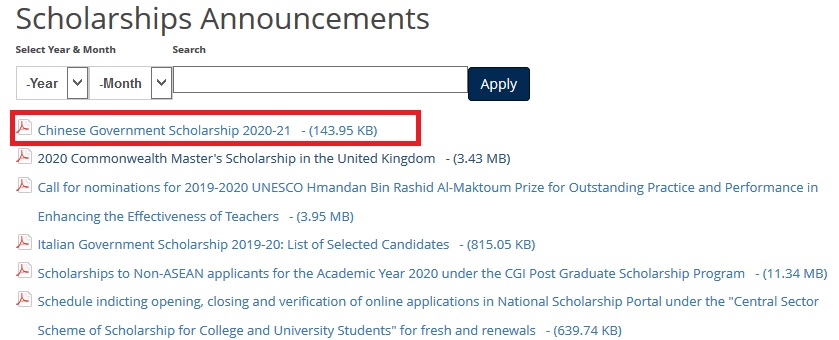 v) Senior Scholar programs – applicant must be master's degree holder or an associate professor (or above) under the age of 50 when applying for senior scholar programs.
Other Conditions :
Candidates who have been abroad for the purpose of study/research/training, for the period of more than six months at a time either on a scholarship or on their own, are eligible to apply only if they have been in India for at least two years, after their return from abroad as on 24 January 2020
How to Apply?
Applicants are required to apply online through Ministry of Human Resource Development portal http://proposal.sakshat.ac.in/scholarship
Applicants are also required to apply online simultaneously through China Scholarship Council website http://www.csc.edu.cn/studyinchina or www.campuschina.org .
Apply Through MHRD Portal
Step 1 : Go to the following link [http://proposal.sakshat.ac.in/scholarship]
Step 2 : Then student click on the "Online Application' link in the home page.
Step 3 : Fill the application form with the following details
** Select the Scholarship Scheme
** Enter Your Personal Details
** Enter Your Academic details
** Enter Other Details
** Upload the supporting documents
Step 4 : Finally click on the Validate & Submit button
Apply Through CSC
Step 1 : Visit http://www.csc.edu.cn/laihua or www.campuschina.org and click "Scholarship Application Online for International Students".

Step 2 : Read "Tips for online application" carefully before clicking "NEXT" to the registration page.
Step 3 : Log in with your user name and password. For new user, please click "Create an account" for registration.
Step 4 : Fill in the correct Program Category and Agency Number. An Agency Number represents a specific application receiving agency and a correct choose of Program Category is necessary before filling in the Agency Number.
Your 'Program Category' is: Type A and 'Agency Number' is 3561. Once the correct 'Agency Number' is entered, the name of the agency will automatically emerge.
Step 5 : Fill in the Online Application Form and upload Supporting Documents truly, correctly and completely following the steps listed on the left of the page.
Step 6 : Check each part of your Application carefully before submitting it. Click Submit to submit your Application. The submitted documents will be the only reference for the applied universities to confirm the admission.
Step 7 : You can make changes to your application by clicking Withdraw and Edit the Application on the top of the page. But make sure to submit it again by clicking Submit after finishing all the changes.
Step 8 : You can download and print the completed Application Form by clicking Print the Application Form.
Step 9 : Send the paper application form and other supporting documents to the dispatching authorities if they require you to do so.
Note :
It is compulsory for the applicant to apply in both the portals. No hard copy of online application is required to be sent to Ministry of Human Resource Development.
Documents Required
Following documents need to be uploaded at the time of online application at http://proposal.sakshat.ac.in/scholarship
(a) Self attested scanned copy of the mark-sheet, certificate, degrees, diploma etc.
(b) Where grades are mentioned, the candidate must upload the official explanation adopted by the University/Institution along with marks sheet/degree.
(c) Self attested copy of class 10th certificate bearing date of birth to be uploaded in the respective section.
Notification :
https://www.scholarships.net.in/uploads/pdf2019/35900-Advt.pdf
Document size :
The size must be under 530 kb for a single file. Applicant can make .pdf file or can zip in case of more than one document to be uploaded in a single place. A zip file is treated as a single file and it must be under 530 kb.
The candidates must keep the following documents ready –
a) All original documents in respect of age, qualification etc..
b) NOC/Cadre Clearance (in case of Government Servant).
c) Hard copy of application submitted at China Scholarship Council application portal.
Last Date
Last date for online application is 24.01.2020