Gateforum Scholarship cum Admission Test For GATE 2020 & 2021
Rate this post:
[ Votes=

0

, Average =

0

]
Organisation : Gateforum
Scholarship Name : Scholarship cum Admission Test For GATE 2020 & GATE 2021
Applicable For : Students of all streams
Exam Date : 2nd February 2019
Website : https://gateforum.com/gate-coaching-in-chandigarh/free-scholarship-test/
Gateforum Scholarship cum Admission Test
Gateforum invites applications for Scholarship cum Admission Test For GATE 2020 & GATE 2021. Set your goal by filling the details given below. Mark your presence in this exam and have a view how GATE happens
Related / Similar Scholarship : Applied Course GATE 2021 Scholarship Test
GATEFORUM is the number 1 institute for preparation for GATE Exam. GATEFORUM, promoted by alumni of the IIMs and IITs, is the largest organization in the field of GATE training, with a presence in more than 65 cities and having trained more than 1,80,000 students since inception.

GSAT Schedule
Stream

Venue

Date

Time

Duration

CS, EE, EC, ME, CE, IN, CH
Gateforum Chandigarh,
SCO 110-111, 2nd Floor,
Sector 34 A, Chandigarh 160022
2nd February 2019 (Saturday)
Slot 1:
11 AM to 12 PMSlot 2 :
3 PM to 4 PM
60 Minutes
GAST Registration
Just follow the below steps to register for Scholarship cum Admission Test For GATE 2020 & GATE 2021.
Steps :
Step 1 : Go to the official website of Gateforum through provided above.
Step 2 : Then click on the "Register" button
Step 3 : Fill the registration form with the required fields and click on "Submit" button
Step 4 : After complete your registration you will get a confirmation message.
GSAT Details
** GSAT will be a multiple-choice question (MCQ) test containing a total of 30 Questions (15 Engineering Mathematics, 10 Numerical Ability & 5 Verbal Ability questions) to be answered in 60 minutes.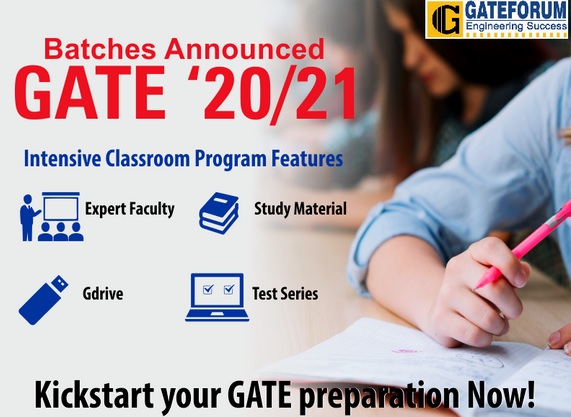 ** GSAT will be a paper-based test conducted offline with responses to be marked in an OMR sheet
** Each question will have 4 options out of which exactly one option will be correct.
** Each correct answer will be awarded 1 mark, each wrong answer will be awarded -0.25 mark. Questions left unanswered will not be awarded any marks.
** GSAT will be conducted for students of all streams
FAQs
1. What is the Eligibility for GATE?
** Bachelor's degree holders in Engineering/Technology/Architecture and those who are in the final year of such programmes.
** Master's degree holders in any branch of Science/Mathematics/Statistics/Computer Applications or equivalent and those who are in the final or pre-final year of such programmes.
** Candidates in the second or higher year of the Four-year Integrated Master's degree programme (Post-B.Sc.) in Engineering/Technology or in the third or higher year of Five-year Integrated Master's degree programme and Dual Degree programme in Engineering/ Technology.
** Candidates with qualifications obtained through examination conducted by professional societies recognised by UPSC/AICTE as equivalent to B.E./B.Tech. Those who have completed Section A or equivalent of such professional courses are also eligible.
2. Are tutorials and coaching enough?
No, Any GATE coaching / GATE Tutorial is not enough, until you assess your preparation. This is possible through our GATE Online Test Series
3. Why is GATEFORUM not providing Solutions to previous year papers?
The solutions are already available in the market, and GATEFORUM does not want to come up with yet another solutions.
Instead we provide you with a forum where you can discuss GATE papers with other students who are preparing for GATE. This will help you get different approaches to the solution of controversial questions.
4. Can I ask the faculty to repeat the question or topic just discussed?
In the same session, using the player, you should be able to go back to the beginning of the session and replay what the faculty had said earlier. Faculty will not receive chats in the middle of his lecture.
5. Can I chat with the faculty all the time?
The faculty chat is moderated, and goes through an administrator. Administrator collects questions and passes them on to the faculty after the class of 40 minutes.
Faculty will discuss your questions in 15 minutes of Question Discussion Time. Your questions should be clear, complete and relevant to the topic being discussed