Applied Course GATE 2021 Scholarship Test : appliedcourse.com
You can now ask your doubts / questions.
Please go to the the bottom of this page for comments section.
Organisation : Applied Course
Scholarship Name : GATE 2021 Scholarship Test
Applicable For : GATE CSE 2021 Aspirants
Exam Date : 22nd December 2019
Website/Apply Online : https://gate.appliedcourse.com/gate-scholarship
Applied Course GATE Scholarship Test
All India Scholarship Test for GATE CSE 2021 Aspirants. All the candidates appearing for the scholarship test will get a discount of Rs. 2,000/- on the course price of Rs. 20,999/-.

Exam pattern
The total number of questions will be 35.
| | |
| --- | --- |
| Subject | # of Questions |
| Data Structures and Algorithms | 15 |
| Counting, Probability, and Linear Algebra | 11 |
| Operating Systems | 5 |
| DBMS | 4 |
Guidelines
** It will be a total of 50 marks, in which 15 questions of 2 marks each and 20 questions of 1 mark each.
** There will be negative marks for each wrong answer. 1/3rd marks will be deducted from each wrong answer.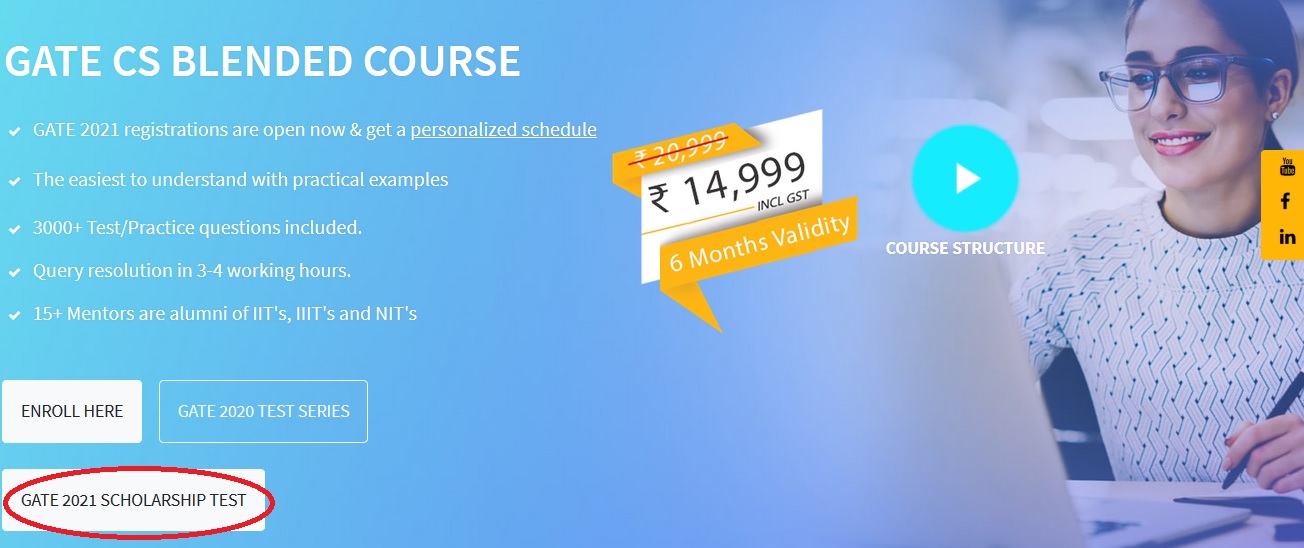 ** There are no negative marks for the Numerical Answer type questions.
** The duration of the exam is 90 minutes. (22nd December 2019 11:00 AM to 12:30 PM).
** Even though we have tested our servers thoroughly still there is a little chance our servers might go down because of the surge of the traffic if it exceeds 5000 users then we will enable the backup link here, where you can take the test again.
** Please note that you can only take the test on desktop/laptop. Please have power backup and internet connectivity back up( you can use 4G hotspot). In case if you are disconnected the test may fail.
Results
** Results will be published on this page on 23rd December 2019, by 7:00 PM. Please note the following key points.
** Candidates found malpractice during the exam will be blocked from our future tests, free videos, mock-tests, and services for 1 year.
** Coupon codes for all the winners will be shared by 24th December 2019.
** All the coupon codes shared will be valid for 7 days. The codes will be shared on to the registered e-mail id.
** Students who already purchased the course for 2021 will be refunded as per their ranks in this exam.
** Results announced by the Applied Course team are final, non-negotiable and absolute.
FAQs
1. What is the validity period of the GATE CS Blended course?
The validity of the course would be 365 days from the date of the registration.
2. Will the learning schedule be given for complete year for every batch?
No, the schedule will be released for every 15 days to suit the learning needs of each batch.The schedule would consist of topic-videos that are going to be released in this given period, practice tests and live sessions.
3. Is this an Offline or Online Course?
It is a "BLENDED" course that brings you the best of offline and online courses. Please check out this youtube video where we explain how this course works.
4. Is 2-year registration for GATE CS Blended Course 2020 available?
No, currently we have only 1-year registrations for our GATE Blended course. Those who register for this year will get a discount up to 50% next year.
5. How are my queries/doubts resolved?
Our mentors are always here to help you. You can drop us a comment under the course videos where the comments are resolved in under 48 hrs. We also have an online forum where all the registered students can discuss their doubts amongst themselves.
You can e-mail us to "gatecse [AT] appliedcourse.com" and we will answer your queries in under 48 hours.