SFP IITM Summer Fellowship Programme 2019 : Indian Institute of Technology Madras
Organisation : Indian Institute of Technology Madras
Fellowship Name : IITM Summer Fellowship Programme 2019
Applicable For : UG/PG Students
Application Deadline : 28.02.2019
Website : https://sfp.iitm.ac.in/
You can now ask your question on this scholarship.
Ask here
(OR) Go to the bottom of this page for comments.
IITM Summer Fellowship Programme
Indian Institute of Technology Madras IITM invites applications for Summer Fellowship Programme for the year 2019
Related : IIM Udaipur Fellow Program in Management FPM 2019 : www.scholarships.net.in/33844.html
Objective
The IITM – Summer Fellowship Programme of two months with stipend is designed to enhance awareness and interest in high quality academic research among young Engineering, Management, Sciences and Humanities students through a goal oriented summer mini-project undertaken at the Indian Institute of Technology Madras.

Summer Fellowship Eligibility
Candidates pursuing 3rd year of B.E./B.Tech./B.Sc. (Engg) or 3rd or 4th year of Integrated M.E./M.Tech. programme, 1st year of ME/M.Tech/M.Sc./M.A, MBA with outstanding academic background in terms of high ranks in university examinations are encouraged to apply.
Note : IIT students are not eligible to apply.
Participating Departments
1. Engineering Departments :
** Aerospace Engineering
** Applied Mechanics
** Bio Technology
** Chemical Engineering
** Civil Engineering
** Computer Science & Engineering
** Engineering Design
** Electrical Engineering
** Mechanical Engineering
** Metallurgical & Materials Engineering
** Ocean Engineering
2. Science Departments :
** Physics
** Chemistry
** Mathematics
3. Humanities & Social Sciences
4. Management Studies
Summer Fellowship Application Procedure
Application should be submitted online in this portal. There is no need to send hard copy to IIT Madras.
Create Login
** Use the link "Create new account" below the User Login button on the first page to create your login.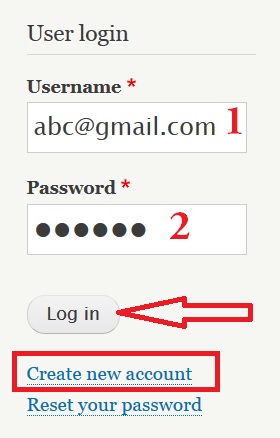 ** A confirmation email will be sent to your address. Use the link in that email to confirm your login and to create your password. The email will be sent with the from address "sfp [AT] pallava.iitm.ac.in". Watch out if this email lands in your spam folder.
** At any stage of application process, if you forget your login name or password, you can use your email address to reset your credentials using the link "Reset your password" on the front page.
** Login to this site time to time to check status updates and for any alerts on the recruitment process.
Fill Up Forms
** Once you are logged in, you can see the online application form under the tab "My Application Summary". You can use the links below each block in this page to fill respective forms. There are 2 forms that you need to fill in this page.
** Form linked as "Edit Profile" allows you to complete the details that appear in the block titled "Personal Details". You can edit this page any number of times using the same link.
** Form linked as "Edit Academic Details" allows you to complete the details that appear in the block titled "Academic Details". You can edit this page any number of times using the same link.
Upload Files
** Under this section, there are links to let you upload files for your passport size photograph, your Bonafide certificate (download template from home page), Academic documents (scan all documents in single PDF and upload) and Community, PWD (if applicable).
The files will be labelled as per the link you chose to upload the file. Ensure that the PDF files are within the maximum size of the file upload of 2 MB.
Select Departments :
** In this section, you can use the link "Submit Application" to choose a Department and the Area you are applying for in that Department – per user one application.
Sign off
** Once you have completed all the steps above, you can click on the tab "Print Application" to download the PDF file of your application form and keep it for your reference (no need to send hard copy).
Letter from the Institute :
Should certify that you are a bonafide student issued by the Head of Institution (download template of UG/DD bonafide and PG Bonafide
Stipend
A sum of Rs.6000/- per month will be given as a stipend for a maximum period of 2 months.
Period of the Project :
Duration of the programme may commence from 20th May 2019 to 19th July 2019. (Schedule may be flexible to suit student's convenience.)
Summer Fellowship Deadline
The Last date for Online Submission is 28.02.2019 at 5.00 pm.